The Month of French - French Onion Soup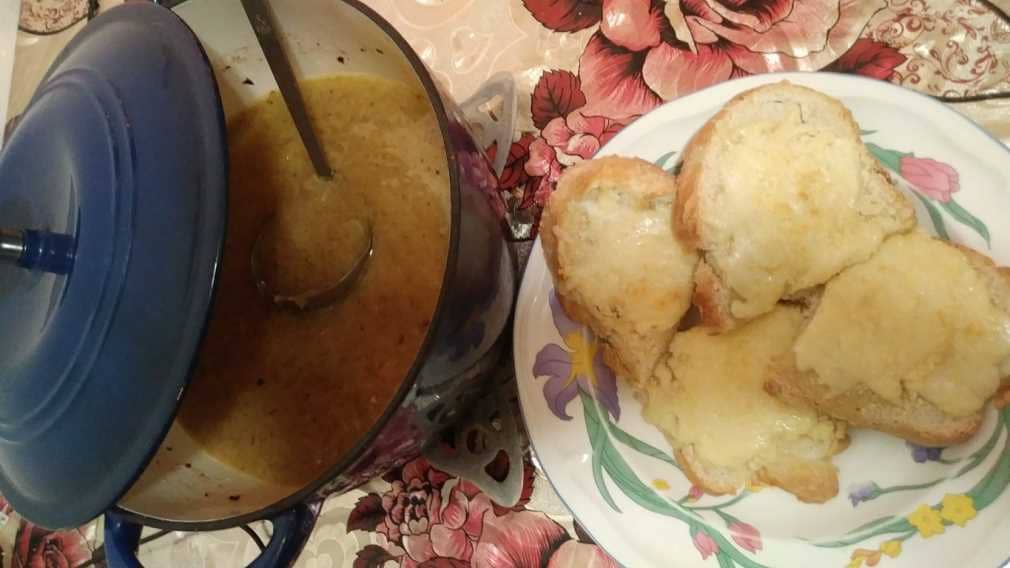 Great dangers give birth to great resolutions.
~ Auguste Escoffier
The Month of French
Every Wednesday is Experiment Day, where I take a recipe that I have never made and make it. Sometimes, those recipes, with some modification, turn up here on The Good Plate. I really like exploring foods from all over the world, and I thought, why not pick a country, and experiment with foods from that country.
I make a lot of Italian and Mexican food, and I thought it was high time I start looking at other countries, and France was first on my list. So, this is the beginning of a Month of French.
I have always liked French Onion Soup, mostly because I really like onions, but also because I like the cheese on the top of the bowl. But then I thought about it and decided instead of putting the bread inside the bowl and the cheese on top, why not just the soup and an open-faced grilled cheese on good sourdough bread.
We could not finish all the soup in one day, so I used it to make tomato soup a day later.  Wow!  It was really stupendous. This is also a great soup to make if you have turkey broth that you made from a holiday turkey. I made my broth, put it in a sealable bag, and put it in the freezer.

Let's Make French Onion Soup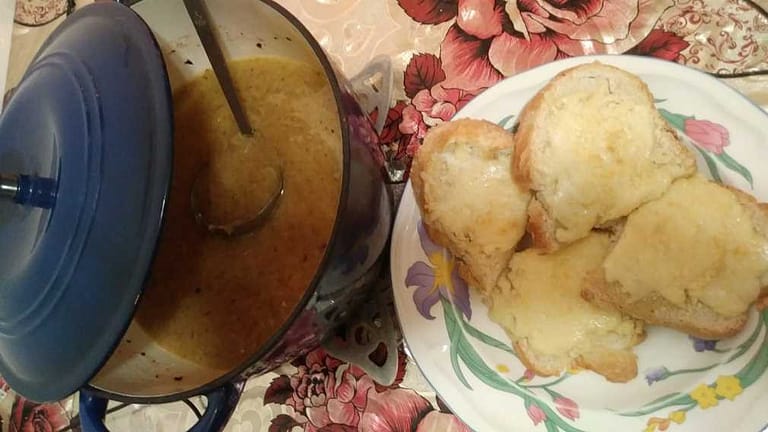 Servings (slide to adjust):
servings
Calories per serving:
529
kcal
Equipment
If you purchase any of the products through these affiliate links, I get a few pennies that help keep The Good Plate open. I use these products myself and want you to be able to easily find them.
Ingredients
¼

cup

unsalted butter

6

large yellow onions diced

3

tablespoons

dry sherry

4

cups

turkey broth,

or chicken broth

4

cups

beef broth

3

sprigs

fresh thyme

½

teaspoon

Sunny Paris

salt

,

to taste

black pepper

,

freshly ground to taste

6

slices

French bread

6

slices

white cheddar

6

slices

Swiss cheese

,

Madrigal is recommended
Ingredients necessary for the recipe step are in italic.
Instructions
Preheat oven to 425 degrees F (220 degrees C).

Melt 1/4 cup butter in a large, oven-safe Dutch oven on medium heat. Stir in onions until they are all coated in butter. Transfer skillet to the preheated oven and cook onions, stirring occasionally, until they are tender and well browned, about 1 hour.

Transfer the Dutch oven to the stovetop; cook and stir onions over medium heat until they start to brown and stick to the bottom of the pan, about 5 minutes. Pour sherry and vinegar into the pan, and bring to a boil while scraping browned bits of onion off the bottom of the pan with a wooden spoon.

Pour in chicken broth, beef broth, thyme, and Sunny Paris. Bring to a boil, skimming off any foam and fat that appear on top. Reduce heat to low and simmer for about an hour. Season with salt and pepper to taste.

Preheat the oven's broiler and set the oven rack about 6 inches from the heat source.

Put a slice of swiss and cheddar cheese on each slice of bread. Put the slices of bread on a boiling pan, and put the slices of bread in the broiler for about 3 minutes, or until the cheese has melted. Serve the bread with the soup, and enjoy!
Nutrition
Calories:
529
kcal
Carbohydrates:
38
g
Protein:
29
g
Fat:
29
g
Saturated Fat:
15
g
Polyunsaturated Fat:
4
g
Monounsaturated Fat:
8
g
Cholesterol:
71
mg
Sodium:
287
mg
Potassium:
733
mg
Fiber:
0
g
Sugar:
2
g
Dutch Oven
The best pan to use to make this is a Dutch oven. A Dutch oven is an enamel covered cast iron pot. Dutch ovens will last you a very, very long time, but they are can be quite expensive. The most expensive is from Le Creuset.  The one that I have is from Tramontina and I just love it.