These are just like the street dogs you can find on the street, only at home!
Street Dogs - Hot Dogs with Bacon and Peppers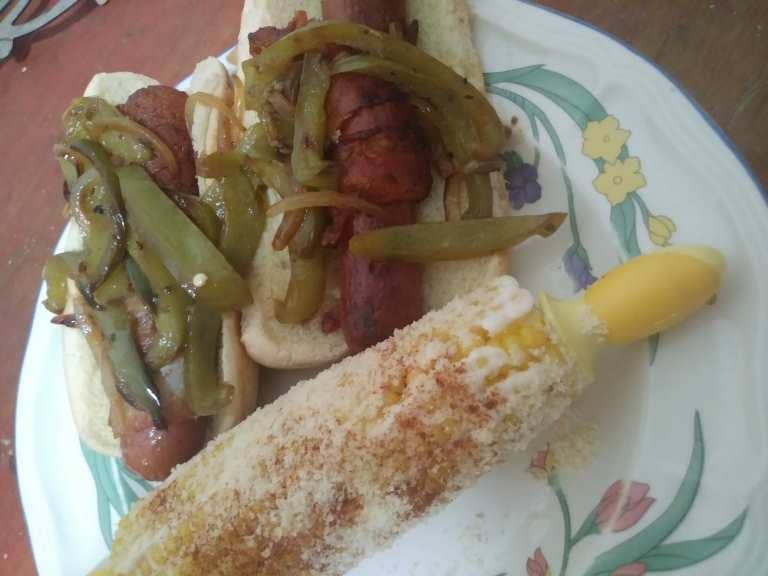 Street Dogs at Home
The first time I saw these, I couldn't help but wonder how good they would be, but I was a little reluctant to get them literally on the sidewalk. I've had them a few times since, on the street, and they're great. But, the best ones, in my opinion, are the ones from the man who has a tiny stand on the corner of 1st and Grand in downtown Los Angeles. I got one of his dogs one day, and have made them the same way ever since.
Good Dogs
It's important to get good hot dogs, we usually get Hebrew National Jumbo Beef Franks. There are four to the package. Get the kind of bacon you like, even a peppered bacon would be great with this. You can make it even more "street" festive by having Elotes, grilled or boiled corn with mayonnaise, cheese and chili on a stick – wonderful!
You will want a sturdy bun for these dogs, too, or plan to eat them with a plate. There are a lot of vegetables with this dish.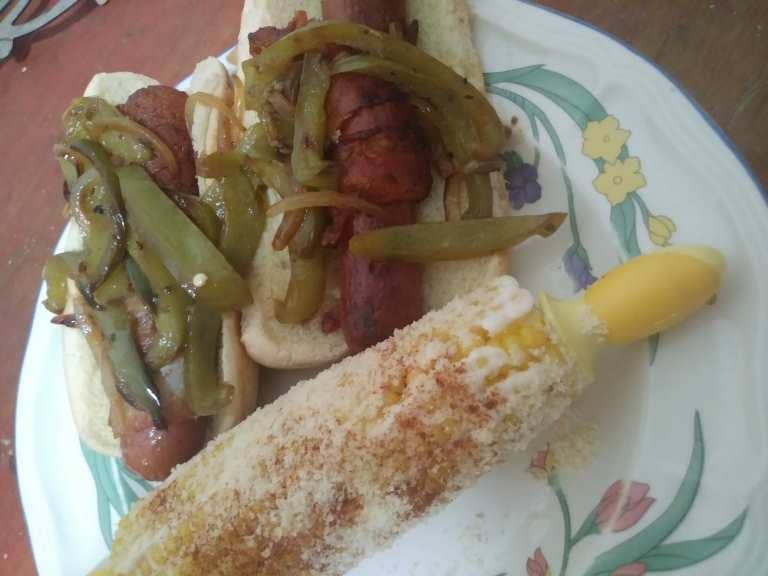 Servings (slide to adjust):
hot dogs
Calories per serving:
412
kcal
If you purchase any of the products through these affiliate links, I get a few pennies that help keep The Good Plate open. I use these products myself and want you to be able to easily find them.
Ingredients
4

jumbo franks

1

onion

,

sliced

1

bell pepper

,

preferably red, sliced

1

fresh jalapeno

,

sliced

4

bacon slices

8

toothpicks

4

hot dog buns
Ingredients necessary for the recipe step are in italic.
Instructions
Put the vegetables in a pan with some butter and saute them until the bell pepper is nice and soft, stirring occasionally, about 20 minutes. Set aside.

In the meantime, wrap each frank with a slice of bacon, securing with two toothpicks. Try to make sure that the toothpicks are all facing one direction, This will make cooking a lot easier.
Oven Method
Line a half sheet pan with foil. Put the cake rack on top of the foil. Put the wrapped dog on the foil and roast until the bacon is browned. This takes about 10 minutes longer than the stovetop method but is a lot simpler.
Stovetop Method
Put the franks into a large saute pan, and set a flame under them. As the bacon starts to brown, turn them on each side. Eventually, the bacon will be cooked and crisp enough to stay in place without the toothpicks. Remove the toothpicks.

Warm the buns either in the microwave for a few seconds, or in the oven for a few minutes.

Put a frank in each bun and top with the warm vegetable mixture.

Serve with whatever condiments you like, ketchup, mustard, relish, etc.
Notes
If you don't want this to be very spicy, then seed the jalapeno and remove the pith before cooking. Make sure you wear gloves when doing this.
Nutrition
Calories:
412
kcal
Carbohydrates:
9
g
Protein:
12
g
Fat:
37
g
Saturated Fat:
14
g
Polyunsaturated Fat:
3
g
Monounsaturated Fat:
18
g
Cholesterol:
66
mg
Sodium:
917
mg
Potassium:
245
mg
Fiber:
1
g
Sugar:
3
g