Here's the perfect solution to your discarded sourdough dilemma. Cheese, rosemary, and thyme complement the tang of the sourdough perfectly. We're addicted to these crackers with some Pimento Cheese, healthy hummus or just out of hand.
Sourdough Cheese Herb Crackers
These crackers are made from Josephine's discard. Who is Josephine? Why she's the sourdough starter that lives in my fridge. Every time I feed her, I have to discard some of her. This recipe uses that sourdough discard.
I'll let you know right now.  These Sourdough Cheese Herb Crackers are addictive. But, that's okay because they are a breeze to make. They go very nicely with Pimento Cheese, hummus or just out of hand.
Let's talk a moment about Josephine.  It's okay, she lives in the refrigerator and won't hear us. Josphine is my sourdough starter.  When you have a starter, you have to discard some of it every time you feed it. I got my starter from a neighbor who called her's Charlie.  It was also some discard, and I decided to call mine Josephine. When you have a sourdough starter, it's almost like having a pet.  You have to feed it regularly, play with it (bake with it), put it to bed, etc.  We have two cats, a dog, and Josephine.  To find out more about feeding sourdough and sourdough in general, King Arthur Flour is a great resource.
You don't have to follow my recipe exactly.  Lactose intolerant,  eliminate the cheese.  Use different herbs, or use a different cheese.  You can even change the flours around. Have fun!
The best way to do these sourdough crackers is in a stand mixer, but you could mix this by hand if you wanted to.  If you don't let the dough rise, you will have a crisper cracker.  I prefer mine a little chewy, so these crackers were perfect for me.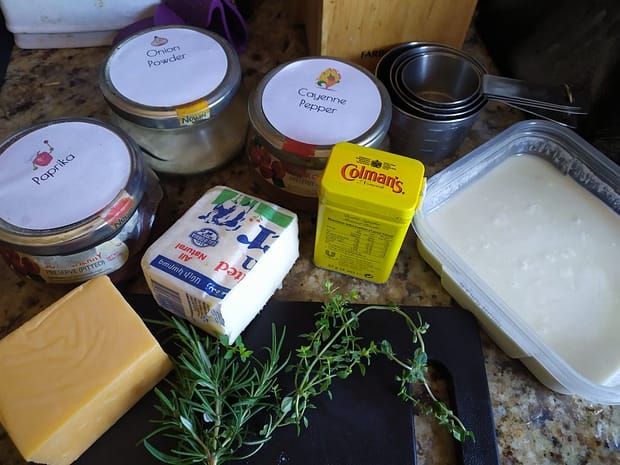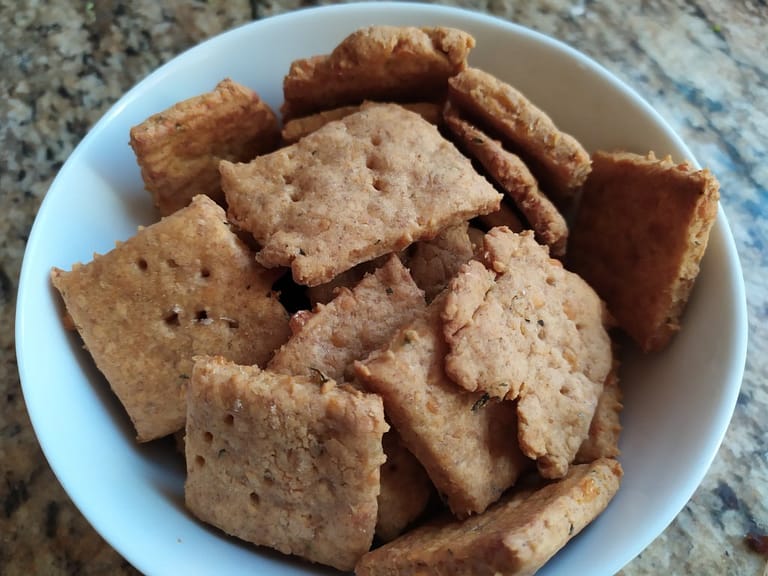 Servings (slide to adjust):
servings
Calories per serving:
50
kcal
Ingredients
½

cup

dark rye flour

½

cup

all-purpose flour

½

teaspoon

sea salt

1

cup

Sourdough discard

,

unfed/discard

¼

cup

unsalted butter room temperature

¼

cup

cheddar grated

1

teaspoon

rosemary leaves

,

fresh minced

1

teaspoon

thyme leaves

,

fresh minced

½

teaspoon

onion powder

¼

teaspoon

dry mustard

1

teaspoon

paprika

Cayenne

1

teaspoon

sea salt
Ingredients necessary for the recipe step are in italic.
Instructions
Mix the dry ingredients together in a bowl and set aside.

Put the butter into the bowl of a stand mixer and cream it. Add the cheese and herbs and mix those together. Add the dry ingredients, then finally, add the sourdough discard and mix it together until a nice ball forms.

Let the ball sit on the counter for about 30 minutes or until it has poofed up a little bit. Don't let it rise too much!

Now, put the dough in the refrigerator and let it harden up about 30 minutes.

Preheat the oven to 350 F/177 C.

Take the dough out of the refrigerator and cut it into two balls. Roll one ball out into a rectangle about 1/16 in/ 1.5 mm thick.

Get your cutting tool, a ravioli wheel works very well, and a ruler. Lay the ruler on top of the dough and use it as a guide to cut into the dough with your wheel. Cut first downward, then cut across to make nice squares. Don't worry about the end pieces being perfect, those are the cook's treat!

Transfer the cut crackers to a parchment-lined half sheet or cookie pan. When they are been transferred, prick them with a fork. You don't have to use parchment, it just makes clean up easier.

Do the same with the other ball of dough. You should have enough dough for two sheets.

Bake the crackers for 20 to 25 minutes or until the crackers are beginning to brown around the edges. Midway through, reverse the baking sheets: both top to bottom, and front to back; this will help the crackers brown evenly.

Remove the crackers from the oven and let them sit for a minute or two, then put them on a cooling rack.
Notes
This really depends on your taste. Play around with the herbs, choose different cheese or no cheese at all.
Nutrition
Serving:
5
crackers
Calories:
50
kcal
Carbohydrates:
5
g
Protein:
1
g
Fat:
3
g
Saturated Fat:
2
g
Polyunsaturated Fat:
0
g
Monounsaturated Fat:
1
g
Cholesterol:
8
mg
Sodium:
186
mg
Potassium:
45
mg
Fiber:
1
g
Sugar:
0
g