A simple chicken dish with mushrooms, wine, and spring onions, that is good enough for company.
Chicken with Mushrooms in Wine Sauce
Last Updated on December 1, 2019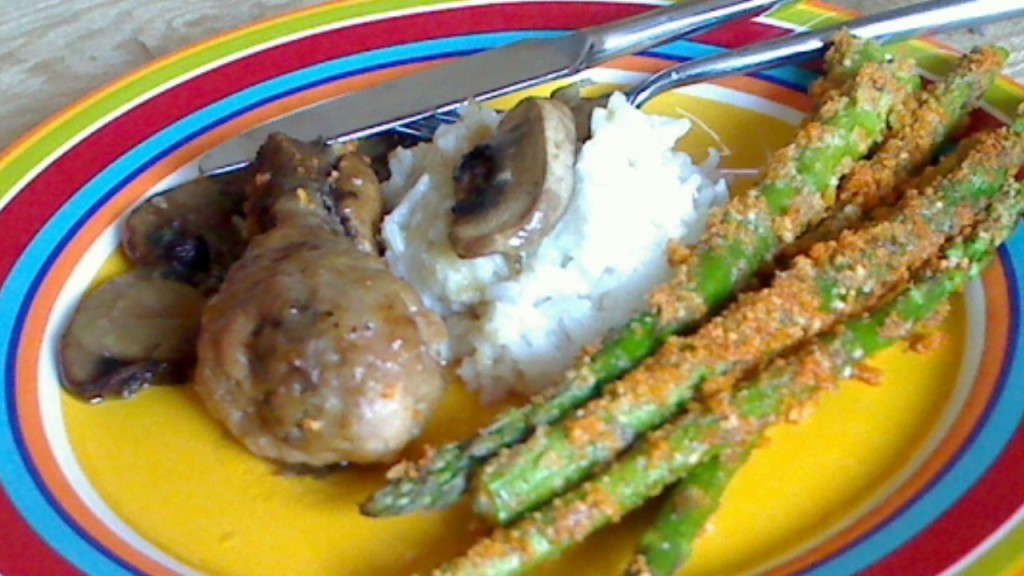 Chicken with Mushrooms in Wine Sauce is good enough for company, but easy enough and fast enough for a weeknight. Pair it with asparagus, new potatoes, and white wine and you have an excellent dinner.

My best friend's mother, Joan, used to make the best chicken. I was very close to Joan and paid attention when she cooked. This was my favorite, and she was nice enough to give me the recipe.
There were more reasons for me to love her so much. Joan was the manager of a high-end gift shop in Beverly Hills, and she had very good taste. Her house was beautifully decorated, and well-organized. Everything had a place, and everything had a job, even the legs on the cast iron dining room table. Its job was to bite us on the toe as we passed by it and weren't paying attention.
Joan taught me a lot of stuff. She taught me the right jewelry to wear with what outfit, she taught me the importance of being organized, she taught me how to make the Hot Dogs with Mashed Potatoes and Cheese (Spane's favorite), and she taught me how to make this chicken dish. She loved me like her own daughter, and I loved her like the mother I lost when I was 15 years old. When I moved out of her place, she gave me metal prep bowls and a stainless steel wok. Despite all the moving I have done, I still have those bowls and that wok, and use them frequently. Sadly, Joan died just before Spane was born, but I know she watches over us. I love you, Mom!
Chestnuts are Good For You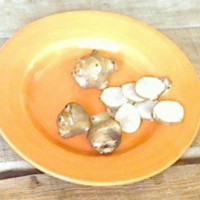 The only thing Joan did not teach me was about fresh water chestnuts. My grocer taught me about those. They look like ginger fingers, and sliced thinly, they are very crisp with a nice flavor. I don't know about you, but I always avoid water chestnuts when I find them in Chinese food because those have no flavor. But, the fresh ones? They have a very subtle flavor, almost like a potato. If you can find them, I highly recommend them.
Let's make Chicken with Mushrooms in Wine Sauce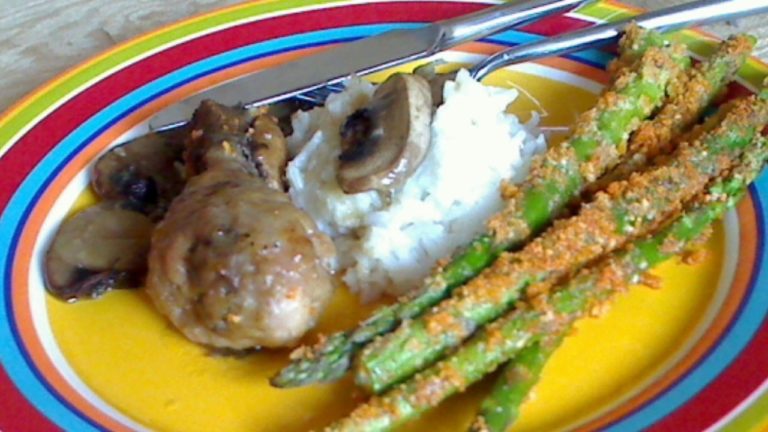 Servings (slide to adjust):
Calories per serving:
579
kcal
Ingredients
6

Chicken Thighs

,

bone-in

6

large mushrooms

,

sliced

6

spring onions

,

sliced

4

freshwater chestnuts

,

NOT canned

½

cup

flour

1

tablespoon

poultry herbs

,

either fresh or freeze-dried, not powder

1

teaspoon

paprika

1

teaspoon

garlic powder

¼

teaspoon

cayenne pepper

1

teaspoon

freshly cracked black pepper

1

tablespoon

olive oil

1

cup

white wine

1

teaspoon

chicken base

1

cup

hot water
Ingredients necessary for the recipe step are in italic.
Instructions
I recommend using a Nesco for this, but a baking dish works just as well. Have your oven or Nesco preheated to 325.

Put the flour, herbs, paprika, garlic powder, cayenne, and black pepper into a clean paper bag (one from the market will do just fine). Squish the bag in your hands to combine everything nicely. Dredge the chicken in the mixture and set aside.

Heat the oil in a skillet, and when the oil is hot, brown the dredged chicken in the oil. Don't overcrowd the pan. You will probably have to do this in at least 2 batches. Put the chicken that has browned into the waiting baking utensil.

When all the chicken has been nicely browned, put the mushrooms, green onions, and water chestnuts in with the chicken, arranging it nicely.

Mix the chicken base with the hot water to dissolve it, and pour that over the chicken. Pour the wine over the chicken.

Roast until the chicken comes apart easily with a fork, and a nice sauce has been made in the pan. It should take about 30-45 minutes.
Notes
My grocer told me that freshwater chestnuts are good for your heart. She even gave me a slice. They taste much better than those things in the can. If you cannot find freshwater chestnuts, please don't use the ones in the can, just omit them.
Nutrition
Calories:
579
kcal
Carbohydrates:
20
g
Protein:
31
g
Fat:
40
g
Saturated Fat:
14
g
Polyunsaturated Fat:
8
g
Monounsaturated Fat:
16
g
Cholesterol:
150
mg
Sodium:
189
mg
Potassium:
523
mg
Fiber:
2
g
Sugar:
1
g