Boeuf Bourguignon - Beef Burgundy is a wonderful French beef stew that is simple to make and great on a cold, rainy day.
Boeuf Bourguignon - Beef Burgundy
Last Updated on December 5, 2021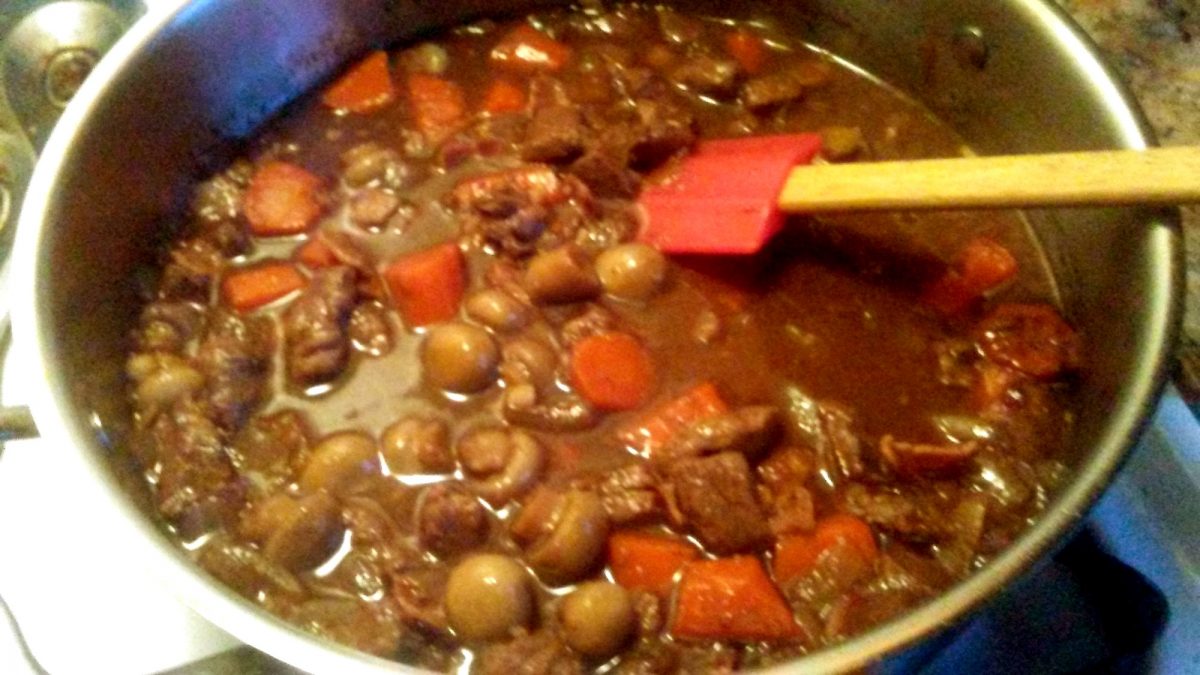 Boeuf Bourguignon – Beef Burgundy is a wonderful French beef stew that is simple to make and great on a cold, rainy day.

Now that it is officially fall, and the weather has turned "cold" in California, it's time to have stew. Last week I made Coq Au Vin, and I still had some wine left, so I thought I should continue with my French comfort food and make this lovely Beef Burgundy, Boeuf Bourguignon.
Similar to Coq Au Vin, Boeuf Bourguignon is also one of those dishes that do well with tough meat, wine, and long cooking time. The wine and long cooking time break down the meat so it is nice and tender. It also allows all the flavors to meld together nicely. Be prepared for this to simmer for about two hours.  But, if you are in hurry, I have an Instant Pot cheat for you.
It is important with both dishes to get a decent red wine, not a sweet one! A nice Burgundy, Shiraz, or Cabernet would do perfectly. You don't need much, so there should be a nice glass or two for the cook, too.
What about the onions?  Classic Boeuf Bourguignon would run and hide if it wasn't presented with pearl onions. To use them, parboil them, cut the tip off, and pop them out of their skins. 
I highly recommend frozen pearl onions. Sometimes the fresh ones are difficult to find in the Produce section. You don't have to parboil them, just plop them into whatever you are cooking. Much better!
It's okay, you can use regular onions, just cut them at about an inch dice. 
Instant Pot Cheat
You will notice that in this recipe there is a point where you cover the pan and let it simmer for an hour. You can reduce that to about 30 minutes. After browning the beef in the bacon fat, put it in the inner pot of an Instant Pot and cover it with a cup of beef broth. Don't clean the pot. Put in on Pressure Cook for 20 minutes. When the 20 minutes is up, return it to the pan you were previously using, add the vegetables, wine, and herbs. Cook on low for about 30 minutes and add the mushrooms. Serve and enjoy!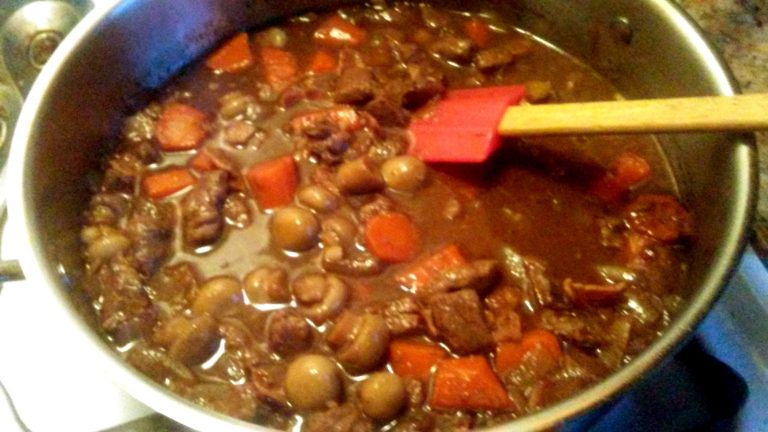 Servings (slide to adjust):
Calories per serving:
719
kcal
Ingredients
1

pound

Stewing beef

4

slices

bacon

1

tablespoon

Worcestershire sauce

¼

cup

Flour

3

Carrot sliced

3

Garlic cloves minced

1

Onion chopped

1

tablespoon

Beef base

2

cups

Water

1

teaspoon

Thyme dried

½

teaspoon

freshly cracked pepper

1

Bay leaf

1

cup

Red wine

½

cup

Mushroom

,

canned whole
Ingredients necessary for the recipe step are in italic.
Instructions
Cut each piece of beef in quarters. Each piece should be about 1/2 inch, if the pieces are already that size, don't bother to cut them.

Cut the bacon into 1/4 inch strips. Slice the carrots into 1 inch pieces. If you are using fresh mushrooms, quarter them. The onion should be cut into large pieces, unless you are lucky enough to get pearl onions!

Marinate the beef in the Worcestershire sauce for about 15 minutes, while the bacon is cooking.

Meanwhile, mix the water and beef base together.

Put a little olive oil into a Dutch oven, or large skillet. Cook the bacon until it is almost crisp and has rendered its fat.

Remove the bacon to a bowl and set aside.

Brown the beef in the bacon fat in batches until it is all browned then add it to the bowl with the bacon.

For Instant Pot

At this point, remove the meat from the pan and set the pan aside – don't wash it! Take the meat and put it in the inner pot of an Instant Pot with one cup of the broth. The remaining broth will be used later. Cook the meat on Pressure Cook for 20 minutes, Natural Release for 10 minutes then quick release. Leave the meat in the pot with the juices.

Put the beef and bacon in the pan.

For Instant Pot

Put the meat and liquid from the Instant Pot into the pan. You can wash the Instant Pot.

Add the beef broth you made with beef base and water.

For Instant Pot

You would be adding the remaining cup of water to the pan.

Cover and simmer for 1 hour.

For Instant Pot – skip this step
Notes
You can use bottled mushrooms if you have them in your pantry. Fresh mushrooms are best. If you can find pearl onions, use those in addition to the onion in the recipe. Just put them in at the end with the mushrooms.
Nutrition
Serving:
1
g
Calories:
719
kcal
Carbohydrates:
49
g
Protein:
49
g
Fat:
32
g
Saturated Fat:
13
g
Polyunsaturated Fat:
3
g
Trans Fat:
0
g
Cholesterol:
99
mg
Sodium:
2154
mg
Fiber:
8
g
Sugar:
21
g