Authentic Buffalo Wings with Blue Cheese Dressing
Authentic Buffalo Wings with Blue Cheese Dressing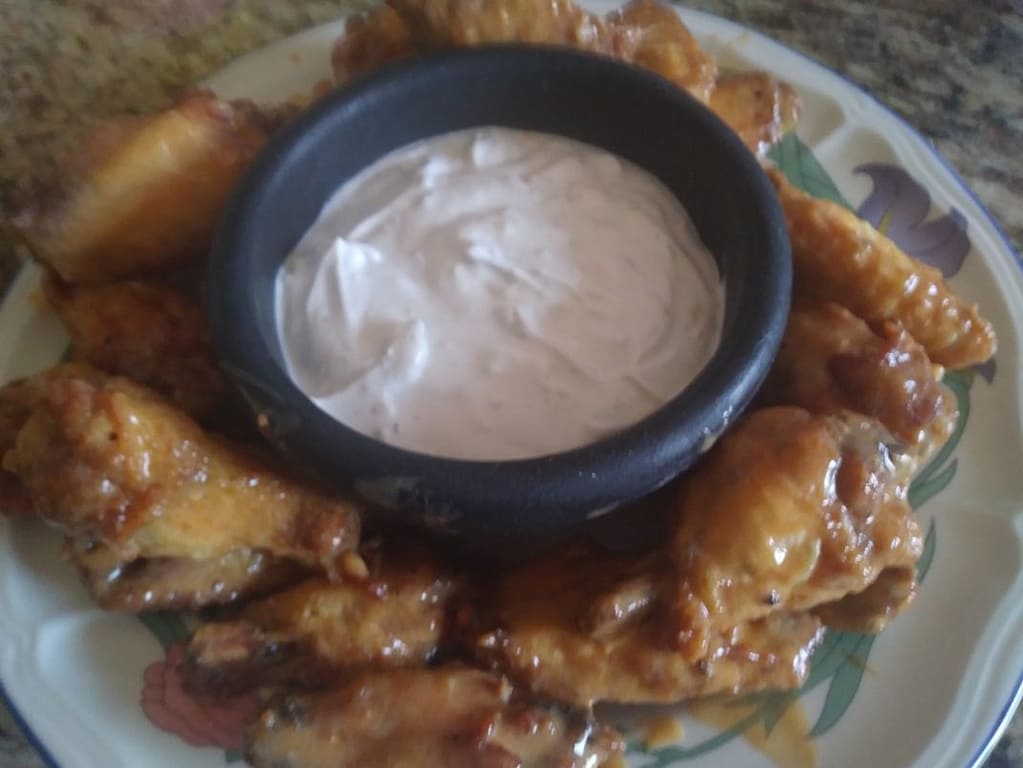 Buffalo wings are spicy and make a great appetizer or even a meal. I got this recipe from my son's dad, who grew up in Rochester, New York, and he insists this is the original recipe. Whether it really is or not, I don't know, but I do know that it's really tasty.
Our son, who said he didn't like wings when I made a batch of these Buffalo Wings one day for his father, and a few were left, said: "Mom, are there any more?".
If you want to make "Bat Wings" for a Halloween gathering, simply add some black food coloring to the wing sauce.  You could put red coloring in the sauce (blood).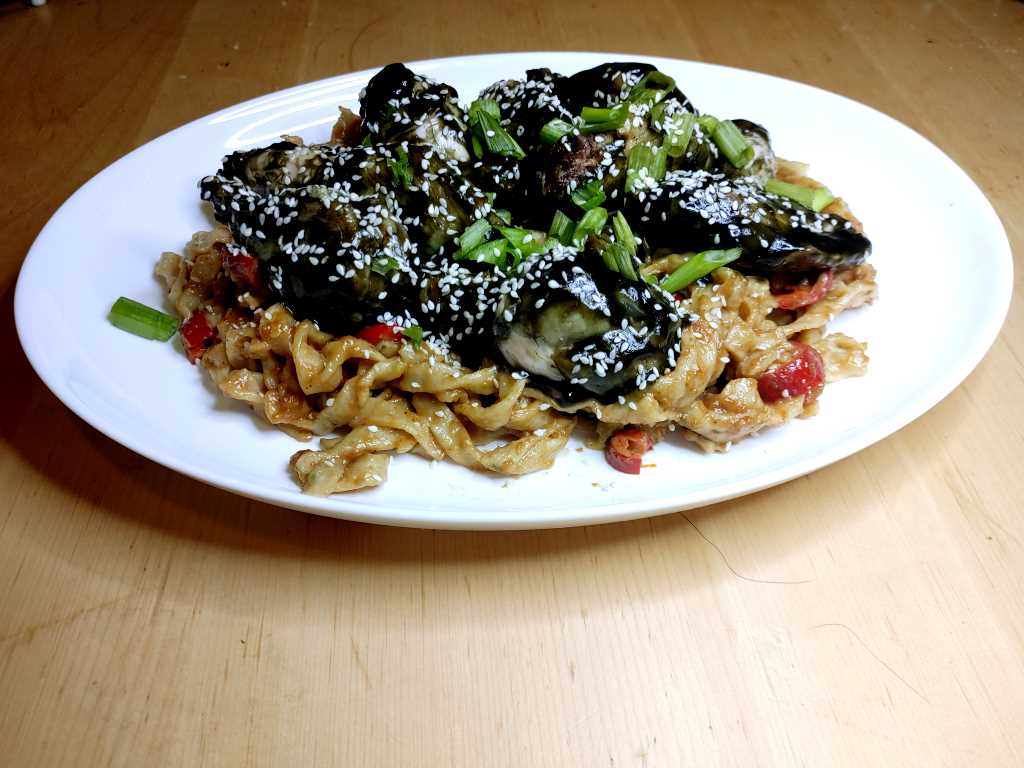 Bat Wings in the Air Fryer – Chicken Wings
Bat Wings are really chicken wings napped in an oyster sauce. Serve them with rice or peanut sesame noodles. Fun for all, Halloween or any time of year.
I think what sets these wings apart from others is that they are brined before they are fried, so there are flavors not only in the sauce but deep in the wing itself. I always use fresh whole wings, not frozen. The frozen wings, once they are defrosted, shrivel up and are tiny. Don't throw away the wingtips, either. They don't have any meat on them, but the nooks and crannies absorb sauce to slurp, or if you don't want to bother with them, put them in your freezer for chicken stock.
Don't throw away the wingtips, either. They don't have any meat on them, but the nooks and crannies absorb sauce to slurp, or if you don't want to bother with them, put them in your freezer for chicken stock.
The parts of the wing are:
the drumette – one bone
the flat – two bones
the tip – lots of cartilage and small bones
This Blue Cheese Dressing is the recipe my mother made. It is very simple. Please buy a wedge of blue cheese, don't buy the already crumbled because that is whatever has been gathered up that has fallen off the larger pieces. It's usually dried out with little flavor. I recommend Danish Blue Cheese as it is very tasty and relatively easy to find. I don't recommend Gorgonzola because its flavor is too mild to stand up to the wing sauce, and Roquefort, as much as I love it, is a little too strong and would fight with the sauce.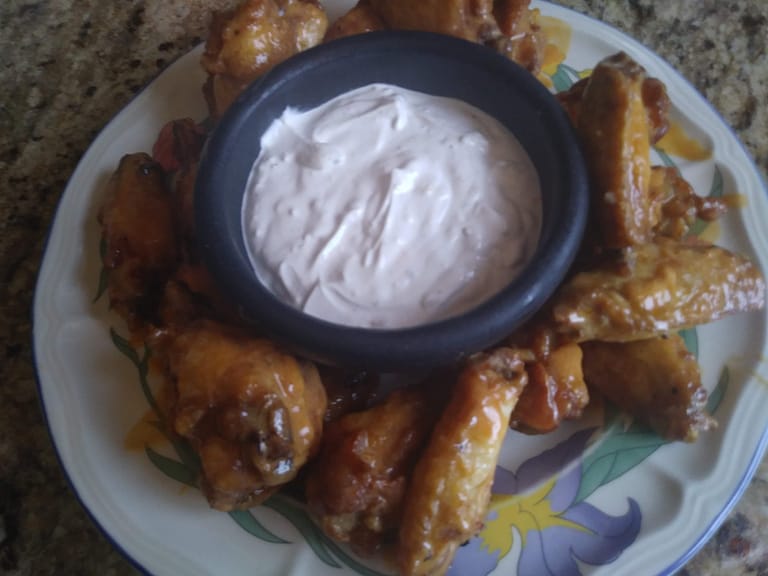 Servings (slide to adjust):
Calories per serving:
547
kcal
Ingredients
For the Wings
3

lbs

whole chicken wings

vegetable oil

,

for frying – olive not recommended
For the Sauce
1

stick

unsalted butter

½

cup

Louisiana Hot Sauce

, Crystal is great

1

egg
Ingredients necessary for the recipe step are in italic.
Instructions
3 lbs whole chicken wings

Separate the wing parts. Using a sharp knife, separate the drumette from the wingette and tip.

1 tablespoon sea salt,

1 tablespoon Boswell Seasoned Salt,

1 teaspoon brown sugar,

1/2 cup cold water

Please consider including the tips in your dish, otherwise, please put them in the freezer and save them for stock. Put all the parts into a large bowl, add the brining ingredients, turn all around so all the pieces can get covered, and refrigerate for about an hour.

2 tablespoons blue cheese,

1/2 cup sour cream,

1/3 cup mayonnaise,

2 tablespoons plain yogurt,

3 drops Angostura Bitters,

black pepper

While the chicken is brining, make the dressing. Combine all the dressing ingredients together in a bowl and mix well. I usually make mine in a small food processor so it gets very creamy. Put the dressing in its serving bowl, and refrigerate it until time to serve. If you are going to want to serve with fresh vegetables like celery or carrots, now would be the time to prepare them as well.

Remove the chicken from the brine and pat dry. They will have absorbed the flavors by now, so no worries about patting them dry. But you want them dry so they crisp up well.

Heat oil in a large pan to 335 degrees. While that is happening, get your drying rack and absorbent paper ready. Also get your instant-read thermometer handy.

When the oil is ready, put a few pieces of chicken, maybe 5, in the pan. Cook for about 5 minutes, then turn and cook for another 5 minutes, or until the chicken has nicely browned and has reached an internal temperature of 165 on an instant-read thermometer. Drain on the paper-lined drying rack. Continue cooking the rest of the wings in batches until all have been cooked.

1 stick unsalted butter,

1/2 cup Louisiana Hot Sauce,

1 egg

While you are frying the chicken, put the butter in a saucepan and heat it until it melts. Watch carefully that it does not burn, then remove from the heat and set aside. When all the chicken has been cooked, in a separate bowl, but the hot sauce and butter. Mix vigorously. Break the egg into a small bowl, and thoroughly scramble it. Add a small amount of the hot sauce mixture to the egg and mix it thoroughly. This will temper the egg. Add the tempered egg mixture to the remaining sauce mixture and mix thoroughly.

Put the chicken wings in a large bowl, preferably one with a cover, pour the sauce over and mix the sauce so every piece of chicken gets covered. If you have a cover for your bowl, you can just shake it, it's a lot easier.

Plate up by putting the dressing in the center of a large plate or platter, then arrange the wings and whatever fresh vegetables you may or may not have included. Serve immediately and enjoy!
Notes
It is important to use unsalted butter because the Louisiana hot sauce of your choice has a lot of salt already in it.
Nutrition
Calories:
547
kcal
Carbohydrates:
3
g
Protein:
23
g
Fat:
50
g
Saturated Fat:
9
g
Polyunsaturated Fat:
7
g
Monounsaturated Fat:
31
g
Cholesterol:
135
mg
Sodium:
125
mg
Potassium:
298
mg
Fiber:
1
g
Sugar:
1
g