Tuna Dip - Just like Carlos and Pepe's
Spicy Tuna Dip - the Month of Mexican
Last Updated on January 24, 2023
Spicy Tuna Dip is my take on the famous Carlos and Pepe's tuna dip. You can make it as spicy as you want. Enjoy it with chips and a margarita.
When I lived in Santa Monica, California, we had a Carlos and Pepe's Mexican restaurant near our home. I loved to go over there and have their wonderful spicy tuna dip. I have been trying to recreate it for years. My rendition of it is pretty spot-on, if not a little better.
When you make this, please use tuna in oil. The tuna in water tastes very bland and requires more mayonnaise to taste better. My favorite, with the best flavor, is albacore in olive oil. If you can't find it or don't want to pay the hefty price for it, use regular tuna in oil.
What sets my dip apart is Aleppo pepper, which you can find at Penzey's with other excellent spices. I also recommend True Citrus's True Lemon and Lime. They can be added to foods without worrying about making them too thin. It's just pure crystalized lemon or lime – delicious!  Links are further down on the page.
Cilantro is an important part of this dip. It blends nicely with the citrus. If you are an "Ew! Cilantro tastes like soap!" person, please feel free to substitute Italian parsley.
You can serve this dip as an appetizer or have it for lunch. If you don't want to use fried tortilla chips, simply cut tortillas in eighths, put them in your air fryer, spray them with a little oil, and they will crisp up perfectly. When I make enchiladas, I often have a few tortillas either leftover or broken. Chips make an excellent use for leftover or broken tortillas. Make it an appetizer party, and serve guacamole, too.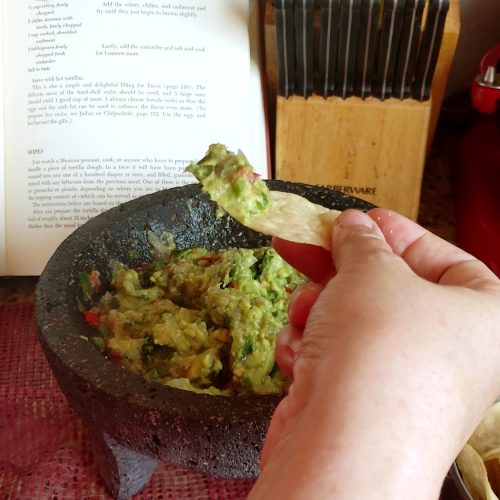 How to Preserve Avocado and Make Guacamole Correctly
How to preserve avocado to keep it from browning to making guacamole the right way with only 5 ingredients – and no lime.
Let's Make Spicy Tuna Dip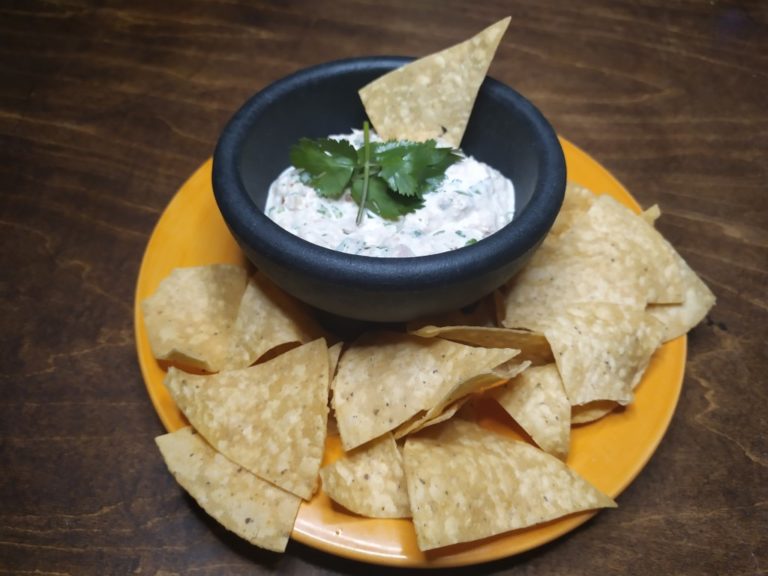 Servings (slide to adjust):
servings
Calories per serving:
233
kcal
Equipment
Ingredients necessary for the recipe step are in italic.
Instructions
Notes
This makes enough for 2 people, so if you want to make more, just increase the ingredients.
Nutrition
Serving:
1
g
Calories:
233
kcal
Carbohydrates:
5
g
Protein:
25
g
Fat:
12
g
Saturated Fat:
2
g
Polyunsaturated Fat:
5
g
Monounsaturated Fat:
4
g
Cholesterol:
19
mg
Sodium:
149
mg
Potassium:
227
mg
Sugar:
1
g