These cupcakes are unique and delicious. Don't wait for a holiday to make them.
Kiwi Lime Mini Cupcakes for St. Patrick's Day
These Kiwi Lime cupcakes for St. Patrick's Day are unique and delicious.  Don't wait for a holiday to make them.
On one of my recent sojourns to the local grocery store, I found dried kiwi fruit. I immediately thought they would make a great decoration for St. Patrick's Day cupcakes. When I brought Cheesecake Stuffed Chocolate Dipped Strawberries for my son's third-grade class field trip, one of the girls requested I make cupcakes the next time I brought a treat for the class. So, I'm making mini lime cupcakes with kiwi for Friday since St. Patrick's day is on Saturday.
I had planned on making this Thursday evening but decided to do them this morning. Why? Well, let me first say that I love my son's curiosity and inventiveness. Yesterday, he was tinkering with the alarm clock and mistakenly set the clock ahead for four hours. When I got up at what I thought was seven o'clock and drank coffee, it was not until I looked at the cable box that I realized it was only three o'clock. Since I had already had a half a cup of coffee, it was too late to try to go back to sleep, so I'm making cupcakes.
When you make these cupcakes, there are a few things to remember. Mini cupcakes cook much faster than regular size cupcakes so you have to watch them carefully. Make sure that all your ingredients are at room temperature. For the liquid, measure the lime juice into a one-cup measure, then add enough milk to come to one cup. Let this sit for about ten minutes, and it will make a yogurt type substance, and you want it like that.
This cake batter recipe makes a lot of batter, so you will have enough for 36 mini cupcakes plus 18 regular cupcakes or enough for a three-layer 9-inch cake. You will need to make a full batch of frosting.
I used the Wilton Pastel Green gel colorant for both the batter and the frosting. Gel colorant makes a more vibrant color and is less likely to affect the texture.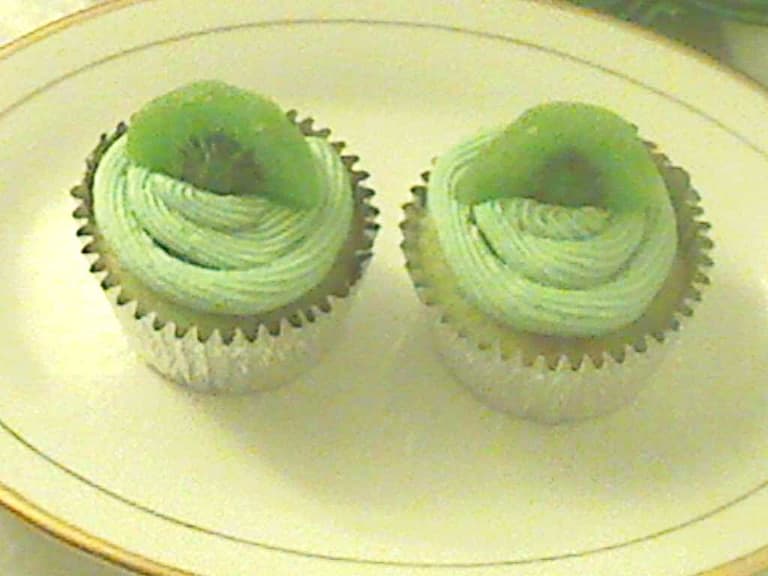 Servings (slide to adjust):
servings
Calories per serving:
258
kcal
If you purchase any of the products through these affiliate links, I get a few pennies that help keep The Good Plate open. I use these products myself and want you to be able to easily find them.
Ingredients
Cupcake Batter
2

cups

all-purpose flour

1 ½

cups

white sugar

½

cup

butter

1

cup

milk

3 ½

teaspoons

baking powder

1

teaspoon

salt

1

teaspoon

vanilla extract

3

eggs

Peel of two limes

Juice of two limes

Pastel green gel colorant
Frosting
2

sticks butter

,

cut up into pieces at room temperature

¼

package cream cheese

4

cups

sifted powdered sugar

¼

cup

milk

½

teaspoon

vanilla

Pastel Green gel colorant

Dried Kiwi
Ingredients necessary for the recipe step are in italic.
Instructions
Cupcakes
Have ready 36 mini muffin liners in their tins. Also, have ready 18 regular size cupcake liners in their tins.

Sift the flour, baking powder, and salt together.

Let the butter and egg come to room temperature.

Grate the peel of the two limes, and juice the two limes.

In a standing mixer, cream the butter and sugar together until they are light and fluffy.

Put the lime juice into a one-cup container. Add enough milk to make one cup of liquid.

Add the eggs to the creamed butter and sugar mixture.

Add the vanilla and gel colorant. Beat to mix in the color.

Add a third of the milk mixture, beat, add a third of the flour. Beat, and continue adding milk and flour until both are gone.

Use a teaspoon to fill the mini cupcakes 2/3 full. Use a small ice cream scoop to fill the remaining regular size cupcakes.

Put the mini cupcakes in the oven and bake for about 10 minutes or until a toothpick comes out clean. Remove from the oven and cool completely.

Put the larger cupcakes in the oven and bake for about 20 minutes or until a toothpick comes out clean.
Frosting
Cream the sugar in a stand mixer until it is light and fluffy.

Add the vanilla and gel colorant. Mix well. Stop the mixer and scrape the bowl.

With the mixer going, start adding the powdered sugar. When about half of the sugar is in, add some of the milk, and beat more.

Add almost all the remaining sugar.

Add more milk, but not too much because you don't want the frosting to be too liquid.

Add the remaining powdered sugar, and beat on high for about 30 seconds.

Have ready a piping bag and star tip.

Fill the bag about 2/3 full, and close.

Start piping the frosting on the mini cupcakes in a circular motion. Stop when your piping bag is near empty.

Cut the smaller kiwis in half. Put half on top of each mini cupcake. For the larger kiwis, just cut off the top and put that on the top of the cupcake.

Frost and decorate the remaining cupcakes with the remaining frosting and kiwis.
Notes
If you don't have a piping bag, you can use a knife and spread the frosting on that way.
Nutrition
Calories:
258
kcal
Carbohydrates:
42
g
Protein:
3
g
Fat:
9
g
Saturated Fat:
6
g
Polyunsaturated Fat:
0
g
Monounsaturated Fat:
3
g
Cholesterol:
25
mg
Sodium:
179
mg
Potassium:
67
mg
Fiber:
1
g
Sugar:
33
g