Fresh Tortilla Casserole is special because it uses freshly made tortillas
Fresh Tortilla Casserole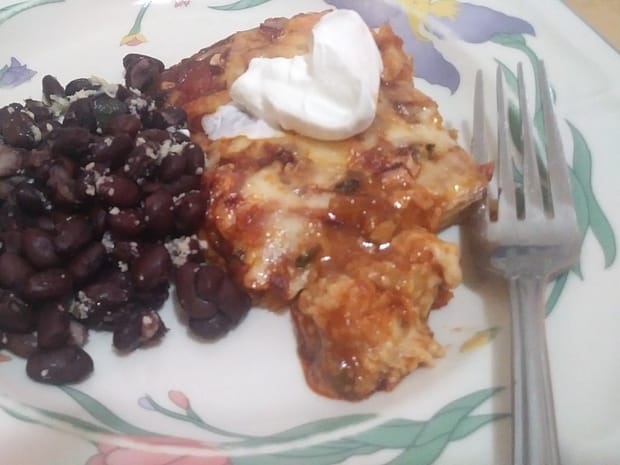 There is nothing like fresh tortillas to make a great cheese casserole. When you are starting out making tortillas by hand, your tortillas might not turn out as nice and thin as those at the store, but that shouldn't stop you. Use them for a casserole. You can use canned enchilada sauce as I did, or you can make your own salsa, which I will show in another post.

This is really a dead simple recipe, and you can throw it together quickly with your own chosen ingredients. To make it spicy, add jalapenos to the cheese. I used Penzey's Crushed California Jalapenos because I don't have to worry about getting jalapeno on my hands, wearing gloves, etc. If you don't want to use fresh tortillas, you can use prepared ones from the store.
Let's Make Fresh Tortilla Casserole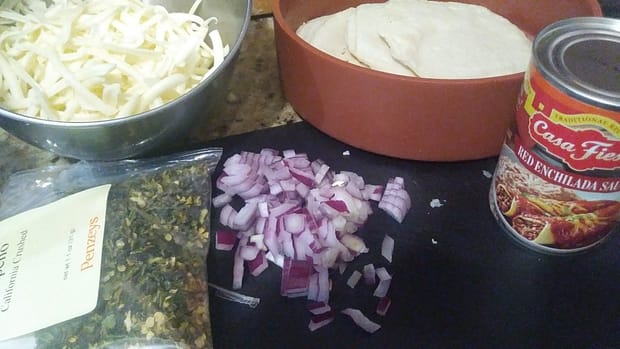 Working with Tortillas
No matter where you are sourcing your tortillas, it's important to note that they must be heated before you can work with them or eat them. You can dip them in hot oil to soften them or crisp them up, you can hold them over a flame until they soften, or warm them up in a tortilla warmer in the microwave. For enchiladas and casseroles like this, frying them for a few seconds in hot oil is the preferred method.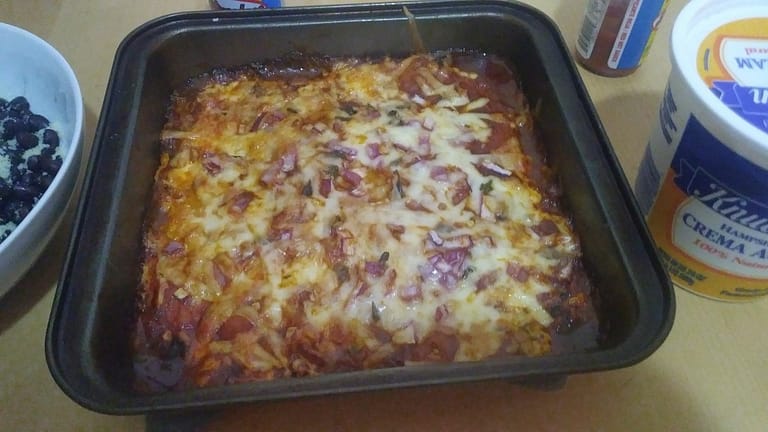 Servings (slide to adjust):
servings
Calories per serving:
651
kcal
Ingredients
6 to 8

corn tortillas

,

freshly made preferred

1

red onion

,

chopped

3

cups

jack cheese

,

grated

1

teaspoon

crushed jalapeno peppers

Enchilada sauce of your choice

¼

cup

flavorless oil for frying
Ingredients necessary for the recipe step are in italic.
Instructions
Preheat the oven to 350 F/176 C. Have ready an 8-inch square casserole dish.

1/4 cup flavorless oil for frying

Put about a half an inch of oil into a skillet and heat it to shimmeringh.

Enchilada sauce of your choice

Open the can of enchilada sauce and pour a thin layer of it into the casserole dish.

Heat a tortilla in the pan until it has softened, about 10 seconds, then drain it on a piece of paper. Put a layer of tortillas on the bottom of the pan.

1 red onion,

3 cups jack cheese,

1 teaspoon crushed jalapeno peppers

Mix together the cheese, onion, and jalapeno.

Put most the cheese mixture on top of the tortilla, and pour a little fo the sauce on the cheese mixture. Set the rest aside to top the casserole.

Put the casserole in the oven and bake for about 30 minutes or until all the cheese has melted and the casserole is bubbling.
Notes
You can make your own enchilada sauce or you can use your favorite canned one. If you don't have red onions, although they add a bit of nice sweetness, you can use plain white or yellow onions instead. Feel free to use fresh jalapeno if you have it on hand.
You can easily double this recipe for a larger pan and more people.  Good eating!
Nutrition
Calories:
651
kcal
Carbohydrates:
63
g
Protein:
32
g
Fat:
47
g
Saturated Fat:
20
g
Polyunsaturated Fat:
6
g
Cholesterol:
88
mg
Sodium:
937
mg
Fiber:
9
g
Sugar:
8
g