Boswell barbecue sauce is spicy, smokey and sweet. It's great on poultry, beef, pork, lamb or even your fries.
Boswell Barbecue Sauce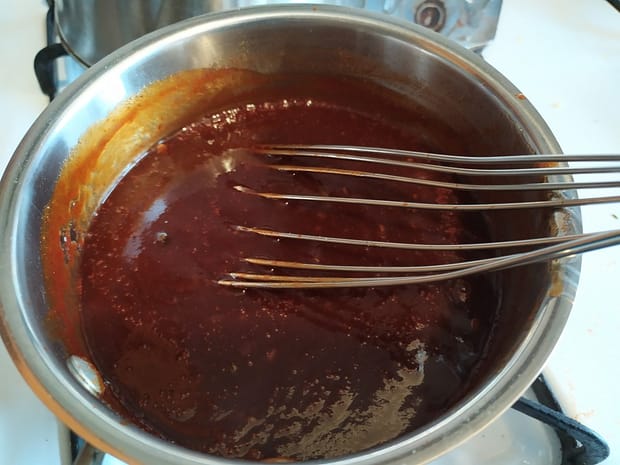 I started making barbecue sauce a couple of years ago when I ran out of storebought and didn't feel like going to the store to get more. How hard could it be? So, I've been working on this sauce and this is just the way we like it. I think you might like it, too. It's sweet from brown sugar, honey, and molasses, and it's sour from red wine and apple cider vinegar, and it's hot from several types of chili. I'm going to put this on our Nesco Baby Back Ribs, but it's also great on Bacon Wrapped Stuffed Chicken, or anything else you want a sweet and sour hot barbecue sauce.

When you make this, you will want to taste for seasoning as you go along. If you don't like spicy, then don't add the spicy ingredients. If you do like spicy, have at it. I made this pretty spicy, but you could make it hotter if you wish.
Some of the ingredients you can find at Penzey's spices:
Let's Make Boswell Barbecue Sauce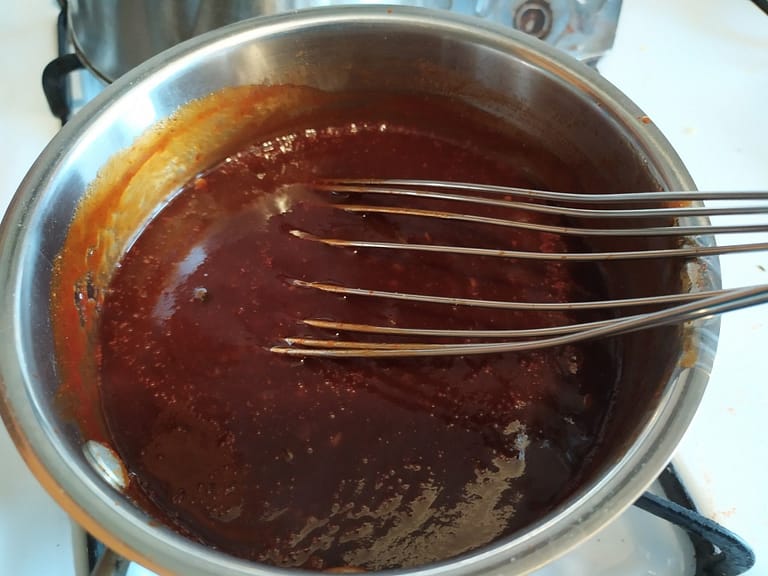 Servings (slide to adjust):
cups
Calories per serving:
169
kcal
If you purchase any of the products through these affiliate links, I get a few pennies that help keep The Good Plate open. I use these products myself and want you to be able to easily find them.
Ingredients
1

cup

ketchup

2

tablespoon

molasses

1

cup

brown sugar

1

tablespoon

honey

4

tablespoon

red wine vinegar

½

cup

apple cider vinegar

1

teaspoon

dehydrated onion

½

teaspoon

bell pepper flakes

½

teaspoon

onion powder

½

teaspoon

garlic powder

1

tablespoon

paprika

½

teaspoon

dry mustard

¼

teaspoon

salt

¼

teaspoon

liquid smoke

1

tablespoon

white pepper

½

teaspoon

crushed jalapeno

1

teaspoon

Chipotle

½

teaspoon

cayenne

1

teaspoon

Aleppo pepper
Ingredients necessary for the recipe step are in italic.
Instructions
If you trust my judgment, you can put everything in a saucepan at once. If you want to play with it, put everything up to the crushed jalapeno, and taste after adding each ingredient. When it is to your liking, bring to a simmer on low heat and simmer for about 10 minutes. Let the sauce cool to room temperature, then store, covered, in the refrigerator.
Notes
If you don't like spicy at all, omit the Aleppo, jalapeno, chipotle, and cayenne.
Nutrition
Serving:
1
g
Calories:
169
kcal
Carbohydrates:
4
g
Protein:
1
g
Fat:
0
g
Saturated Fat:
0
g
Polyunsaturated Fat:
0
g
Trans Fat:
0
g
Cholesterol:
0
mg
Sodium:
450
mg
Fiber:
1
g
Sugar:
39
g