Chinese Stove Top Barbecued Cornish Hen
With just the two of us, a regular chicken is just too big, so I started buying Cornish Hens. They come two to the pack, at 1 1/2 pounds each. A one-half bird is enough to feed one person. Cornish hens taste just like regular chickens and are not baby chickens. For more information, please see the Wikipedia article on Cornish Game Hen.
I love barbecued chicken, but barbecues have been outlawed in our city, so I am stuck with less conventional ways of barbecuing. Last year, I bought a cast iron grill/griddle just for the purpose of barbecuing steaks and making pancakes. It also does a fine job with chicken, and I use the top of my wok to cover foods so they can completely cook. Of course, I have to have my windows wide open, and I shut off the bedroom where the fire alarms are to prevent them from going off. My grill/griddle is easy to clean, just put it in water while it is still warm, but not hot.
I used Hoisin sauce because my son had expressed a desire for Chinese food the day before, but you could use whatever barbecue sauce is your favorite. I served it with Same Day Fried Rice and we had ourselves an Asian feast!
Chinese Stove Top Barbecued Cornish Hen YouTube Video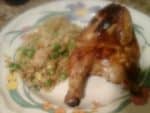 Servings (slide to adjust):
servings
If you purchase any of the products through these affiliate links, I get a few pennies that help keep The Good Plate open. I use these products myself and want you to be able to easily find them.
Ingredients necessary for the recipe step are in italic.
Instructions
Preheat a cast iron grill on the stove top on medium heat.

Remove the hen from the plastic, and rinse under cold water thoroughly.

Put the chicken breast side down, and using a very sharp knife, cut through the backbone.

Turn the chicken over so it is butterflied.

Put your fingers under the breast skin and lift it up a little. Put some soy sauce in there and pat down.

Put the chicken on the grill, breast side down. Put a heavy skillet over it to weigh it down.

Grill for 30 minutes, then turn.

Put on Hoisin sauce, cover and cook for 30 more minutes, or until the bird reads 160 degrees on an instant thermometer.

Cut in half through the breast, serve one half to each person and enjoy.
Notes
You can increase the number of hens, as long as they will fit on your grill. Of course, you can also do this on a regular grill.