These cookies are very rich. Soft and chewy chocolate chip cookies with a candied walnut top.
Candied Walnut Cookies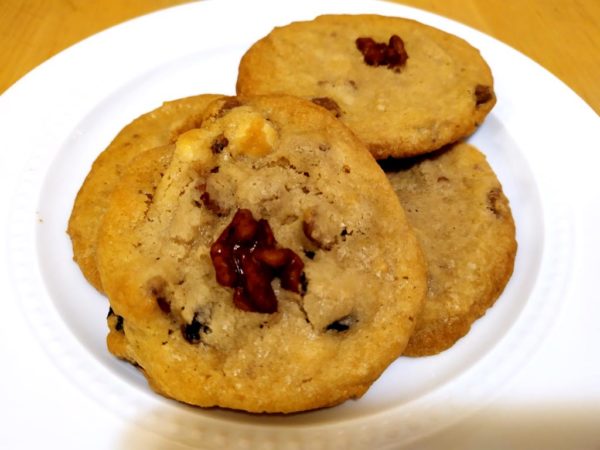 Candied Walnut Cookies are how I use up leftover candied walnuts. These are chocolate chip cookies decorated with a candied walnut.

I love Chinese Honey Walnut Shrimp. I was introduced to it several years ago by a coworker. Even though I'm allergic to shrimp sand vein, I'm not allergic to the shrimp itself, and it is one of my favorite foods. My son, Spane, won't eat shrimp or anything else that lives in the water – he's kind of like a vegan-only he just eschews seafood. No worries, more for me.
Going through the COVID-19 pandemic when everyone was encouraged to stay home to try to keep the virus from spreading, our favorite Chinese restaurant was open for take-out orders only. Spane went to pick up Honey Walnut Chicken for me, and Kung Pao Chicken for himself. They gave me an extra bag of walnuts to go with my food.
The walnuts are candied with sugar and honey before being tossed with the shrimp, so I had plenty of walnuts leftover. I decided to make cookies and use them for decoration. Waste not – want not.
Just Right Soft and Crisp Candied Walnut Cookies
Spane has become an "expert" at making chocolate chip cookies. We prefer them to be soft in the middle and a little crisp on the outside. Many times I've made cookies and had them harden too much in cooling. Well, Spane figured out a way to prevent that from happening. Reduce the baking time on chocolate chip cookie recipes by 2 minutes. Take them out of the oven two minutes before and let them continue cooking on the stovetop. Remove them from the cookie sheet just as they are beginning to crisp and let them cool completely on a cooling rack. Because they are taken out of the oven while they are still very soft, the middle stays soft.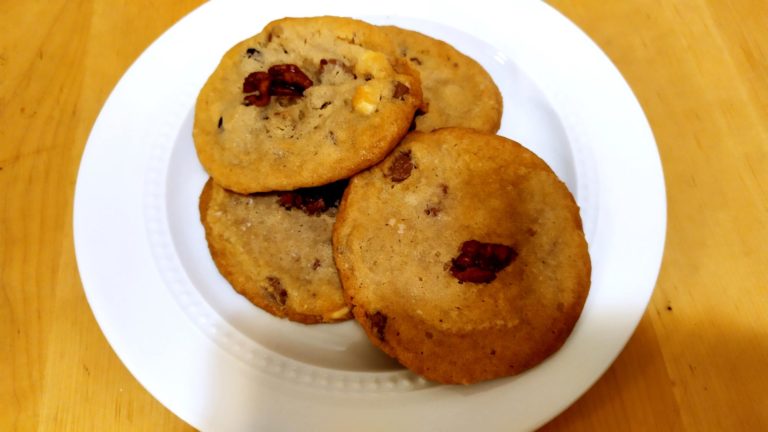 Servings (slide to adjust):
Calories per serving:
971
kcal
Ingredients
2 ¼

cups

all-purpose flour

1

teaspoon

baking soda

½

teaspoon

salt

1

cup

butter

,

at room temperature

¾

cup

sugar

¾

cup

brown sugar

,

packed

1

egg

,

at room temperature

1

teaspoon

vanilla

1

teaspoon

almond extract

1

cup

semisweet chocolate chips

½

cup

white chocolate chips

½

cup

milk chocolate chips

1

cup

candied walnut

,

about 36
Ingredients necessary for the recipe step are in italic.
Instructions
Preheat the oven to 375 F / 190 C. Line a cookie sheet with parchment or silicon. Have your mise en place ready.

Beat in egg and vanilla until smooth. Stir in flour mixture just until blended (dough will be stiff).

Using a small ice cream scoop, drop dough on to a parchment paper lined cookie sheet 2 inches apart. You should be able to fit 12 cookies on each sheet.

Bake for 9 minutes. Remove from the oven and let the cookies sit on the stove top on the cookie sheet. After about 5 minutes, you can transfer them to a cooling rack to cool completely. Enjoy!
Nutrition
Calories:
971
kcal
Carbohydrates:
122
g
Protein:
9
g
Fat:
50
g
Saturated Fat:
29
g
Polyunsaturated Fat:
3
g
Monounsaturated Fat:
16
g
Cholesterol:
26
mg
Sodium:
81
mg
Potassium:
594
mg
Fiber:
11
g
Sugar:
95
g