These apple-stuffed pancakes are a heavenly treat that will satisfy your cravings and impress your family and guests.
Apple Pancake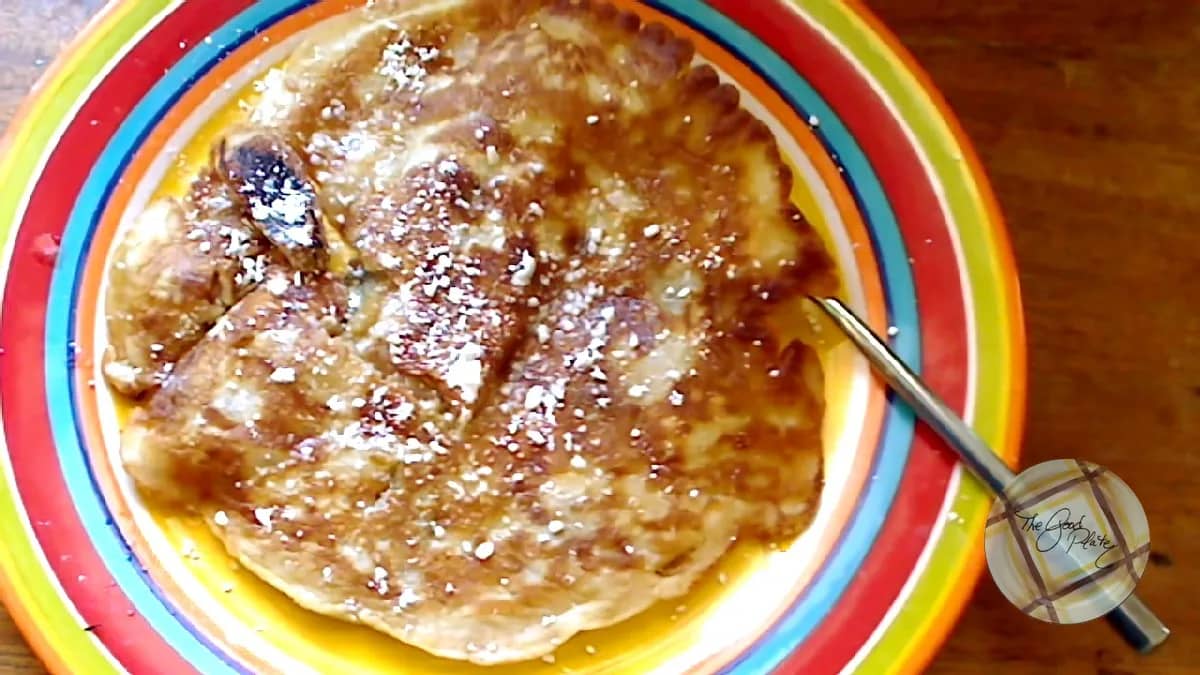 These apple-stuffed pancakes are a heavenly treat that will satisfy your cravings and impress your family and guests.
The Apple Filling
To create the apple filling, peel, core, and dice a couple of sweet apples. In a skillet, melt butter and add the diced apples, along with a sprinkle of sugar, cinnamon, and a touch of lemon juice. Sauté the apples until they become tender and caramelized, releasing a tantalizing aroma that will fill your kitchen. The combination of sweet apples and warm cinnamon is a match made in pancake heaven.
If you don't have leftover apple stuffing from Apple-Stuffed Wontons with Spicy Ice Cream, you can make the apple mixture fairly quickly.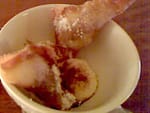 Apple-Stuffed Wontons with Spicy Ice Cream
I was having trouble thinking of what to do with all the apples my neighbor gave me. Inspired by apple pie, a package of wonton skins, and spicy ice cream, I made a dessert to remember.
The Pancake Batter
Start by preparing a light and airy pancake batter. Combine flour, sugar, baking powder, and a pinch of salt. In a separate bowl, whisk together milk, eggs, and melted butter. Gradually mix the wet ingredients into the dry ingredients until a smooth batter forms. This serves as the perfect canvas for the star of the dish—the apple filling.
If you feel that you are crêpe challenged, flipping a giant pancake might seem impossible. You could also make Silver Dollar pancakes and top them with the apple topping instead. But, armed with the right kind of pan, a forgiving batter, and the willingness to try, you will probably be able to make a pretty good-looking, although thick, crêpe.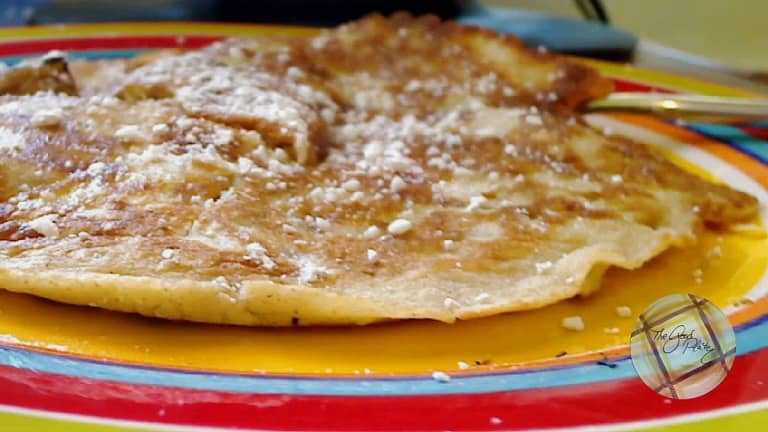 Servings (slide to adjust):
Calories per serving:
533
kcal
If you purchase any of the products through these affiliate links, I get a few pennies that help keep The Good Plate open. I use these products myself and want you to be able to easily find them.
Ingredients
Apples
3

Apples

2

tablespoons

Unsalted Butter

3

tablespoons

Brown Sugar

1

tablespoon

Cinnamon
Pancake
1 ½

cups

all-purpose flour

3 ½

teaspoons

baking powder

1

teaspoon

salt

1

tablespoon

white sugar

1 ¼

cups

milk

½

teaspoon

pure vanilla

1

egg

3

tablespoons

butter

,

melted

2

tablespoons

butter

,

melted (for serving)
Ingredients necessary for the recipe step are in italic.
Instructions
Apples
There is no need to peel the apples unless you really want to. Core them and chop them into 1/2 inch pieces.

2 tablespoons Unsalted Butter

Heat a skillet and put the butter in. Don't let the butter burn.

3 tablespoons Brown Sugar,

1 tablespoon Cinnamon

Add the apples, brown sugar and cinnamon. Stir so the apples get completely covered.

Cover and simmer on low heat until the apples are very soft, stirring occasionally, about 30 minutes.

Remove from the heat and let cool for about 10 minutes. You don't want to cook the pancake in the bowl!.
Pancake
Preheat the oven to 200 degrees and have ready a cookie sheet.

1 1/2 cups all-purpose flour,

3 1/2 teaspoons baking powder,

1 teaspoon salt,

1 tablespoon white sugar

In a large bowl, sift together the flour, baking powder, salt, and sugar.

1 1/4 cups milk,

1/2 teaspoon pure vanilla,

1 egg,

3 tablespoons butter

Make a well in the center and pour in the milk, egg, and vanilla. Mix until the egg incorporated, then add the melted butter. Make sure the egg is completely incorporated, or the melted butter will make cooked egg lumps in your pancakes.

Let the batter rest for about 10 minutes before preparing the pancakes. Then add the slightly cooled apples to the batter.

Heat a lightly oiled crêpe or frying pan over medium-high heat.

Pour enough batter into the pan to reach to the edges. Cook until the pancake has bubbles on the surface, then flip.

Turn the heat down to very low, and let the pancake continue to cook about 3 minutes. Check by poking it with a toothpick. If the toothpick comes out clean, it's ready.

Put the pancake on the cookie sheet to warm while you prepare the remaining pancakes.

To serve, melt more butter, and pour over each pancake, then sprinkle with powdered sugar.
Notes
This would be very good with hard sauce instead of melted butter. However, that should be for adults and would be better as a dessert.
Nutrition
Calories:
533
kcal
Carbohydrates:
73
g
Protein:
9
g
Fat:
24
g
Saturated Fat:
14
g
Polyunsaturated Fat:
1
g
Monounsaturated Fat:
6
g
Trans Fat:
1
g
Cholesterol:
103
mg
Sodium:
1115
mg
Potassium:
354
mg
Fiber:
6
g
Sugar:
30
g
Vitamin A:
875
IU
Vitamin C:
6
mg
Calcium:
355
mg
Iron:
3
mg