Recipes in this Post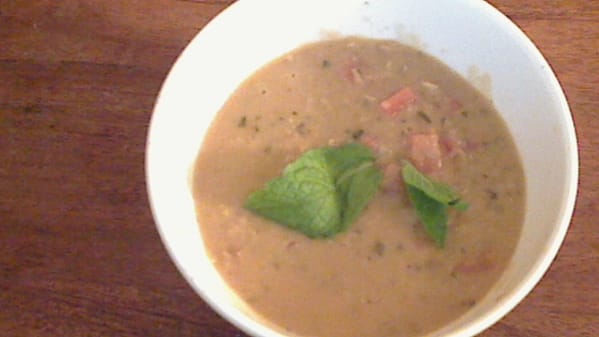 I love living in Southern California. It's not too cold, and it's not too hot. It's like somewhere that Goldilocks would like to live. We had a little bit of rain last night, and that gives me and excuse to make soup!
I wanted to make a healthy and hardy soup. It's Friday, and in our house, we don't eat meat on Fridays. We eat vegetarian or fish. Tonight, we're going to have our Yoghurt Lentil Soup with Fish and Chips, so we'll be a little British and a little Armenian. Why not? It's good for you!
Recipe: Yoghurt Lentil Soup
Summary: This is a nice, hardy soup for a chilly evening.
Ingredients
1 tablespoon Olive oil
1 teaspoon Shallot in oil
1 clove Garlic chopped
1/2 Onion chopped
1/2 Sweet bell peppers chopped
2 Carrot chopped
2 Radishes chopped
1 Tomato diced
2 tablespoon Mint chopped
2 tablespoon Cilantro chopped
1 tablespoon Vegetable base
1 quart Water
1 cup Red lentils
1/2 cup Plain Yogurt
Instructions
Put the olive oil in a heavy bottom pot.
Put in the shallots in oil and stir them about a bit before adding the garlic. Saute until the garlic is translucent, then add the onion and sweet bell pepper.
After the onions are translucent, add the carrot and radishes.
Cover and reduce heat to low, and cook for 15 minutes.
Add the tomato and half of the herbs. Set the rest of the herbs aside for garnishing later.
Let the mixture cook down until the tomato is completely cooked, about a half an hour.
Transfer to a crock pot.
Add the vegetable base, water and lentils.
Cover and cook on low until the lentils are nice and soft.
Stir in the yogurt and put in the remaining herbs.
Quick notes
You don't have to do this in a crock pot. I'm doing it in a crock pot so I don't have to watch it. This would be good with crusty bread and a glass of Chardonnay.
Variations
Add whatever other vegetables you might have available.
Preparation time: 5 minute(s)
Cooking time: 2 hour(s)
Diet type: Vegetarian
Number of servings (yield): 6
Culinary tradition: Middle Eastern
Calories: 271
Fat: 5
Protein: 17
My rating 5 stars: ★★★★★ 1 review(s)
Copyright © The Good Plate.
Recipe by Adrienne Boswell.
Microformatting by hRecipe.