Recipes in this Post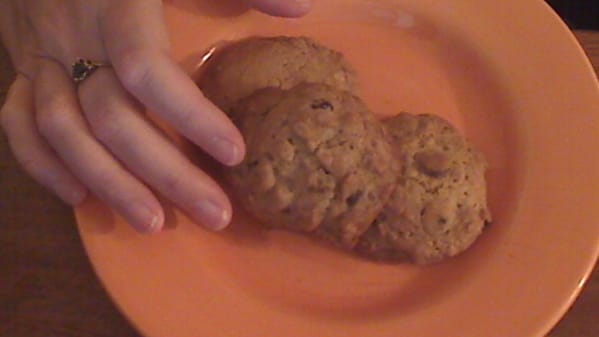 It was so cold and windy today that even with the windows closed I could still feel the wind! These are insulated windows, too. In Glendale, California, where we live, the wind sometimes whips up a storm as it comes across the valley. and then gets caught in our little bowl surrounded by Griffith Park in the west, Eaglerock in the south, the San Gabriels in the east, and the Verdugo Mountains in the north. As the wind squeezes itself out to Pasadena, it can start howling and really whirl itself into a frenzy.
That's okay! It means that the oven can go on and have something to do. I know I've talked about this in the past, and I'll say it again. I just don't feel right lighting a heater on the wall when it does nothing but heat the room and dry out the air. At least an oven produces something for its efforts.
I wanted something a little healthy, and we have dried cranberries, organic chocolate and Blueberry Muesli from Trader Joe's. I thought using that for cookies would a) make them better for you, and b) taste/feel similar to oatmeal cookies. I don't like oatmeal, so I never have it on hand. I wouldn't even have the little packets around, as those are GMO. Yes, you heard it right, Quaker Oats from General Mills are genetically modified. I think if that nice Quaker gentleman on the box knew about that he'd jump straight off the container.
Recipe: Chocolate Chip Fruit Muesli Cookies
Ingredients
1 Egg
1/2 teaspoon Vanilla
1/2 teaspoon Salt
1 teaspoon Cinnamon
1/4 teaspoon Mace
1/2 teaspoon Baking Soda
3/4 cup Brown Sugar
1/2 cup Butter
1 1/4 cup Flour
1 cup Muesli
1/4 cup Dried Cranberries
6 ounces Chocolate Chips
Instructions
Heat oven to 375F.
Sift flour, baking soda, and salt together and set aside.
Blend butter, sugar, mace, cinnamon and vanilla.
Beat in egg. Add flour mixture and mix.
Stir in Muesli, cranberries and chocolate chips. Drop by teaspoons on lightly greased cookie sheet. Bake at 375F for 10-12 minutes.
Quick notes
If you use whole wheat flour, reduce it by a 1/2 a cup.
Variations
This was adapted from a recipe from Bob's Red Mills, which originally called for Whole Wheat Flour. I only had regular flour on hand, so I had to add a bit more of it to their recipe. If you can get a hold of the stone ground whole wheat, by all means, do so!
Preparation time: 5 minute(s)
Cooking time: 10 minute(s)
Diet type: Vegetarian
Diet tags: Low calorie, Reduced fat
Culinary tradition: German
Calories: 138
Fat: 7
Protein: 2
Copyright © The Good Plate.
Recipe by Adrienne Boswell.
Microformatting by hRecipe.