These "California" sandwiches are great to feed a crowd with tomato, basil, bacon, avocado, French bread, and cream cheese.
Star Party Submarine Sandwiches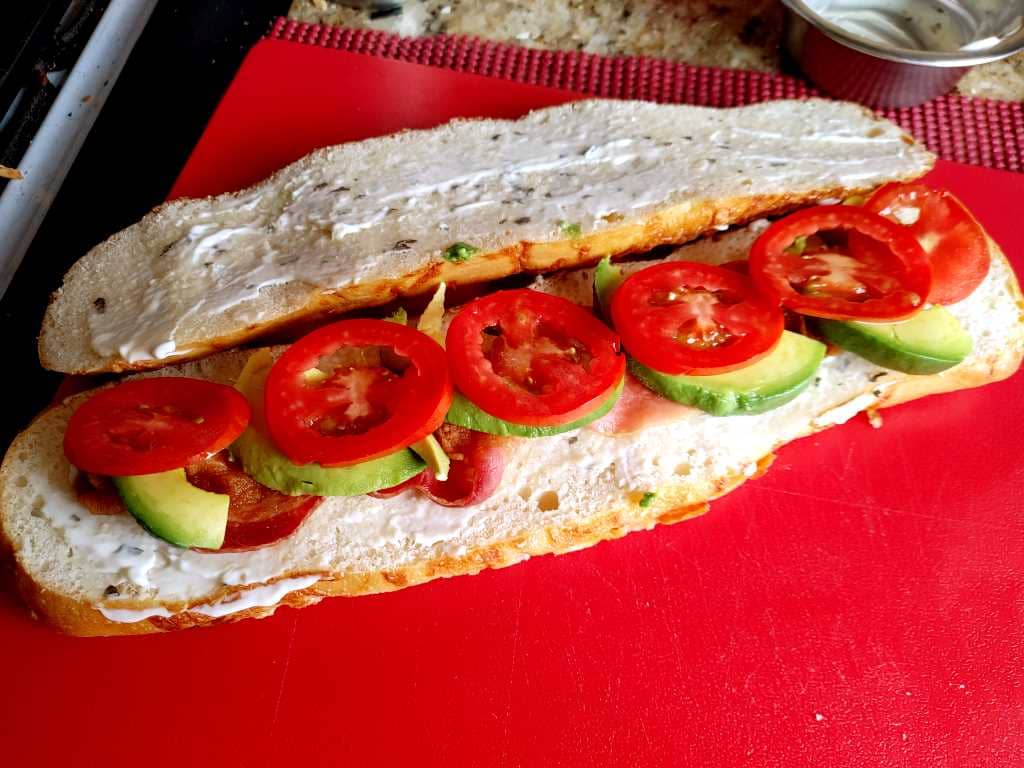 These sandwiches with cream cheese, bacon, tomato, basil, and avocado are wonderful for a picnic lunch or to feed a crowd. They are tasty and easy to make. You can even prep them the night before.
Since making these for picnics, they were also featured at my son Spane's school's Teacher Appreciation Luncheon. The teachers actually asked for my Star Party Sandwiches by name.
What at Star Party Sandwiches?
The sandwiches are called Star Party Sandwiches from the time I made them for a Star Party. Star Parties occur every month on the lawn of the Griffith Observatory. No, I don't think there were any celebrities there, just amateur astronomers with their telescopes on the lawn at the Griffith Park Observatory letting the public have a chance to see the rings of Saturn, and the moon up close and personal. If you have not been to the Griffith Observatory, I highly recommend it. Due to COVID-19, you should check with the Observatory before making plans to visit. But – still, make the sandwiches.
The first time we went to a Star Party, it was my son Spane's 6th birthday, and my blog post, Happy Sixth Birthday Spane has recipes and pictures. The great thing about that visit was the big red moon. He happened to be born at a red moon, too. One time, the surprise was being able to see Saturn, with its rings. You have never had your heart quicken more than seeing Saturn's rings, right before your eyes. Those Public Star Parties at Griffith Park Observatory are just the best fun.
It's great fun for everyone to have a picnic in Griffith Park and then go to the Observatory. There is no better picnic sandwich than my modified BLT, Star Party Sandwiches. If your kids don't like basil, you can omit it and just make cream cheese, bacon, lettuce, and mayonnaise on French bread.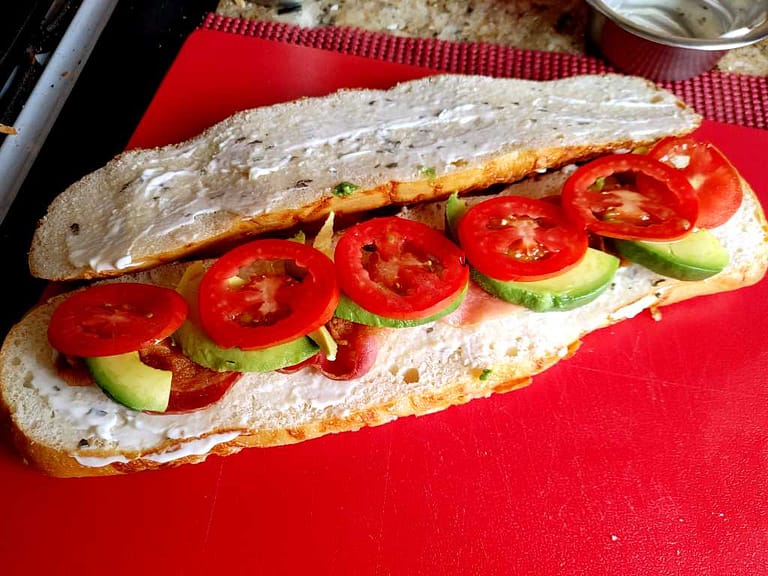 Servings (slide to adjust):
servings
Calories per serving:
479
kcal
Ingredients
1

loaf

French bread

,

Unsliced (Important)

1

lb

bacon

,

thick is preferred

1

tomato

,

large and ripe

1

Avocado

,

ripe

1

bunch

Basil Leaves

,

Fresh Sweet

½

cup

Mayonnaise

,

Best Foods/Hellman's preferred

8

oz

Cream Cheese

,

at room temperature – Philadelphia preferred
Ingredients necessary for the recipe step are in italic.
Instructions
Put foil on a half sheet pan. Put a cooling rack on the foil. Place the bacon slice by slice on the rack. Place in a cold oven and turn the heat up to 350. Check the bacon at 10 minutes, and it should be done in about 15. Remove from the oven, and place the bacon on paper towels to absorb grease. Set aside.

Set aside enough basil leaves to cover one side of the bread. You will be putting these on top of the tomato.

Put the remaining basil leaves in a small food processor with the mayonnaise. Process until all the basil and mayonnaise have mixed together. It's best if the mayonnaise mixture is pale green, but you may be flecks of basil. Set aside.

Slice the tomato into relatively thick slices, about a quarter of an inch. Set aside.

Peel and remove the seed from the avocado, then slice it as well. Set aside.

Take the cream cheese out of the box, and gently knead it still in its wrapper. Set it aside.

On one of the sides of the bread, put the bacon strips, avocado slices and top with the sliced tomato.

Cut one end of the wrapper of the cream cheese. Slowly and carefully, from the bottom, squeeze the cream cheese over the sandwich, spread it slightly with a knife so it goes from end to end.

Place the remaining mayonnaise mixture on the other piece of bread, and put that bread on top to close the sandwich.

To wrap for taking elsewhere, get a large roll of cellophane wrap and wrap the sandwich well in it, then cut it into sandwiches, and wrap each sandwich separately. Wrapping submarine sandwich in plastic first will help keep it together when you want to cut it into individual sandwiches.
Nutrition
Serving:
170
g
Calories:
479
kcal
Carbohydrates:
24
g
Protein:
9
g
Fat:
40
g
Saturated Fat:
14
g
Polyunsaturated Fat:
6
g
Monounsaturated Fat:
17
g
Cholesterol:
49
mg
Sodium:
603
mg
Potassium:
452
mg
Fiber:
3
g
Sugar:
1
g