Mushroom Duxelles Stuffing Cupcakes with Mashed Potato Frosting is a unique and scrumptious twist on traditional stuffing and mashed potatoes.
Mushroom Duxelles Stuffing Cupcakes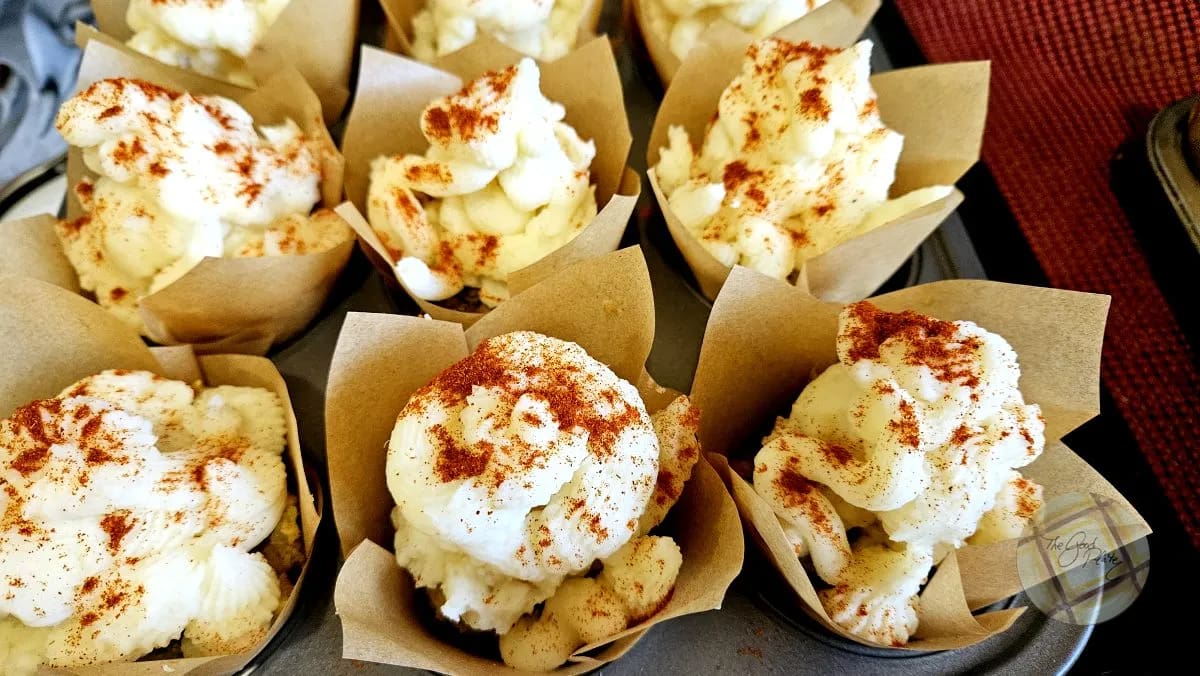 Mushroom Duxelles Stuffing Cupcakes with Mashed Potato Frosting, a unique and scrumptious twist on traditional stuffing and mashed potatoes.
Move over, traditional stuffing! There's a new, creative, and utterly delectable way to enjoy one of our favorite Thanksgiving side dishes. Introducing Mushroom Duxelles Stuffing Cupcakes. These savory treats combine the earthy richness of mushrooms, mashed potato frosting, and the comforting essence of stuffing in a portable, bite-sized package that's perfect for holiday gatherings and beyond.
What are Duxelles?
Duxelles is the French term for very finely minced mushrooms, sauteed with shallots and herbs. The traditional herbs are either thyme or parsley. Since these duxelles are going to be part of a stuffing mix, they are going to be sauteed with fresh poultry seasoning.
Mushrooms absorb the liquid they are cooked in and also the flavor. These mushrooms are sauteed in a combination of butter and Shallots in Oil. They will also get flavor from sherry, a traditional fortified wine. After the mushrooms have absorbed all that flavor, they start to exude liquid. They must continue to cook to cook off the liquid and some of it gets reabsorbed. Mushrooms are very interesting.
Unless you have a lot of patience, the best way to finely mince mushrooms for duxelles is to use a food processor. The food processor does the job in a few seconds, mincing by hand takes a lot longer with the danger of cutting yourself.
Cheating at Stuffing
There are some things that I buy prepared. One of them is Mrs. Cubbison's Corn Bread Stuffing mix. It's the stuffing mix my grandmother used, and as many times as I have tried to replicate it, or find a better substitute, I have been foiled, so I stick to what's good. If you want to use your own stuffing mix, please feel free.
I also use Better Than Bouillon chicken base when I don't have turkey broth on hand. I always have several varieties on hand instead of letting leftover stock turn into a science experiment in the back of my refrigerator. Of course, if you have stock or broth on hand, please feel free to use them.
The stuffing is put in a muffin tin. Depending on how many guests you have, you could use 1 cup tins, or if you want to serve this as an appetizer, use the small 1/2 cup muffin tins.
The Frosting
With this dish, we are combining two traditional holiday dishes into one. Everyone loves fluffy mashed potatoes.
The Instant Pot does a great job of evenly and quickly cooking potatoes. The KitchenAid stand mixer is the best way to get the most fluffy mashed potatoes because it whips air into them. I also use the stand mixer when mixing stuffing, so it does double duty in this dish.
If you have a piping set, you can pipe the mashed potatoes on top of the stuffing muffins. Otherwise, you can use an offset spatula or table knife.
If you like to add extra flavor to your mashed potatoes, feel free to do so. Mashed sweet potatoes would also make an excellent "frosting".
The Right Pan Makes all the Difference
When you make these stuffing cupcakes, the muffin pan you use makes all the difference. When you choose a muffin pan, it should be sturdy so it will not warp, and your baked goods will come out evenly. A little extra area to grip the pan is a nice feature. A non-stick surface is also a bonus feature, although, in this application, we used parchment muffin liners.
We really like the KitchenAid muffin pan because it has all the features we love like an extra grip area and a non-stick surface. Because they are made from aluminized steel, they won't discolor, stain, or rust.
Make It Ahead
Holidays can be very busy and this dish can be made a day or even two before your feast. Simply assemble the cupcakes, cover them, and put them in the refrigerator until you are ready to serve. They should be hot at the table.
Mushroom Duxelles Stuffing Cupcakes Recipe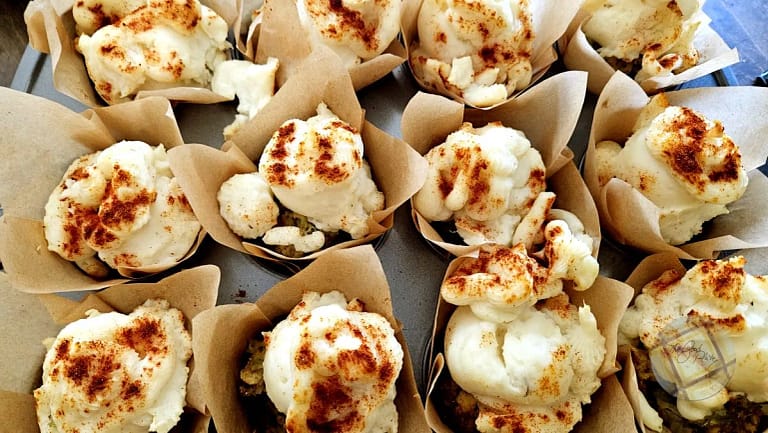 Servings (slide to adjust):
servings
Calories per serving:
415
kcal
If you purchase any of the products through these affiliate links, I get a few pennies that help keep The Good Plate open. I use these products myself and want you to be able to easily find them.
Ingredients
~~ — Stuffing — ~~
¼

cup

Butter

,

unsalted, 1/2 stick

2

tablespoon

Shallots in Oil

1

teaspoon

Poultry seasoning

½

cup

Mushroom

,

finely minced

1

tablespoon

Sherry

1

cup

Onion

,

chopped

1

cup

Celery

,

chopped

12

ounces

Mrs. Cubbison's Corn Bread Stuffing

1

teaspoon

Chicken base

1

cup

Water

,

boiling
~~ — Frosting — ~~
4

medium Potatoes

2

tablespoon

Butter

,

unsalted

1

teaspoon

salt

1

teaspoon

Wauwatosa Village Seasoning

2

tablespoon

Half-and-half cream

2

tablespoon

Milk

1

teaspoon

Paprika

,

as garnish
Ingredients necessary for the recipe step are in italic.
Instructions
Stuffing
If you do not have a food processor, mince the mushrooms and set them aside; otherwise, process them until they are slightly larger than a grain of rice.

1/4 cup Butter,

2 tablespoon Shallots in Oil,

1 teaspoon Poultry seasoning

Melt the butter in a large sauté pan. Add the shallots in oil and poultry seasoning.

1/2 cup Mushroom,

1 tablespoon Sherry

Add the mushrooms. Cook the mushrooms, stirring often, until they start releasing their liquid. Add the sherry. Continue cooking the mushrooms until most of the moisture has evaporated.

12 ounces Mrs. Cubbison's Corn Bread Stuffing

Put the mixture in the bowl of a stand mixer and add the stuffing mix.

1 teaspoon Chicken base,

1 cup Water

Dissolve the chicken base in the boiling water and stir until it is thoroughly dissolved.

Add the broth to the stuffing mixture and mix everything together.

Spoon the stuffing into the lined muffin tins.

Clean the bowl of the stand mixer.
Frosting
Peel the potatoes and cut them into large chunks.

Put the potatoes in the Instant Pot and cover them with water.

When the potatoes have finished cooking, remove them from the Instant Pot and put them in the bowl of the stand mixer.

1 teaspoon Wauwatosa Village Seasoning,

1 teaspoon salt

Add the butter and stir until it is broken up.

2 tablespoon Half-and-half cream,

2 tablespoon Milk

Add the half and half and milk and beat them on high until they are nice and fluffy.

You can spoon the mashed potatoes on the stuffing, or if you want, pipe the mashed on to look like nice frosting.

Bake in a

350

°F

oven for 30 minutes or until the tops have browned. Let the cakes sit for about 10 minutes, then move them with the liners intact, and serve on a nice platter.
Notes
You can make this vegan by replacing the chicken base with vegetable base, substituting the butter in the stuffing with olive oil, and using dairy-free yogurt for the mashed potatoes.
You can prepare this the night before, leave it in the refrigerator covered, and bake before serving time.
Nutrition
Serving:
266
g
Calories:
415
kcal
Carbohydrates:
64
g
Protein:
9
g
Fat:
14
g
Saturated Fat:
7
g
Polyunsaturated Fat:
2
g
Monounsaturated Fat:
5
g
Cholesterol:
26
mg
Sodium:
1310
mg
Potassium:
926
mg
Fiber:
5
g
Sugar:
7
g