These Bacon Crusted Mini Quiches are so simple to make. Pour, bake, and eat - that simple. You can make them for breakfast, or serve as an appetizer.
Bacon Crusted Mini Quiches
Bacon Crusted Mini Quiches are so simple to make, look fantastic, and taste great. Make them plain with only eggs, or make them fancy with what you like in your scrambled eggs. These are not quiches in the true sense of the word because they don't have a real crust.

I have been pinning to my Recipes I Gotta Try Pinterest Board for quite some time, and the other day I decided it was high time I started actually trying some of the things I pinned.
This egg dish has got to be the easiest thing in the world. I have asked Spane to make this for me for Mother's Day, it's that simple. You can prepare it at night, and bake it in the morning. You don't have to stand over a hot stove cooking eggs, while they are baking, you can take your time doing what you normally do – get the kids up, dressed, and ready, read the paper, check Facebook and/or other social media, even contemplate your navel. Just pour, bake and serve, that simple. Of course, you don't have to make these for breakfast, you can use them as appetizers or as a healthy snack.
Having made these a few times, however, there are some caveats. To prevent sticking, it's important to make sure the bacon is hugging the surface of the muffin tin as closely as possible, otherwise, the egg will get in there and stick. Try to use solid pieces of bacon without any holes. Grease the muffin tin with the bacon. You can also use appropriate cupcake holders, which makes cleanup a breeze!
The ratio is about 2 muffin tins to each egg, without other ingredients. If you want to add more ingredients, like cheese, or vegetables, it is a little less, and you will have to compensate for that. Remember to fill only two-thirds full because the eggs expand and puff up.
Let's make Bacon Crusted Mini Quiches
You can start with the Mise En Place.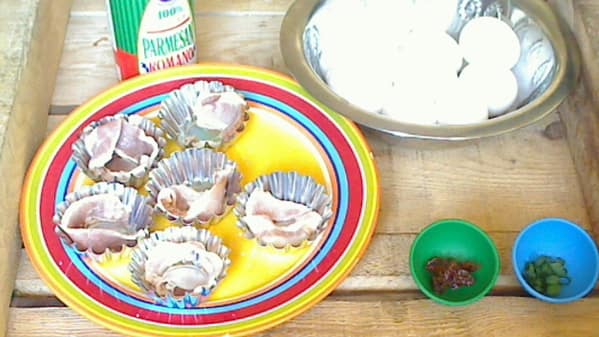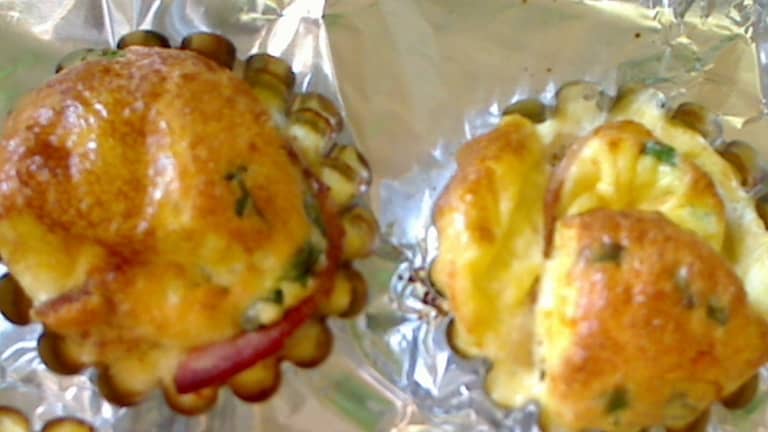 Servings (slide to adjust):
Calories per serving:
337
kcal
Equipment
If you purchase any of the products through these affiliate links, I get a few pennies that help keep The Good Plate open. I use these products myself and want you to be able to easily find them.
Ingredients
6

Bacon Slices

3

Egg

1

teaspoon

Milk

3

drops

Tabasco

6

drops

Worcestershire sauce

¼

cup

Cheddar

,

grated

1

tablespoon

Green onion

,

sliced

1

tbsp

Sun-dried tomatoes,

chopped
Ingredients necessary for the recipe step are in italic.
Instructions
Preheat the oven to 350. Have ready a six muffin tin, and a foil-lined baking sheet.

Using a six muffin pan, line each muffin tin with a piece of bacon. Put the pan on the foil-lined baking sheet.

Mix the egg with the milk, Worcestershire, and Tabasco. If your bowl does not have a spot, transfer the mixture into something that does.

Equally, divide the remaining ingredients among the muffin tins. Carefully pour the egg mixture into the muffin tin at two-thirds. If you go over two-thirds, the product is likely to boil over.

At this point, you could stop, lightly cover it, and put it in the refrigerator for the next morning, or when you are ready to cook.

Put the sheet with the muffin tin into a 350° pre-heated oven, and bake for 20-25 minutes, or until a toothpick comes out clean.
Notes
Only fill 2/3 full. Make sure that the inside of the muffin tin is greased very well or use appropriate muffin liners for easy cleanup.
Variations? Variations? The mind boggles at the number of variations. You could add vegetables, different cheeses, the possibilities are endless!
Nutrition
Calories:
337
kcal
Carbohydrates:
1
g
Protein:
13
g
Fat:
31
g
Saturated Fat:
11
g
Polyunsaturated Fat:
4
g
Monounsaturated Fat:
13
g
Cholesterol:
319
mg
Sodium:
401
mg
Potassium:
165
mg
Fiber:
0
g
Sugar:
1
g