This is a lovely side dish when the venerated white asparagus is in season
Marinated White Asparagus Spears
Last Updated on August 25, 2019
When I was a child, my mother would sometimes bring home the white asparagus in the can. That was a big treat – except it didn't have much flavor. When I saw white spears that looked a lot fresher and nicer than their green brethren, I knew I could so a lot better, so I decided to bring them home and marinate them.
My son and I love asparagus, especially the long thin ones. We like them with butter, lemon, and pepper. I'm always excited when they're in season. Asparagus is good for you, they have anti-inflammatory and antioxidant qualities that can help with heart disease, diabetes, and may help prevent certain cancers. Not bad for a vegetable that sometimes makes your bathroom smell like asparagus!
One of the ingredients in this recipe is True Lemon. If you haven't tried True Lemon yet, do it. True Lemon is crystallized fresh lemon juice and oil. It doesn't have that bottled lemon juice flavor, and since it's dry, it won't affect your recipe in the way that lemon juice can. It's also great because you can carry it with you and put it in water or other drinks as you desire.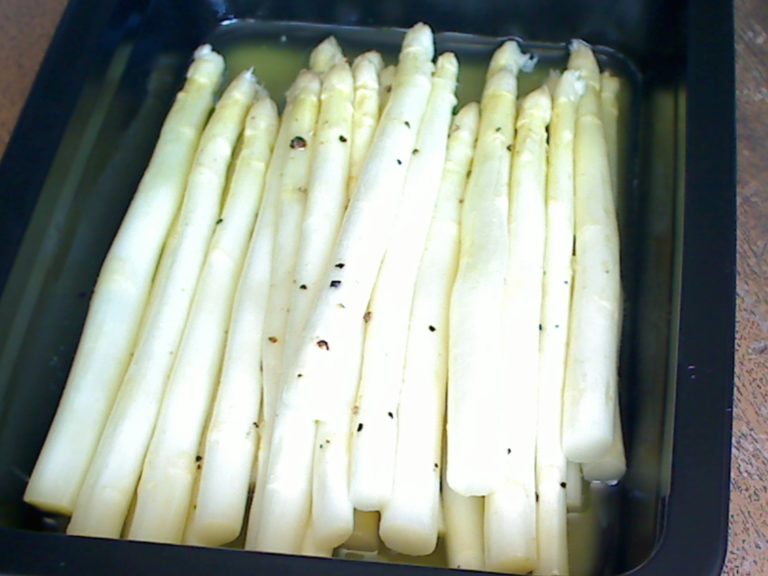 Servings (slide to adjust):
servings
Calories per serving:
98
kcal
Ingredients
1

bunch

white asparagus

1

teaspoon

Dijon mustard

1

tablespoon

red wine vinegar

¼

cup

extra virgin olive oil

½

teaspoon

True Lemon

Black Pepper

,

freshly ground to taste

Parmesan cheese

,

shredded to taste
Ingredients necessary for the recipe step are in italic.
Instructions
Cut off any hard bottoms of the spears.
Microware Instructions
Place them in a plastic bag, and put the bag in the microwave, open side under the spears. Cook for 3 minutes. Immediately remove from the microwave and set aside.
Instant Pot Instructions
Pour 1 cup cold water and place steamer rack in Instant Pot. Put the asparagus on the steam rack, close and lock the lid. Use the pressure cooker setting at 0 for thin asparagus or 1 for thick asparagus. Use the Quick Release method and remove the lid as soon as it's safe to stop the cooking process.


Asparagus Pan Instructions
Put the asparagus in the steamer basket. Put some water in the bottom of the pot, then insert the basket. Let the water come to a boil, then steam about 4-5 minutes until fork tender. Remove from the basket from the steamer immediately.
For the Marinade
In a small bowl, put the mustard and red wine. Whisk until the mustard is mixed in.

Slowly add the oil in a small, steady stream, whisking the entire time.

Add the True lemon and black pepper.

Put the asparagus in a dish to marinate, and pour the marinade over it.

Refrigerate until cold, at least one hour.

Just before serving, sprinkle a good amount of shredded Parmesan overall.
Notes
You can use green asparagus just as easily.
Nutrition
Serving:
1
serving
Calories:
98
kcal
Carbohydrates:
2
g
Protein:
2
g
Fat:
10
g
Saturated Fat:
2
g
Polyunsaturated Fat:
1
g
Monounsaturated Fat:
7
g
Cholesterol:
1
mg
Sodium:
45
mg
Potassium:
106
mg