Italian Spice mix is a delightful combination of Italian herbs and spices including fennel, oregano, and leek.
Italian Spice Mix
Italian Spice mix is a delightful combination of Italian herbs and spices including fennel, oregano, and leek. This is not Italian Seasoning.
I originally found this spice mix when making Italian beef sandwiches. With the remaining spice, I discovered that it is great for a variety of dishes, so I made more. It is so easy to make; just put the herbs and spices in a coffee grinder, process it to a fine powder, and store it. Simple!
Unique Spices in Italian Spice Mix
Most of these spices are familiar to you and you probably already have them in your spice rack. But I want to familiarize you with some of the ones you might not be aware of.
Fennel
Fennel is the seed of the fennel plant. You are probably most familiar with it because it is the main flavoring of Italian sausage. If you get sausage on your pizza, you have probably had fennel. By itself, fennel tastes like a light anise or licorice.
Fresh fennel bulbs have a bright texture similar to celery, except it is slightly sweet. The leaves are whispy, fairy-like green fronds and are delicious. Fennel is often found growing wild along roadsides. It originated in the Mediterranean and likes a relatively warm climate. It is considered an invasive species, so please, if you find it, grab it, clean it, and eat it. You won't be disappointed.
Fennel seed takes a prominent place in this Italian Spice Mix.
Dried Leek
Leek is part of the onion family. They look and taste like giant green onions. The biggest difference is that the dark green part of leeks is tough and bitter, so usually only the white and paler green part of the leeks is used for cooking.
Leeks have a more refined onion flavor. Use a little dried leek in grilled cheese sandwiches. We added them here to give this Italian Spice Mix a more sophisticated taste.
Tuscan Sunset
Tuscan Sunset is one of the Penzey's family of spices. It is similar to Italian Seasoning but packs more of a punch. If you do not have Tuscan Sunset in your spice rack, I recommend you get it now. You will use it a lot.
Spice Grinder
The grinder I used for Italian Spice Mix is a simple Krups coffee grinder. Coffee grinders do a great job of grinding dried herbs, bark, and seeds into fine powders. Food processors are too large and the blade on a blender is too high up. If you use a grinder for your coffee, by all means, get another one for grinding spices.
How to Use Italian Spice Mix
You can use this spice mix on anything you want to have an Italian flavor. Rub the spice on a chicken before you roast it. You could use it to make homemade Italian sausage. Toss raw vegetables in olive oil, sprinkle some of the spice mix on them, and roast them. You can also add this spice mix to pizza dough for extra flavor.
Italian Spice Mix Recipe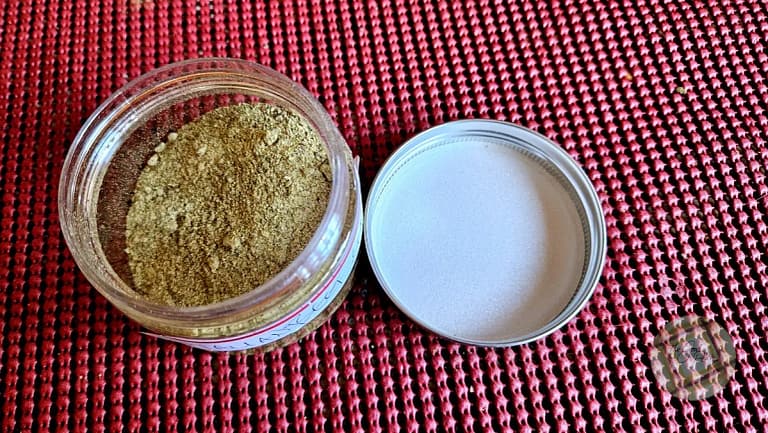 Servings (slide to adjust):
ounces
Calories per serving:
11
kcal
Equipment
If you purchase any of the products through these affiliate links, I get a few pennies that help keep The Good Plate open. I use these products myself and want you to be able to easily find them.
Ingredients
1

teaspoon

Chili flakes

1

tablespoon

Roasted Garlic powder

2

teaspoons

Onion powder

2

teaspoons

Basil

,

dried

2

teaspoons

Oregano

,

dried

2

teaspoons

Tuscan Sunset

1

teaspoon

salt

1

teaspoon

Black pepper

1

teaspoon

Fennel seeds

1

teaspoon

dried leeks
Ingredients necessary for the recipe step are in italic.
Nutrition
Serving:
4
g
Calories:
11
kcal
Carbohydrates:
2
g
Protein:
0
g
Fat:
0
g
Saturated Fat:
0
g
Polyunsaturated Fat:
0
g
Monounsaturated Fat:
0
g
Trans Fat:
0
g
Cholesterol:
0
mg
Sodium:
300
mg
Potassium:
58
mg
Fiber:
1
g
Sugar:
1
g