The Cobb salad is a symphony of tastes that will leave your palate craving more.
Cobb Salad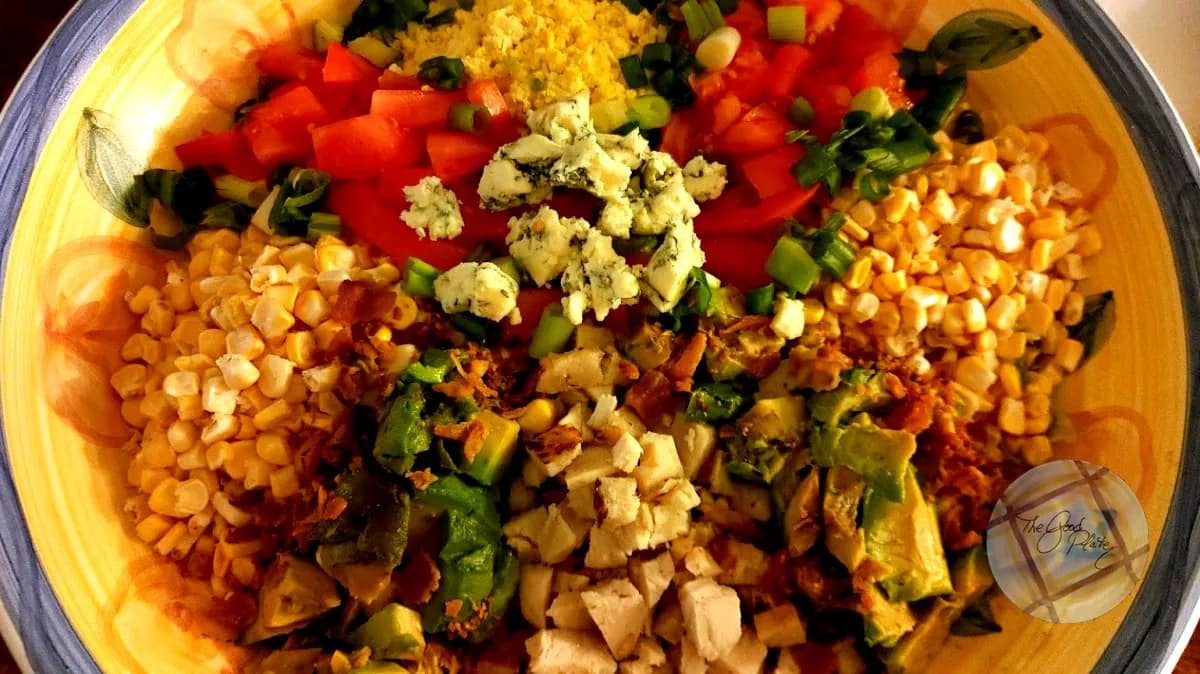 The iconic Cobb salad has stood the test of time. Bursting with a harmonious blend of flavors and textures, this salad has been a favorite among food enthusiasts for decades.
It is often imitated and imitated badly. I should not even have to write this post, but considering the awful versions I have had that called themselves Cobb, I think it's time to set the record straight.
How do I know this? I know it because I am old enough to have actually had a real Cobb Salad at the original Brown Derby in Hollywood when I was a little girl. You don't forget things like that, especially when they are so good.
What is a Cobb Salad
A real Cobb Salad is chopped, not with big pieces of lettuce. What does chop mean? It means small pieces, like the size of a pea.  Rumor has it that when Mr. Cobb's customer, Sid Grauman, came in that night, he had had tooth surgery, had sore gums, and requested something easy to chew. A lot of cooks think that it is just a Chef's Salad but with specific ingredients. Well, it's not – it's a chopped salad, usually with bacon, blue cheese, egg, tomatoes, avocado, spring onions, and chicken all chopped up into little tiny pieces with an unobtrusive vinaigrette like the Original Brown Derby Dressing.

Inventing the Timeless Cobb Salad
Originating in the 1930s at the Hollywood Brown Derby restaurant, it has since become a staple in American cuisine. Legend has it that the salad was a result of a late-night creation by Robert Howard Cobb himself, who gathered various leftover ingredients from the kitchen. Little did he know that this impromptu concoction would give birth to an enduring culinary masterpiece.
Using Leftovers
Considering that Chef was using whatever happened to be on hand in the restaurant's refrigerator that night, Cobb salad lends itself to leftovers very easily.  Do you have leftover roast beef?  Chop it up and add it.  How about leftover corn on the cob?  Even the name says it, strip those corn cobbs and add fresh corn. Have some bits of cheese in your cheese box?  Sure, they can come to the party, too.
What to Serve
This salad goes great with fresh, crusty garlic bread and a glass of white wine.  It's a meal in itself, or it could be served as an appetizer.  If you have a large, transparent bowl, you could layer the ingredients for an even better presentation.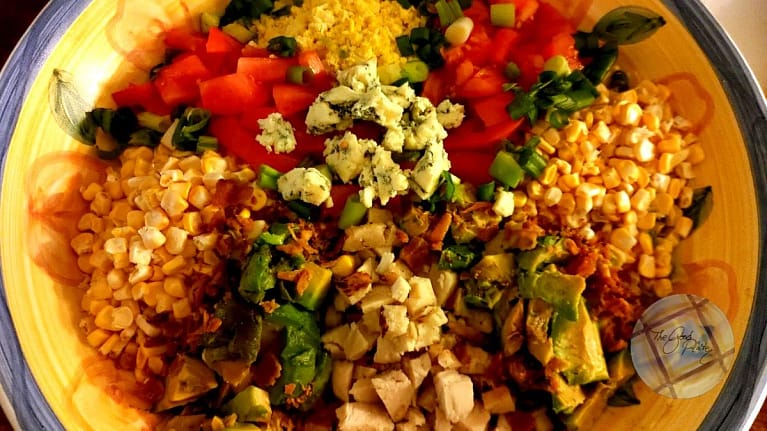 Servings (slide to adjust):
Calories per serving:
152
kcal
If you purchase any of the products through these affiliate links, I get a few pennies that help keep The Good Plate open. I use these products myself and want you to be able to easily find them.
Ingredients
1

tomato

,

chopped fine

1

egg

,

hard boiled and chopped fine

2

slices

bacon

,

cooked and chopped fine

1

tbsp

Blue cheese

2

green onions

,

chopped fine

¼

lb

cooked chicken

,

chopped fine

¼

head of iceberg lettuce

,

chopped fine
Ingredients necessary for the recipe step are in italic.
Instructions
1/4 head of iceberg lettuce

In a large salad or pasta bowl, put the chopped lettuce as a bed for the remaining ingredients.

1 tomato,

1 egg,

2 slices bacon,

1 tbsp Blue cheese,

2 green onions,

1/4 lb cooked chicken

Lay the rest on the tomato, egg, bacon, blue cheese, green onions and chicken in rows, or in sections (rows is more authentic).

Original Brown Derby Dressing

Present the salad, then toss with the Brown Derby Original Dressing
Notes
You can break with tradition and add or subtract ingredients. You have to remember this salad was made out of whatever was left when a good customer, Cobb, came into the Derby late one night, and this is what the chef was able to toss together. If you have leftovers that you want to toss in, please do so!
The nutritional values stated are for the salad alone and not the dressing. The nutritional value of the dressing can be found at Original Brown Derby Dressing.
Nutrition
Serving:
1
g
Calories:
152
kcal
Carbohydrates:
5
g
Protein:
13
g
Fat:
18
g
Saturated Fat:
6
g
Polyunsaturated Fat:
5
g
Monounsaturated Fat:
8
g
Cholesterol:
171
mg
Sodium:
230
mg
Potassium:
430
mg
Fiber:
2
g
Sugar:
1
g