These are so easy and ready in about an hour and a half.
Almond Paste Filled Crescents with Puff Pastry
These Almond Paste Filled Crescents are made with frozen puff pastry. They are so easy to make, you can have them ready in about an hour. I've also got a video showing you how to melt the chocolate for them.

If there is one thing I love, it's almond paste. When I was growing up, my father was a captain in the U.S. Army and we were stationed in Kaiserslautern, Germany.  We lived in the penthouse and there was a bakery on the ground level of the building.  Every Christmas, they would put out the Nativity with an entire village made of gingerbread and all the people, fruits, vegetables, and animals made of marzipan. The snow was made of spun sugar.  It was the most magical place on earth – yes, more magical looking than Disneyland. My mother bought me an Advent calendar from there every year and the little doors had tiny pieces of chocolate-covered marzipan inside. This is why I love almond paste so much.
What You Need to Make Almond Paste Filled Crescents
You can make your own almond paste, but this recipe uses almond paste at the supermarket.  Some almond paste comes in a box, and some almond paste comes in a tube.  Whichever you choose doesn't matter. If you can't find the almond paste, feel free to use marzipan instead.  You will be adding other ingredients so it will stretch a little bit.
The puff pastry is also store-bought, and that's okay.  If you want to use your own puff pastry, please, by all means, do so.  The Pepperidge Farms brand is always good.  It comes with two sheets of pastry, enough to make 12 pastries.  Only use the amount of pastry you need to use and keep the rest frozen.  If while you are working with the dough it becomes too soft, simply put it in the refrigerator to harden again.
Have you ever wondered about tempering or melting chocolate? You can do it in the microwave, but melting in a double boiler is more accurate and less likely to burn or have an accident.  Don't have a double boiler?  No problem.  Just use put water in a small pot and put a metal bowl over the pot that is large enough not to touch the water.  This video explains how to temper chocolate.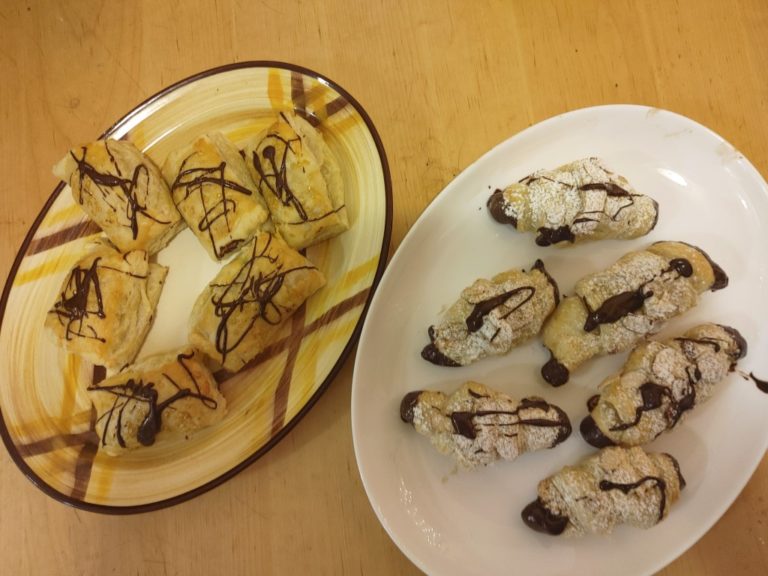 Servings (slide to adjust):
Calories per serving:
399
kcal
Ingredients
~~ For the Crescents ~~
1

package

frozen puff pastry

1

egg

1

tablespoon

Water
~~ For the Almond Filling ~~
¼

cup

almond paste

¼

cup

Sugar

1

large

Egg

½

teaspoon

salt

1

cup

Bread crumbs

,

or cake crumbs

1

teaspoon

Almond extract

1

teaspoon

Vanilla
~~ For Decoration ~~
¼

cup

sliced almonds

2

ounces

semi-sweet chocolate

¼

cup

powdered sugar

1

tablespoon

gold sugar
Ingredients necessary for the recipe step are in italic.
Instructions
Remove the pastry from its container and wrapper and let it defrost on the counter for 40 minutes.

While you are waiting for the dough to defrost, make the filling. Put almond paste, sugar, egg, salt, bread crumbs, almond extract, and vanilla extract in a food processor.

Use a rolling pin to flatten the dough out and remove the fold mark. For the crescents, cut into six triangles.

For the crescents, put a spoonful of paste at the top of the triangle and roll it away from you. Bend the dough so it looks like a crescent.

Mix an egg with water and paint the crescents then sprinkle some of the sliced almonds over them. You can put almonds on the squares if you want, too.

Bake in the preheated oven for about 15 minutes or until the pastries are golden brown. Remove from the oven, let them sit for 5 minutes, then put them on a rack to cool.

Melt the chocolate in a double boiler until it is nicely melted. Don't burn it and don't add anything to it. Dip the crescents in the chocolate and spoon the rest of the chocolate over the crescents and squares.
Notes
Any excess almond paste can be stored in the freezer well wrapped.
Nutrition
Calories:
399
kcal
Carbohydrates:
42
g
Protein:
7
g
Fat:
23
g
Saturated Fat:
6
g
Polyunsaturated Fat:
3
g
Monounsaturated Fat:
13
g
Cholesterol:
41
mg
Sodium:
494
mg
Potassium:
112
mg
Fiber:
2
g
Sugar:
12
g