This is easy to make, ready in a snap, lovely to look at, tastes great, keeps you cool in the summer, and you probably have most of the ingredients in your pantry right now!
Summer Bean Salad with Lemon Mayonnaise
Last Updated on February 3, 2023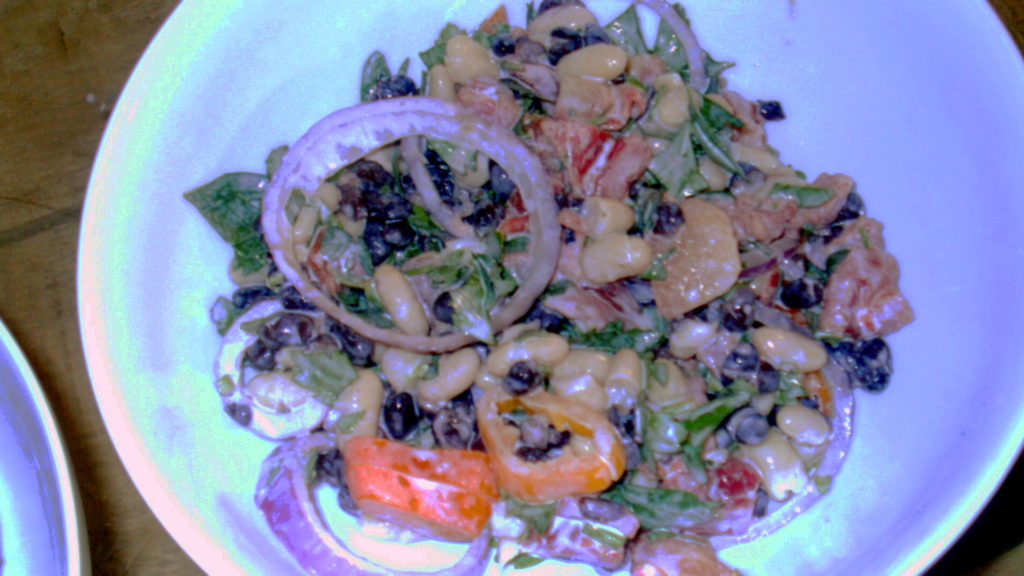 Hellman's Mayonnaise in California
What!!!!! What did you say? Hellman's Mayonnaise in California? Well, actually, no it was Hellman's Sandwich Spread in Glendale, California.
Spane and I were at the 99 Cents Only store on our way to visit Alexandria's Archives's President, and stopped at the store to get a Danish or something, and I spied these jars of Hellman's. I was amazed, and then found a jar of Bestfoods next to it. I couldn't help take a picture, considering that I will probably never see the two brands together in the same place, unless I take it upon myself to start rock climbing or something. Don't get your hopes up, folks, this was a jar of Hellman's that will expire in August, 2014, just a few weeks after this post. So, no, we won't be buying that.
I have to say I was flabbergasted when I found Hellman's in Glendale. I told Spane that the jar was very, very far from home. Hellman's is typically not sold west of the Rocky Mountains, where Best Foods is sold. The ingredients on both are the same, while some people prefer Best Foods because it is perceived to have a more tangy flavor, more vinegar. Wikipedia has an interesting article about the history of the popular condiment.
Mayonnaise is a great starter for sauces, including my Summer Bean Salad with Lemon Mayonnaise. It also has a host of other uses, but we will talk about those another day.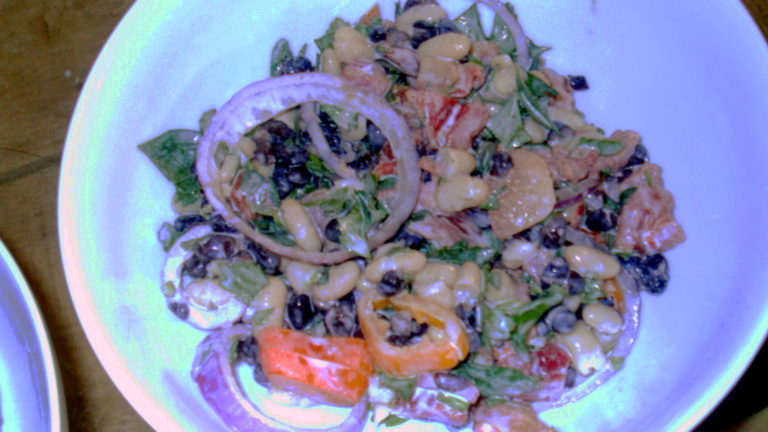 Ingredients
1

can

,

10 oz Great Northern Beans (Organic) Rinsed

1

can

,

10 oz Black beans (Organic) Rinsed

1

can

,

10 oz Diced Tomatoes (Organic) Rinsed

¼

Red onion sliced

½

cup

Sweet bell peppers sliced

1

cup

Italian parsley chopped
-- Dressing --
¼

cup

Lemon juice freshly squeezed

½

teaspoon

Dijon mustard

2

tablespoon

Mayonnaise
Ingredients necessary for the recipe step are in italic.
Instructions
Combine all the salad ingredients in a large bowl.

Put the mustard in a small bowl. Add the lemon juice and mayonnaise. Whisk until smooth.

Pour the dressing over the salad and toss well to combine.
Notes
Quick notes
You can make this vegan by using vegan mayonnaise. There are
plenty of recipes on the Internet
Variations
If you have other beans, or other vegetables, please feel free to use them. The more the merrier!