When it's 90 degrees outside, and you don't want to turn on your oven, but you really want coffee cake, you can make this Apple Streusel Microwave Mayonnaise Coffee Cake.
Apple Streusel Microwave Mayonnaise Coffee Cake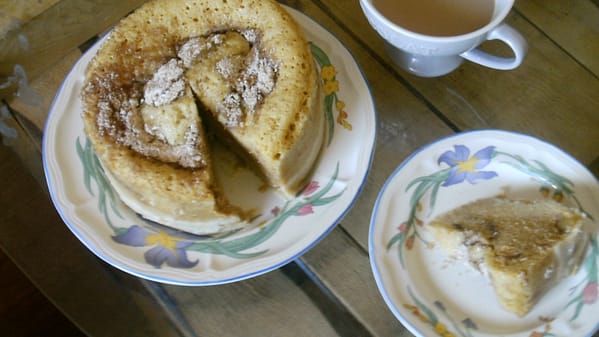 Apple Streusel Microwave Mayonnaise Coffee Cake
This cake is made in the microwave with mayonnaise and apples. Sounds strange? It's easy, quick and really good. Enjoy!
Too Hot to Handle!
It's the middle of July here in Glendale, California, and it was 88 degrees in my house. My house is pretty cool because I face north, and there is a nice awning over the windows, so it doesn't get that hot inside. Our kitchen has the stove tucked in a corner, with no ventilation except the regular fan. The heat does not dissipate, and once the oven is turned on, it stays hot in there for hours. That's great in the winter, but not when it's 92 outside. What do you do when you want to have a cake and it's just too darned hot? You use the microwave.
This was my first time baking in the microwave, too, but armed with toothpicks, I was able to tell right away when the cake was finished. The texture is not quite the same as a regular cake, it is very dense, but actually quite good.
Mayonnaise is your Friend
I know you think that sounds yucky to put mayonnaise in a cake, but it truly keeps it nice and moist, after all, when you look up the ingredients in your head, you will see that it is mostly eggs and oil, both of which make cakes moist. Egg whites also bring airiness to the table. So, it's a good thing.
This is my first mayonnaise cake. I looked around for recipes, and they all had chocolate, but I wanted coffee cake, and the landlord gave me apples from his tree, so chocolate was out. I followed standard recipes, omitting the chocolate, and it turned out just fine.
Let's make Apple Streusel Microwave Mayonnaise Coffee Cake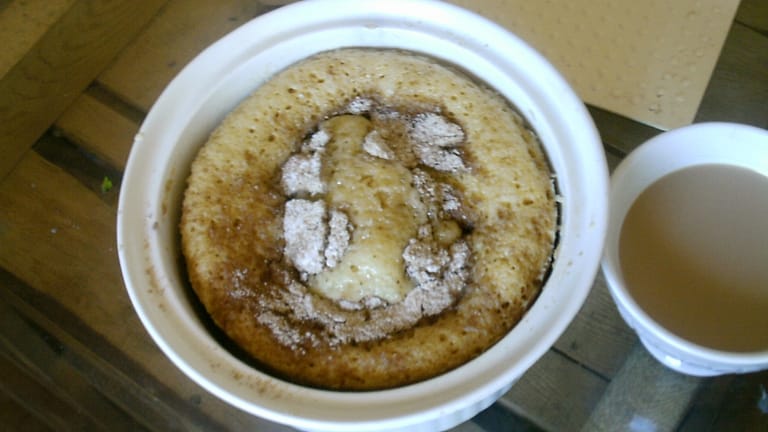 Servings (slide to adjust):
Calories per serving:
379
kcal
If you purchase any of the products through these affiliate links, I get a few pennies that help keep The Good Plate open. I use these products myself and want you to be able to easily find them.
Ingredients
2

cups

cake flour

1 ⅔

cup

sugar

1 ¼

teaspoon

baking soda

¼

teaspoon

baking powder

3

egg

1

cup

mayonnaise

2

teaspoon

vanilla

1

cup

milk
— Apple Filling —
— Streusel Topping —
¼

cup

brown sugar

2

tablespoon

flour

1

teaspoon

butter

,

cubed
Ingredients necessary for the recipe step are in italic.
Instructions
Make the apple filling first.

Put the apples in a microwave-safe bowl with the spices and butter. Microwave for 3 minutes. Remove from the oven and set aside.

Put the ingredients for the cake in a large bowl. Mix with a mixer until all is well blended, about 2 minutes on high. Set aside.

Put the streusel topping into a small food processor, and process until you have a sandy mixture.

Grease a large microwave-safe baking dish – the inside of a Crockpot works beautifully.

Pour half of the batter into the dish, then put in the apple mixture, then the rest of the batter. Finally, sprinkle the streusel on the top.

Put in the microwave, and cook on high for 7 minutes. Check to see how done it is by inserting a toothpick in the center of the cake. Keep microwaving it until the toothpick comes out clean and the cake has separated from the sides of the pan.

Let the cake cool. You can remove it to a nice serving dish, or just serve from the pan.
Notes
Quick notes
Microwave cake is denser than regular cake but just as delicious. Note there is no salt in this recipe. Mayonnaise already has salt. The cayenne gives just a tiny kick to the apples. If you don't want that, then omit it.
Nutrition
Calories:
379
kcal
Carbohydrates:
63
g
Protein:
8
g
Fat:
12
g
Saturated Fat:
3
g
Polyunsaturated Fat:
4
g
Monounsaturated Fat:
4
g
Trans Fat:
156
g
Cholesterol:
336
mg
Sodium:
136
mg
Fiber:
1
g
Sugar:
39
g