Rotisserie chicken in the air fryer oven comes out moist and delicious. Marinating brings out flavor and a crisp skin perfect for a picnic.
Rotisserie Picnic Chicken
Rotisserie Picnic chicken in the air fryer oven comes out moist and delicious. Marinating brings out the flavor and crisp skin, perfect for a picnic. If you are looking for picnic ideas, this is a good one.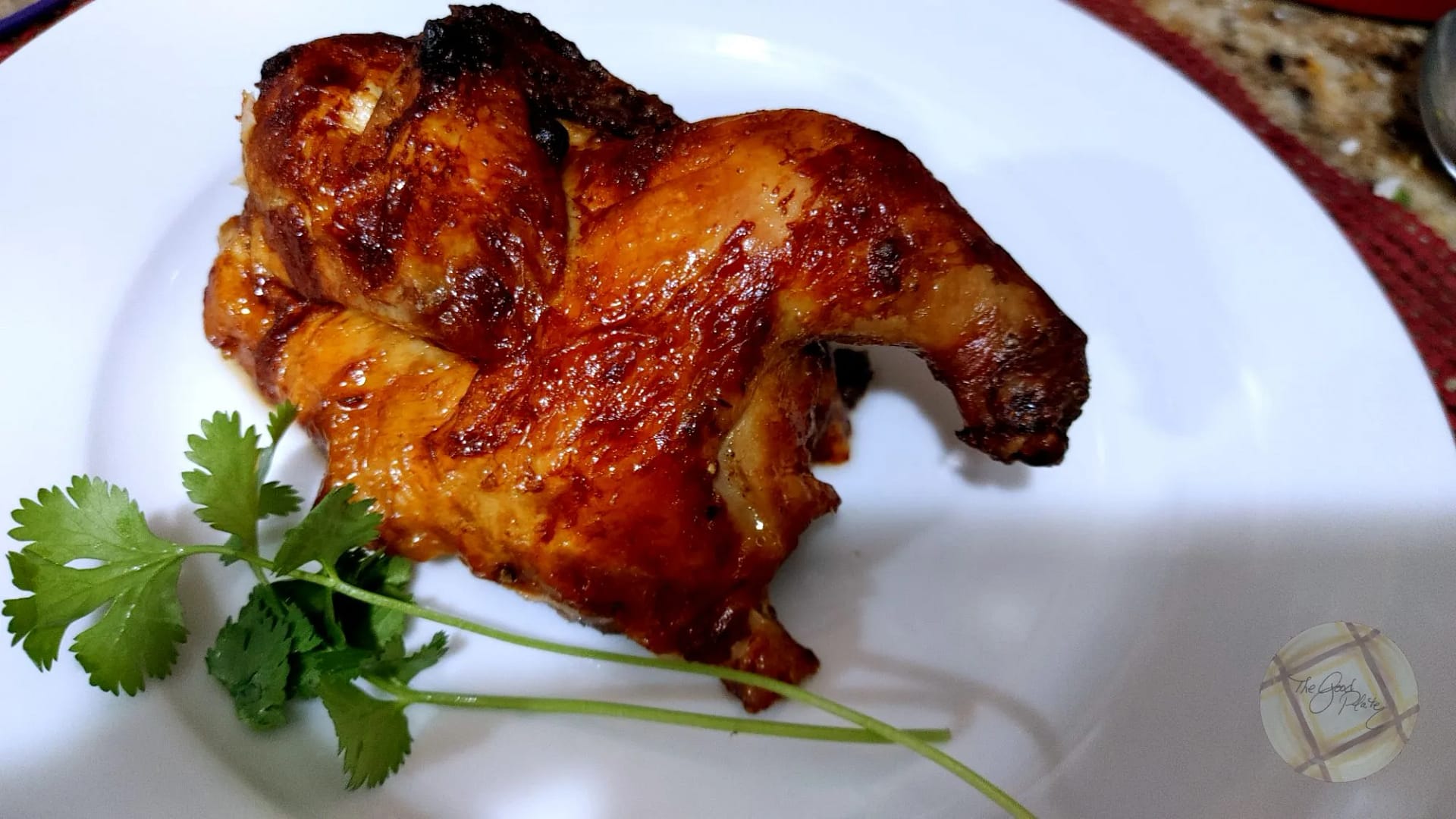 Rotisserie Picnic Chicken
When I was a little girl, my mother and her friend took me on a picnic and brought along rotisserie chicken. I was thinking fondly of that a few days ago when I decided to make it in my own rotisserie roaster oven.
Rotisserie Ovens
It used to be if you wanted rotisserie chicken, you had to either get an expensive spit for your barbecue, or you had to get whatever the grocery store had available. Although many grocery store rotisserie chicken is good, by the end of the day, after sitting under lights all day, the bottom is swimming in greasy, gelatinous juice, and the top and breast have dried out. There must be a better way!
There is a better way. A lot of modern air fryers and convection ovens have rotisserie built into them. Of course, you can also get a stand-alone rotisserie if you want to do larger pieces of meat, but for now, let's talk about the air fryer rotisserie roaster ovens. I have a GoWise, and it's just wonderful.
The Secret to Crispy Skin
You can make this chicken in a regular oven, too, if you want. The trick is to marinate it uncovered in the refrigerator for at least three hours, up to 48 hours, so the skin gets dry. The oil in the marinade will keep the skin supple, but when it hits the heat, it will get nice and crisp.
I found this method worked very well when I made Chicken Shawarma in the air fryer. All the spices make a paste that deeply flavors the chicken. The same is true here.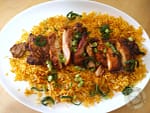 Chicken Shawarma in the GoWise Rotisserie Air Fryer
This easy-to-prepare Chicken Shawarma done in the air fryer comes out moist and flavorful. Serve it with rice, lavash, and salad.
Temperature
I used a Cornish hen for this Rotisserie Picnic Chicken because it fits very nicely on my spit. Look at your rotisserie to see how many pounds your spit can hold. If you have a larger bird, make sure you check how long it takes to reach 165 F / 73 C at 380 F/ 193 C.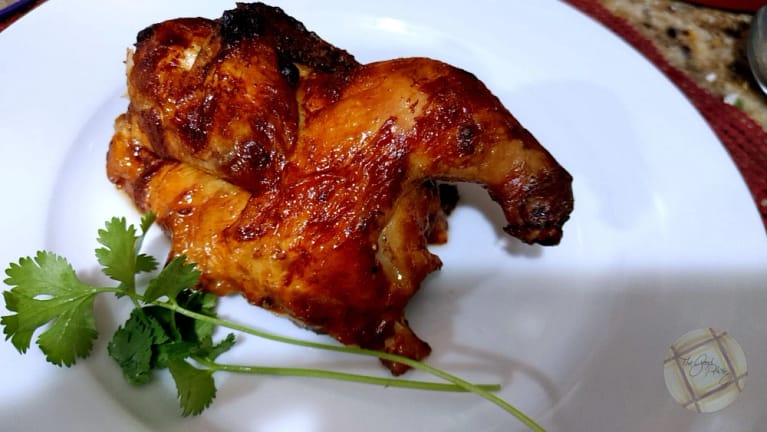 Servings (slide to adjust):
Calories per serving:
485
kcal
If you purchase any of the products through these affiliate links, I get a few pennies that help keep The Good Plate open. I use these products myself and want you to be able to easily find them.
Ingredients
1.5

lb

Cornish hen

1

tbsp

poultry spice

1

tsp

dried shallot

½

tsp

marjoram

1

tsp

parsley

,

dried

1

tsp

paprika

½

tsp

true lemon

¾

tsp

garlic powder

½

tsp

salt

½

tsp

black pepper

,

freshly ground

⅛

tsp

dry mustard

1

tsp

balsamic vinegar

2

tbsp

extra virgin olive oil

1

tbsp

cornstarch
Ingredients necessary for the recipe step are in italic.
Instructions
1 tbsp poultry spice,

1 tsp dried shallot,

1/2 tsp marjoram,

1 tsp parsley,

1 tsp paprika,

1/2 tsp true lemon,

3/4 tsp garlic powder,

1/2 tsp salt,

1/2 tsp black pepper

Mix the poultry seasoning, marjoram, shallot, paprika, garlic powder, parsley, true lemon, salt and black pepper in a grinder or with a mortar and pestle.

1/8 tsp dry mustard,

2 tbsp extra virgin olive oil,

1 tsp balsamic vinegar

Put the mustard in a small bowl. Add the vinegar and oil. Whisk until an emulsion forms

Rub the chicken with mix and place it in the refrigerator to marinate for two hours.

Using your hand, make a space between the skin and flesh. Rub extra marinade in there and refrigerate for another hour.

Secure the chicken on the spit and put it in the air fryer.

Set the air fryer on rotisserie mode at 380 F / 193 C for 20 minutes.

Check the temperature by putting the instant read thermometer into the deepest part of the thigh. It should read 165 F / 73 C.

Let chicken rest in the air fryer for about 5 minutes, then let it rest again for another 5 minutes before removing from the spit.
Notes
If you have a larger bird, cut it in quarters.
Nutrition
Serving:
196
g
Calories:
485
kcal
Carbohydrates:
7
g
Protein:
29
g
Fat:
37
g
Saturated Fat:
8
g
Polyunsaturated Fat:
6
g
Monounsaturated Fat:
20
g
Cholesterol:
170
mg
Sodium:
694
mg
Potassium:
463
mg
Fiber:
1
g
Sugar:
1
g