Manicotti Stuffed with Cottage Cheese, Spinach and Pine Nuts
Manicotti Stuffed with Cottage Cheese, Spinach and Pine Nuts
Last Updated on December 20, 2020
Manicotti is a child-friendly food. Most kids love spaghetti and pasta. What could be more fun than stuffing tubes and then eating them? Kids can get a little messy, but that's their job, right?
My friend, Chef John Farion, came over and brought me a large container of cottage cheese. I did not think that Spane and I could eat if fast enough for it not to go bad, so I decided to stuff something with it. Quite frequently, cottage cheese is used for lasagna, but I don't like meatless lasagna, and I wanted it for Friday. Oddly enough, I had everything I needed already at home, so I bought some manicotti and brought it home.
Since cottage cheese is rather bland, I decided to give it some more flavor by adding pine nuts and sweet peppers. Of course, mushrooms and shallots had to be in the mix.
Pine nuts are quite a treat, and if you find them on sale, put them in the refrigerator to keep them fresh. And, yes, they are really from various types of pine trees.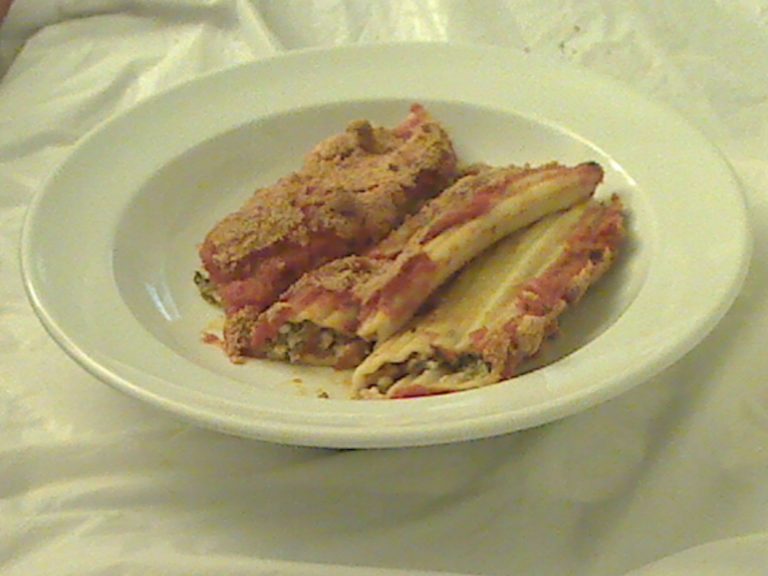 Servings (slide to adjust):
servings
Ingredients
1

box Manicotti pasta

2

tablespoons

pine nuts

2

garlic cloves

,

chopped

1

tablespoon

shallots in oil

6

large mushrooms

1

tablespoon

sherry

½

cup

chopped bell peppers

1

teaspoon

olive oil

1

cup

frozen spinach

½

teaspoon

nutmeg

1

quart-size cottage cheese

½

cup

Parmesan cheese

1

egg

¼

cup

Parmesan cheese

Sauce of your choice
Ingredients necessary for the recipe step are in italic.
Instructions
Have ready a sheet pan. Put a large pot of salted water on to boil. Add the manicotti pasta and boil until it is al dente. Using tongs or a slotted spoon, remove the pasta from the water and let it drain on the sheet pan. Set aside.

Put a small saute pan on the heat and add the pine nuts. Swirl them around until they have browned slightly. Set aside.

Slice and chop the mushrooms to about 1/2 inch or 1/4 inch size. Set aside.

In a large saute pan, heat the olive oil, and add the shallots in oil and garlic. Saute until the garlic is translucent, but not browned.

Add the chopped mushrooms, and saute them until they brown a little. Add the sherry. Let them cook down until all the sherry is absorbed and the mushrooms have given off some of their juices.

Add the bell peppers, and saute until they are soft. Remove from the heat and set aside.

Add the nutmeg to the frozen spinach and microwave for 5 minutes. The spinach will be cooked, and most of the water will be gone.

Empty the cottage cheese into a large bowl, preferably a standing mixer bowl.

Add the egg, Parmesan, the pine nuts, vegetable mixture, and spinach.

Mix the ingredients thoroughly.

Have ready a piping bag. If you do not have one, use a plastic bag, and cut off the tip. Have ready a tall glass. Put the piping bag into the glass, and fill the bag 2/3 full.

Have ready a large casserole dish. Butter the bottom and sides.

Pick up a manicotti tube, and pipe some of the stuffing into the tube. Put the stuffed pasta in the casserole. Continue stuffing the tubes until all the stuffing is used up. You might have pasta left over, you can use it for something else, or toss it.

Pour your preferred sauce over the pasta. At this point, you can cover the dish and refrigerate it until you are ready to eat.

Preheat the oven to 325. Put the casserole in and bake until the sauce is bubbling, about 20 minutes Put the remaining cheese on top, and bake until the cheese has started to brown, about 5 minutes.

Remove from the oven, and let sit about 5 minutes to rest before serving.
Notes
Quick notes
The filling might seem a little runny, but it firms up during cooking.
Variations
You could add sun-dried tomatoes for even more fun!