This is actually an amazing cake. It is very rich, so it will feed a lot of people.
Black Chocolate Cake with Black Ganache and Marzipan Jolly Roger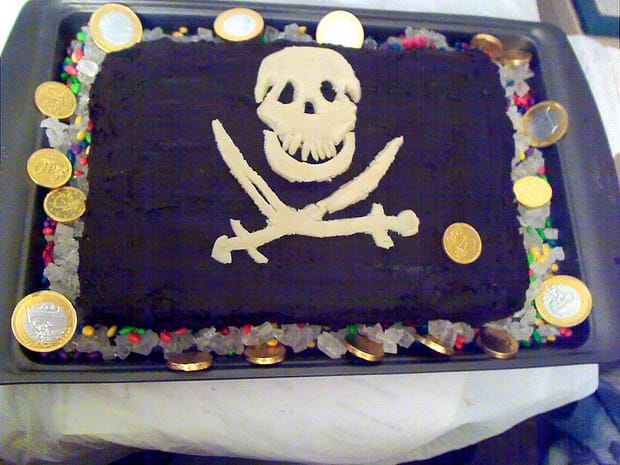 I just love marzipan. It is so forgiving, easy to work with, and delicious. As a child living in Germany, I remember every year at Christmas time, the bakeries would put out a nativity scene made from marzipan, with the structures made from gingerbread. These were true artisans. So, when I decided to make a Jolly Roger cake, I wanted to do something in that tradition.
Originally, I was going to make large cannon (rum) balls for Spane's pirate-themed party, but I soon realized that I could not put a candle on them the same way I could a cake. I still made the rum balls, and they turned out wonderful as well.
Making the cake was easy. I used my standard chocolate cake recipe, using Hershey's Dark Cocoa, with the addition of a little Chipotle powder and Saigon cinnamon. Black food coloring made for intensely dark chocolate.
My intent for the cannonballs was to dip them in chocolate, but that was doomed to failure. My chocolate was too thick, and it seized up on me as well. I was a good thing, I just put it into the Kitchen-aid mixer, added some butter, black food coloring and almond extract to it, and beat the heck out of it. Pretty soon I had rich ganache to put on the cake.
In my previous post, there is a picture of the Jolly Roger of Rack Rachham which I wanted to recreate in marzipan. My printer hasn't worked in years, so I was down to hand tracing the image on parchment paper. To make things just a wee bit more difficult, Spane, being really excited about his impending party, kept asking me random math questions (to which he already has the answers and is testing me), just to distract me. I finally got it done, and this was my template: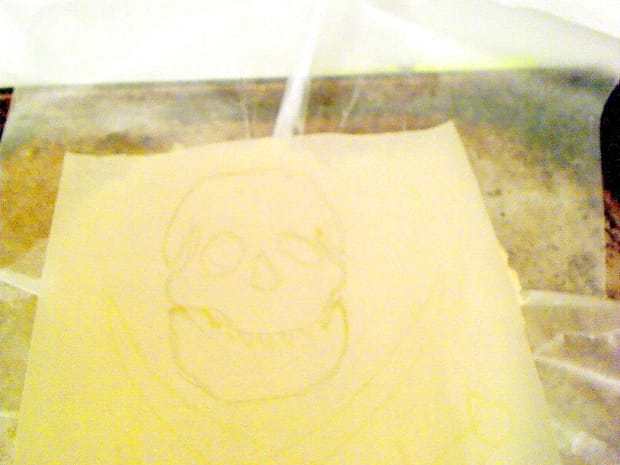 Once I got the template made, it was simply a matter of taking a sharp knife and cutting through the paper to the marzipan, then lifting the marzipan and placing it on top of the cake itself.
I put rock sugar candy around the outside of the cake to look like diamonds, candied sunflower seeds for jewels, and chocolate coins for money. Spane put the one coin on the cake, I thought it looked great.
Now that the cake was finished, I still had to deal with the rum balls. There were two that had been dipped in the chocolate before it seized, but I still had 22 balls to cover and put wicks in. I had a little of the chocolate jimmies and lots of Hershey's Dark Cocoa. After putting a piña colada wick in each ball, I rolled the balls in cocoa and chocolate jimmies.
Talk about a chocolate mess! My kitchen looked as if a chocolate tornado had hit it, I was tired, and it was Friday night – the party was at 2 pm on Saturday. Luckily, my very good friend, Amber, came just then and helped me clean up the house. We've been through lots of celebrations together. When I have a party, she cleans, when she has a party, I clean. Thank God for true blue friends like Amber. Spane and I went to bed tired and excited for the next day.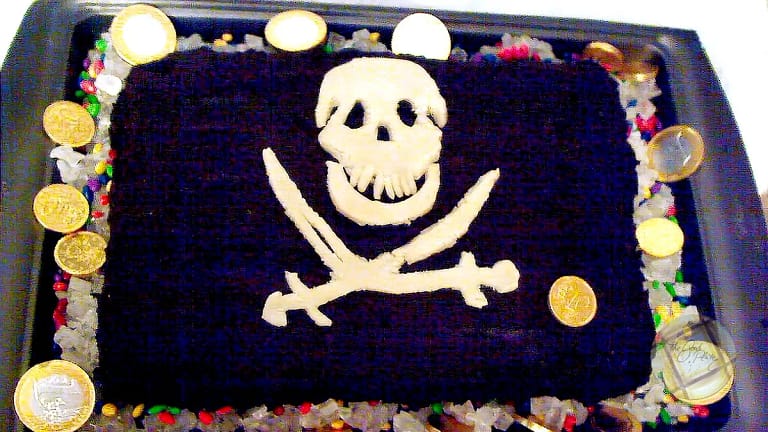 Servings (slide to adjust):
servings
Calories per serving:
564
kcal
Ingredients
Cake
2

cups

sugar

1-3/4

cups

all-purpose flour

¾

cup

Hershey's Dark Cocoa

1-1/2

teaspoons

baking powder

1-1/2

teaspoons

baking soda

¼

teaspoon

Chipotle powder

1

teaspoon

Saigon cinnamon

1

teaspoon

salt

2

eggs

1

cup

milk

½

cup

vegetable oil

2

teaspoons

vanilla extract

1

teaspoon

black food coloring

,

or 1/4 teaspoon black food gel.

1

cup

boiling water
Ganache
2

bags

dark chocolate chips

¼

cup

light corn syrup

1

teaspoon

black food coloring

,

or gel

1

stick

unsalted butter

2

teaspoons

almond extract
Assembly
Rock candy

Candied sunflower seeds

Chocolate foil-wrapped coins
Ingredients necessary for the recipe step are in italic.
Instructions
Cake
Preheat the oven to

350

°F

.

Cut enough parchment paper to fit the pans with a little leftover to help you lift the cake out of the pan(s). Liberally grease or oil the pan, put in the parchment paper, flattening it to remove any air bubbles, then grease the parchment paper as well.

2 cups sugar,

1-3/4 cups all-purpose flour,

3/4 cup Hershey's Dark Cocoa,

1-1/2 teaspoons baking powder,

1-1/2 teaspoons baking soda,

1/4 teaspoon Chipotle powder,

1 teaspoon Saigon cinnamon,

1 teaspoon salt,

2 eggs,

1 cup milk,

1/2 cup vegetable oil,

2 teaspoons vanilla extract,

1 teaspoon black food coloring,

1 cup boiling water

Mix all the other ingredients together with a spoon, then use a mixer to mix the batter for another two minutes.

Pour into the pan(s) and bake 30 to 35 minutes or until a toothpick comes out clean. You really have to check this cake carefully, as the color will not be an indicator - the cake is black, after all.
Ganache
2 bags dark chocolate chips,

1/4 cup light corn syrup,

1 teaspoon black food coloring

Melt the chocolate in a double boiler. Slowly add the corn syrup, stirring constantly. Add the food coloring, and stir completely. Your ganache will seize up at the point - but that's okay, you want it to.

1 stick unsalted butter,

2 teaspoons almond extract

Let the ganache cool slightly, then put it in the bowl of a mixer, add the butter and almond extract and beat it until it gets a frosting kind of texture. It will probably still be grainy, but that's okay, too.
Jolly Roger
Have ready a piece of parchment paper about the size of a sheet of printing paper. Fold the sheet in four. You will be using the top layer to make the Jolly Roger.

Trace the Jolly Roger image on to the parchment paper using the dark highlighter.

Cut out the quarter of the paper leaving only the Jolly Roger.

Put the marzipan between two large pieces of plastic wrap. Roll the marzipan out using a heavy rolling pin, keeping the marzipan between the wrap. That will make rolling out easier. Roll it out to about 1/4 inch thickness.

Place the template on top of the marzipan. Using a very sharp knife, cut out the marzipan using the template.
Assembly
Cut four strips of wax paper and put them on the plate or sheet you are going to serve the cake on.

Let the cake cool completely, then use the edges of the parchment paper to gently lift the cake out of the pan and place it on the wax paper strips, making sure that the wax paper sneaks out from the bottom of the cake. You will be removing the wax paper strips when you are finished frosting.

Frost the top and sides of the cake. Use the side of a spatula to make the frosting flat, but you can use it to make wave impressions so it looks like a flag.

Carefully place the Jolly Roger on the top center of the cake. Pat it gently in place.

Rock candy,

Candied sunflower seeds,

Chocolate foil-wrapped coins

Remove the wax paper strips. Place rock candy, candied sunflower seeds, and chocolate money for decoration around the sides of the cake.

The cake needs to settle for a while. Put toothpicks about a quarter-inch into the cake so they are sticking out of the cake. Cover with plastic wrap, using the toothpicks to be sure the plastic wrap does not actually touch the cake.

If you are making this cake in the summer, or your kitchen is very hot, put the cake in the refrigerator overnight. If your kitchen is cool, just leave the cake out overnight covered.
Notes
This is an intensely dark and rich cake. Be sure an use the Dark Hershey's Cocoa instead of the regular cocoa. The cake keeps very well without drying out.
Variations
You could use a dark chocolate buttercream, but the results would not be quite the same.
Nutrition
Serving:
1
slice
Calories:
564
kcal
Carbohydrates:
74
g
Protein:
7
g
Fat:
28
g
Saturated Fat:
9
g
Polyunsaturated Fat:
3
g
Monounsaturated Fat:
14
g
Cholesterol:
68
mg
Sodium:
476
mg
Potassium:
201
mg
Fiber:
2
g
Sugar:
56
g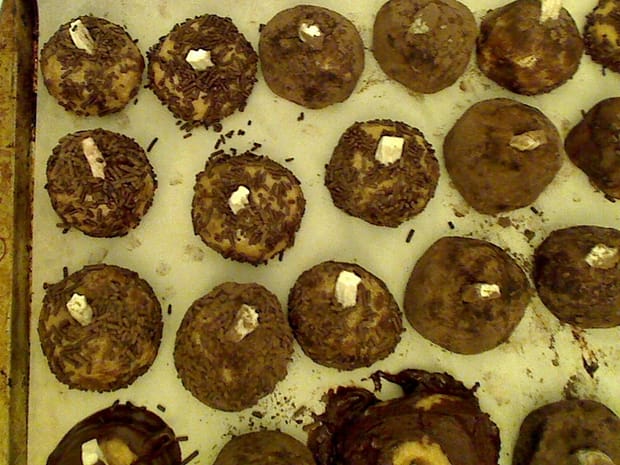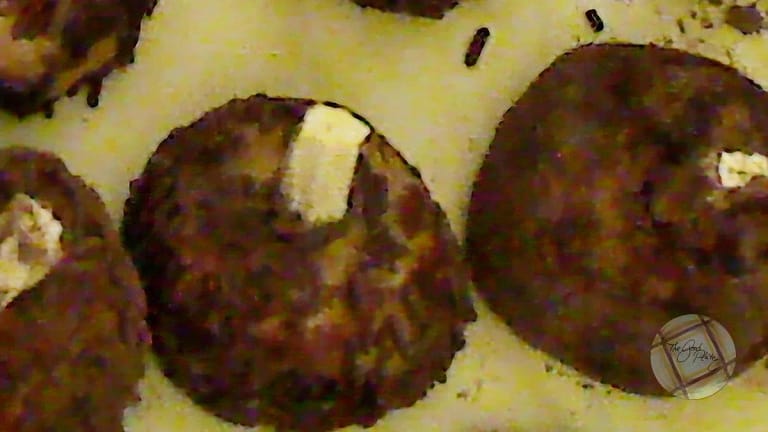 Servings (slide to adjust):
servings
Calories per serving:
180
kcal
Ingredients
Ingredients necessary for the recipe step are in italic.
Instructions
Use a food processor to make crumbs out of the cookies.

Combine the crumbs with the milk and corn syrup, nutmeg, cinnamon, mace, and rum flavoring. Mix together well. A stand mixer does a good job of this.

Use a small ice cream scoop to scoop out one ball. Roll the ball in your hand to the desired shape. Place on a wax or parchment paper lined sheet, and continue making balls until all the dough is completed.

The next day, stick a wick of piña colada in each ball. Roll the balls in cocoa and chocolate jimmies and stack on a serving plate so they look like cannonballs.
Notes
The amounts in this recipe are approximate. Use your judgment. The dough should be like clay. Don't bother getting real white Oreos here. Use your supermarket's plain wrap white creme cookies, about 1 1/2 packages.
Variations
If you are going to be serving adults, you can add real rum to the balls.
Nutrition
Serving:
1
ball
Calories:
180
kcal
Carbohydrates:
27
g
Protein:
2
g
Fat:
7
g
Saturated Fat:
2
g
Polyunsaturated Fat:
1
g
Monounsaturated Fat:
4
g
Cholesterol:
7
mg
Sodium:
152
mg
Potassium:
56
mg
Fiber:
1
g
Sugar:
13
g