This sandwich is best eaten over the sink.
The Day After Thanksgiving Sandwich
Last Updated on October 13, 2021
The Day After Thanksgiving Sandwich
I look forward to this day every year. I only get to have this sandwich once a year, because I only have the ingredients once a year. Yes, I could go out and purchase them at other times, and I could make the whole thing so I could have the leftovers at other times of the year, but it wouldn't be the same. No, it just wouldn't be the same.
I remember a few years ago, I went to dinner at someone's house whose husband was allergic to turkey. Can you believe that? Allergic to turkey? A capon was served instead, it was good, but there were no leftovers. So, the day after Thanksgiving, I went to the supermarket and tried to find some turkey. There was no fresh turkey, no even ground turkey. The deli was completely out of turkey, and even the deli section with the packaged luncheon meat was out. I promised myself then that I would NEVER be without turkey the day after Thanksgiving again – and I haven't.
This year, since it was only the two of us, I got two turkey thighs and made Stuffed Turkey Thighs. They were large enough so we could split one last night, and have the other one today, for The Sandwich. I also made Cranberry Orange Ginger Cream Cheese Salad Ring, and I used stuffing I had leftover in the freezer (Yes, you can save leftover dressing in the freezer).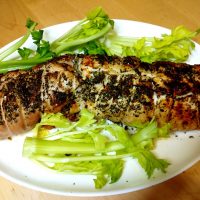 How to Debone Turkey - Moist and Easy to Carve
Learn how to debone turkey. This method leaves you with a moist and delicious bird that will not dry out and is a breeze to carve and a delight to eat.
Warning! This sandwich is messy, and best eaten over the kitchen sink!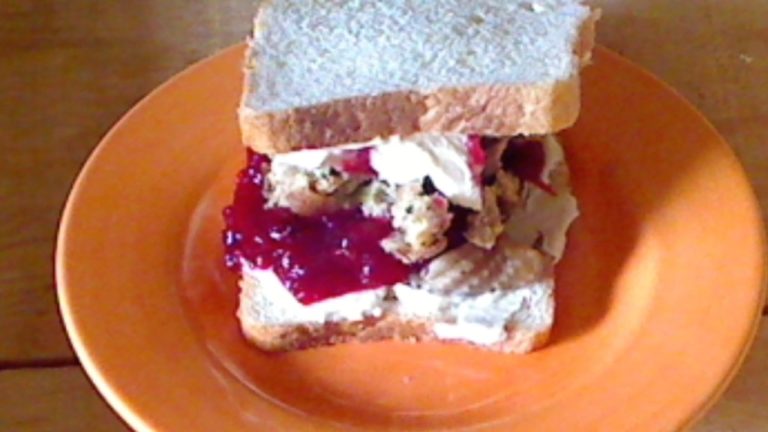 Servings (slide to adjust):
sandwich
Calories per serving:
499
kcal
Ingredients
½

cup

Turkey

,

Sliced or pieces

2 tbsp

Cranberry sauce,

prepared

¼

cup

Stuffing,

prepared

2

tbsp

Mayonnaise

2

slices

White bread
Ingredients necessary for the recipe step are in italic.
Instructions
Slather the mayonnaise on each slice of bread. Put turkey, then cranberry sauce, then stuffing, and then the other piece of bread. Eat over the sink.

This sandwich is messy, so you are advised to eat it over the sink.
Notes
If you have leftover veggies, add those, too. Add whatever you want, even sweet potatoes.
The nutritional information here is an estimate simply because I don't know how what other stuff you might put on it, and come on, it's Thanksgiving, where everyone knows for a couple of days that they are going to enjoy eating things they don't the rest of the year.  So grab your favorite beverage and have fun eating your sandwich over the sink!
Nutrition
Calories:
499
kcal
Carbohydrates:
68
g
Protein:
18
g
Fat:
17
g
Saturated Fat:
3
g
Polyunsaturated Fat:
8
g
Monounsaturated Fat:
4
g
Cholesterol:
40
mg
Sodium:
660
mg
Potassium:
253
mg
Fiber:
2
g
Sugar:
16
g