Make this spiced pancake mix to give as gifts, or keep for yourself to have great tasting pancakes any time. The ingredients shown here will make enough pancakes for 2 people or 1 gift.
Spiced Pancake Mix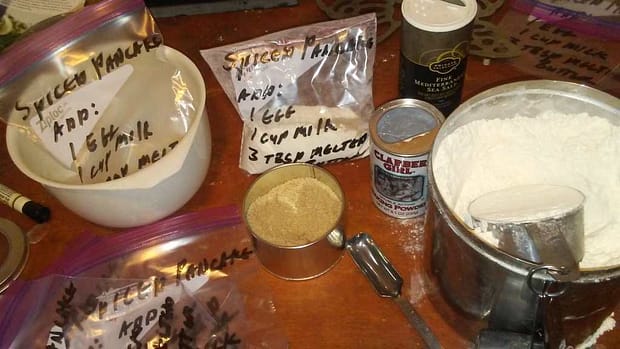 Christmas Gifts from the Kitchen
Christmas gifts from the kitchen are wonderful to give to your friends, neighbors, family, and co-workers.  Yes, it takes a little of your time, but the recipients will love it because it shows that you spent time and effort making the gift.  It's also great to have on hand if unexpected guests arrive, they can always go home with one of your homemade gifts.
Recipes on The Good Plate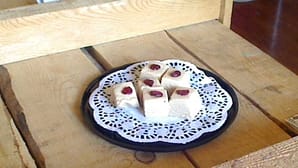 Eggnog Fudge
Black Forest Fudge
Peppermint Fudge
Servings (slide to adjust):
Calories per serving:
165
kcal
Ingredients
Each of the Spice Mix
2

tablespoons

sugar

½

teaspoon

ground cinnamon

¼

teaspoon

freshly grated nutmeg

⅛

teaspoon

ground mace

⅛

teaspoon

ground cardamom

Pinch

of vanilla powder *

,

See note below
For Each Package of Pancake Mix
1 ¼

cups

all-purpose flour

3

teaspoons

baking powder

½

teaspoon

fine sea salt
To Make the Pancake Batter
1

egg

1

cup

milk

3

tablespoons

butter

,

melted
Ingredients necessary for the recipe step are in italic.
Instructions
For the Spice Mix
Mix all the ingredients together. If you are making a lot of the spice mix, then put it in a tin or glass jar and cover it until you are ready to use it.
For the Pancake Mix
Put all the ingredients plus the spice mix into a sifter. Sift well, and package. Write somewhere on the package what is needed to make the pancake batter.
To Make the Pancake Batter
Put the sifted dry ingredients in a bowl. Add the egg and milk, and stir together. Last, add the melted butter and stir. Set aside.

Heat a griddle or skillet to medium or 350F/177C. Grease the griddle with oil. Drop the batter in spoonfuls onto the hot griddle. When the cake shows bubbles on top about 2 minutes, it's time to turn the cake over and keep on the griddle until browned, another minute or so. Put the pancakes in a covered dish or container while you finished making the rest of the pancake. A tortilla warmer does an excellent job of this.

Serve with melted butter and syrup of your choice.
Notes
* If you cannot find vanilla powder, you can substitute vanilla sugar. If you make a large batch of this, you can add a few drops of liquid vanilla to the spice mixture as it swirls inside of a fast-spinning food processor.
Nutrition
Calories:
165
kcal
Carbohydrates:
22
g
Protein:
5
g
Fat:
7
g
Saturated Fat:
4
g
Polyunsaturated Fat:
0
g
Monounsaturated Fat:
2
g
Cholesterol:
48
mg
Sodium:
482
mg
Potassium:
93
mg
Fiber:
1
g
Sugar:
4
g
Preparing the Fudge for Packaging
All the fudge was made and prepared for packaging. I used waxed paper to wrap the fudge because it does not stick, is relatively malleable, and costs less than parchment paper.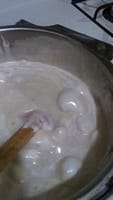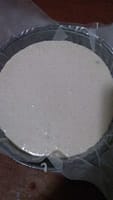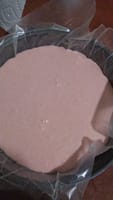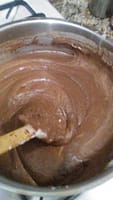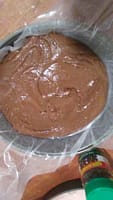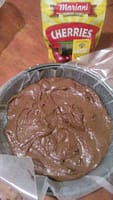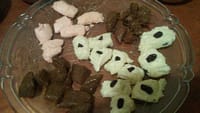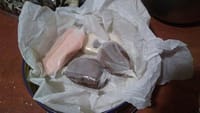 Packaging Your Gifts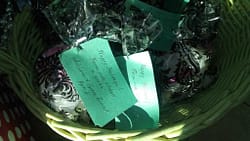 Instructions
Cut the paper into even pieces. Cut the sheet in half lengthwise, then cut each strip into 3 1/2 inch pieces. You will have a little paper left over.

Punch a hole into each paper

Write a little note for the occasion on the front side. Use a stamp if you have one.

Write the recipient's name on the backside.

Pull the ribbon through the hole to attach the tag to the gift bag.
Notes
The cost of this is less if you buy in bulk. You can make gift bags for any occasion just by having the supplies on hand when you need them.
If you want, you can make very elaborate gifts by going to your nearest arts and crafts supply and getting specialty papers and wraps, bags and boxes. Make gift tags and write your message on the front, and the recipient on the back.  You want to do this in case some of the gifts have an allergen, you will know which gift to give and the recipient not have to end up in the hospital – not a fun way to spend the holidays!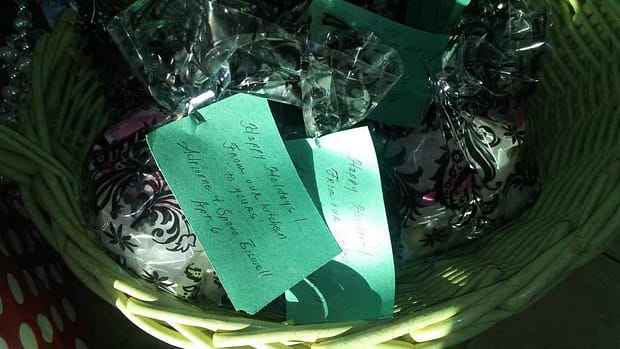 I put my bags in a nice basket that I usually use for Easter, but it did just fine with a nice Christmas bow.  That bow then was glued to a French barrette and became my Christmas hair bow.