Chicken with Wine Cream Sauce is easy to prepare, rich and delicious. With few ingredients, it's on the table in under an hour
Chicken with Wine Cream Sauce
Last Updated on January 14, 2022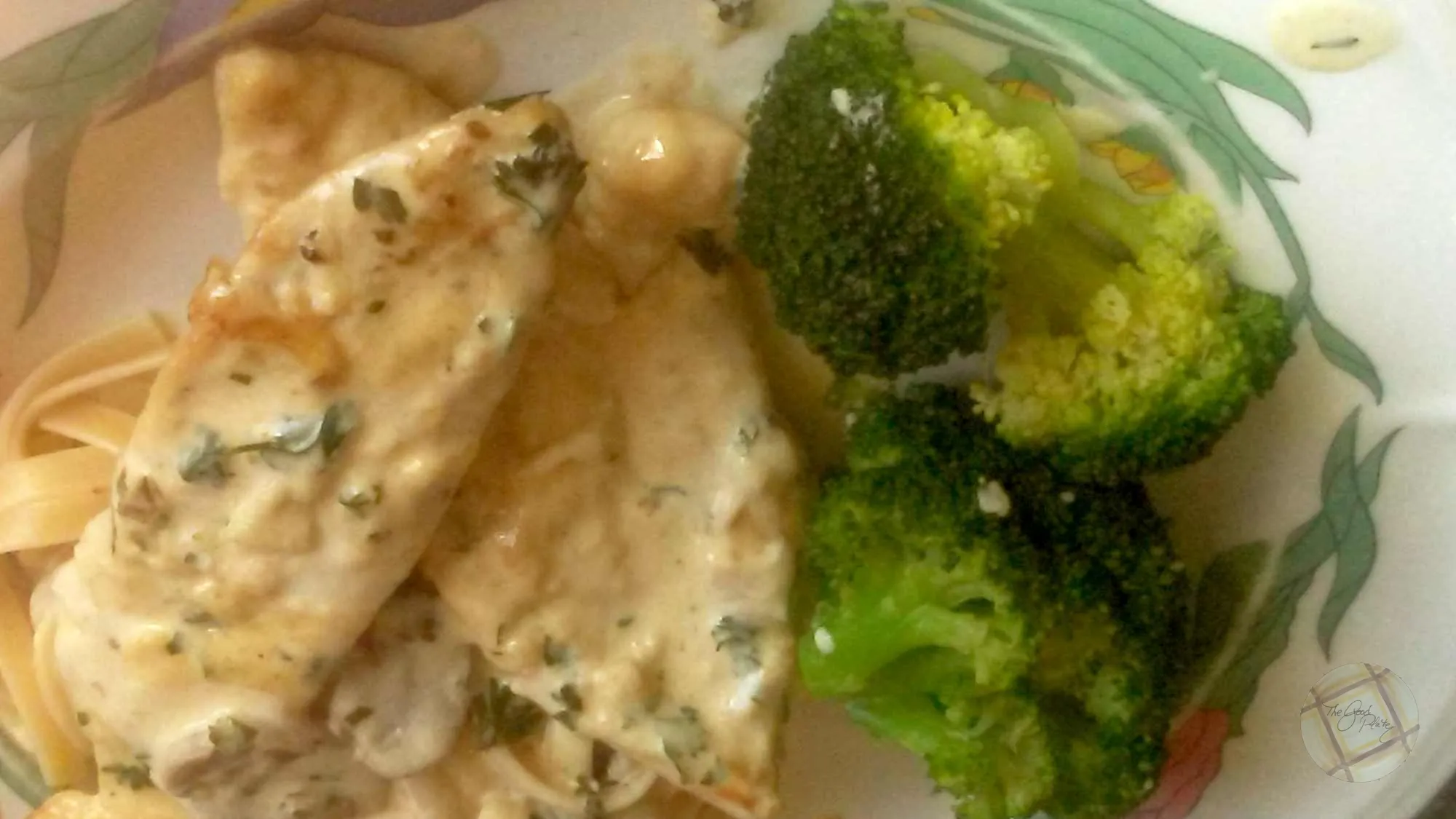 Chicken with Wine Cream Sauce is rich and delicious served with noodles and broccoli.
A few days ago, someone gave me a large container of heavy cream. As much as I like desserts, I really wanted to make a cream sauce with wine. It's one of my favorite dishes.
Chicken Base
For years, I had cans of chicken broth in my cabinet for when I wanted to make risotto. There was only one problem – what to do with the rest of the can or box when I didn't use it all up? Quite often I wound up with chicken-flavored science experiments in my refrigerator. My mother's solution was to use bullion cubes – but they were so salty. Confession: when I was a kid and wanted something really salty, I would sneak one of those. When I found out about Better than Bullion, the dilemma was over. Now, I could make just enough broth for whatever the recipe called for. They have several varieties, chicken, beef, vegetable, ham, lobster, roasted garlic (the best garlic bread!), and turkey. They last a long time in the refrigerator so now I always have broth when I need it.
Mushrooms
When you get home from work, and you're tired, and you really don't want to cook, who wants to deal with slicing mushrooms and sauteing them? Anyone? Although fresh mushrooms are definitely my preference, bottled mushrooms will do in a pinch. I always have a few jars in my pantry in case I run out of fresh ones and want mushrooms in my dish.
If you are watching your waist, and don't want to use cream, you might like my chicken with wine recipe, too.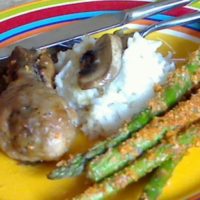 Chicken with Mushrooms in Wine Sauce
Chicken with Mushrooms in Wine Sauce is a simple chicken dish with mushrooms, wine and spring onions, that is good enough for company.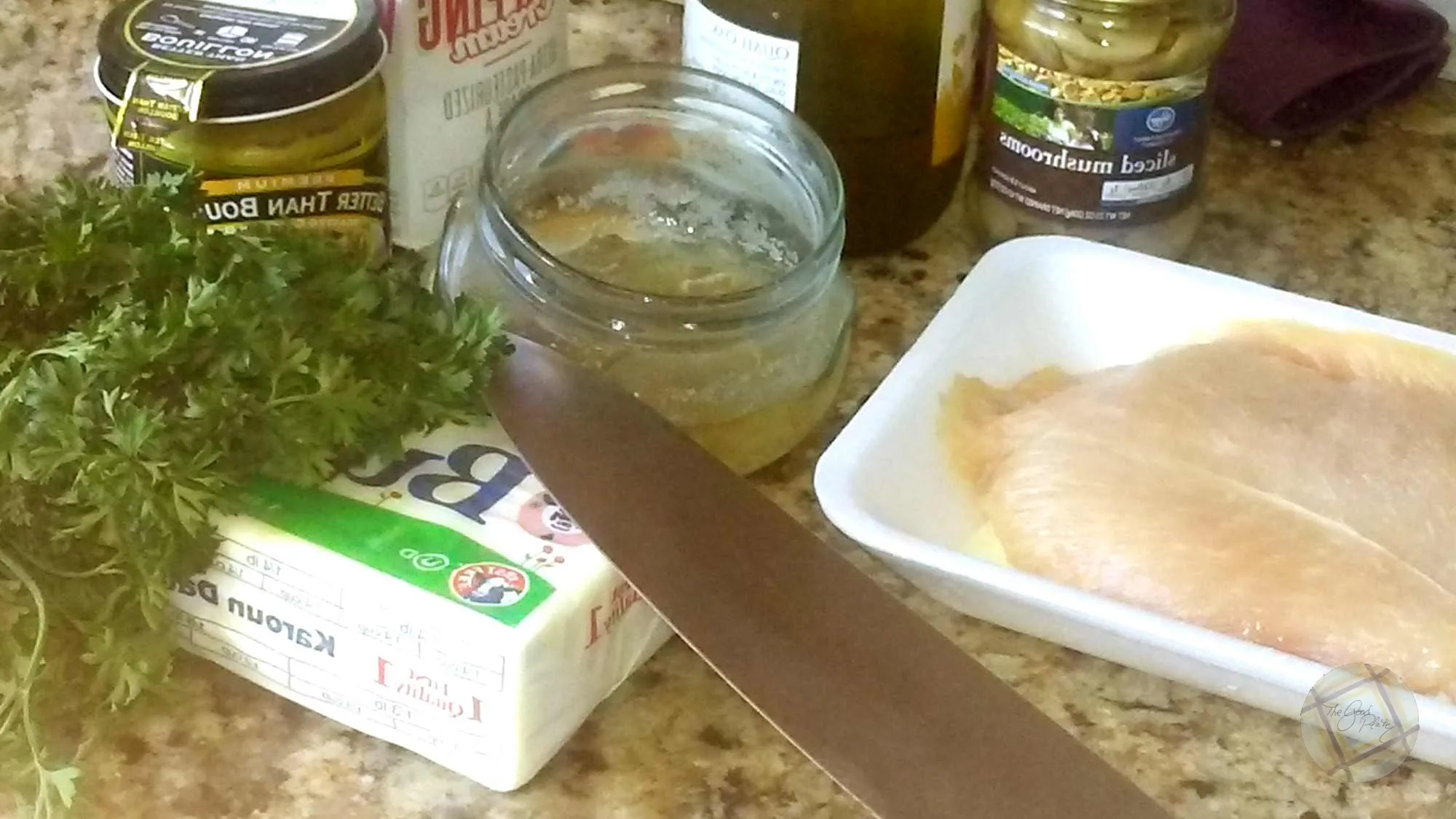 This recipe was even more fun to do because Spane helped me make a video, and The Good Plate now has its own channel on Youtube. Maybe I can get a lot of subscribers and make some money, that would be nice, wouldn't it? Well, if you like the video, please subscribe to the channel and watch for more cooking videos in the future.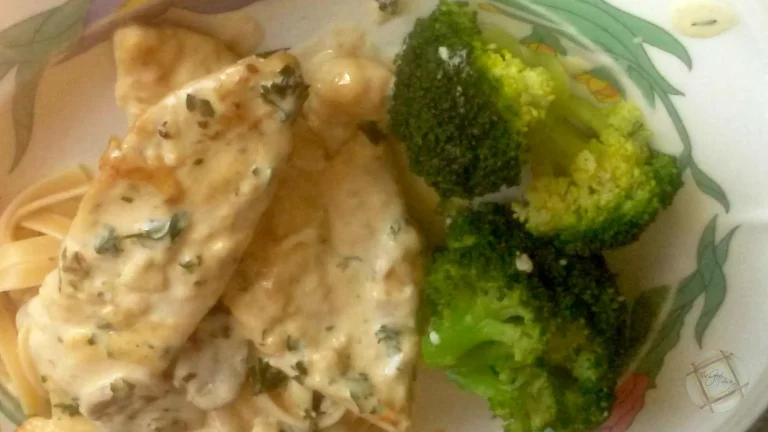 Servings (slide to adjust):
servings
Calories per serving:
286
kcal
Ingredients
1

Chicken breast

,

thinly sliced and cut into 6 pieces

1

cup

flour

1

teaspoon

butter

1

tablespoon

olive oil

1

tablespoon

Shallots in Oil

1

teaspoon

Chicken Base

1

cup

Hot water

½

cup

white wine

½

cup

heavy cream

¼

cup

finely chopped parsley

⅛

cup

sliced mushrooms

,

bottled are fine
Ingredients necessary for the recipe step are in italic.
Instructions
1 Chicken breast,

1 cup flour

Dredge the chicken pieces in the flour.

1 teaspoon butter,

1 tablespoon olive oil

Heat a large pan and put in the butter and olive oil. Swirl the pan so that it is evenly coated.

Add the chicken pieces, but do not overcrowd. Do it in batches. Cook until one side had browned, then flip and brown the other side.

1 tablespoon Shallots in Oil

When all the pieces have been browned, remove them to a plate and set aside. Add the shallots to the pan and cook until they are translucent, about 2 minutes.

1 teaspoon Chicken Base,

1 cup Hot water

Combine the hot water and chicken base. Deglaze the pan with that.

Add the chicken back to the pan, cover and simmer for about 10 minutes.

1/2 cup white wine,

1/2 cup heavy cream

Remove the cover and add the wine and cream.

1/4 cup finely chopped parsley,

1/8 cup sliced mushrooms

Simmer for about 15 minutes and add the parsley and mushrooms.

Taste for seasoning, add salt and pepper as needed.
Nutrition
Serving:
176
g
Calories:
286
kcal
Carbohydrates:
28
g
Protein:
8
g
Fat:
14
g
Saturated Fat:
5
g
Polyunsaturated Fat:
2
g
Monounsaturated Fat:
6
g
Cholesterol:
30
mg
Sodium:
146
mg
Potassium:
212
mg
Fiber:
1
g
Sugar:
1
g