Air-Fried Chicken Croquettes are cooked in the air fryer instead of deep-fried in oil. If you want a healthy protein snack with reduced fat, this is a good way to do it.
Chicken Croquettes Air Fryer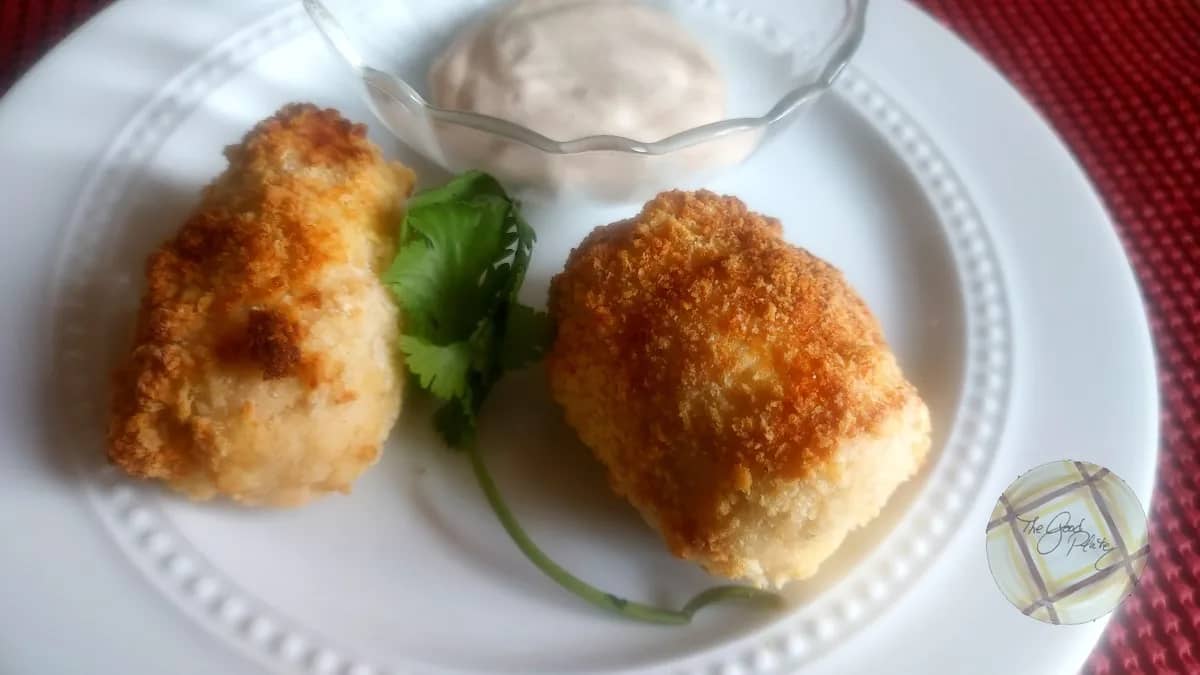 Yes, these are the same wonderful Cuban Chicken Croquettes you have heard of, only they are cooked in the air fryer instead of deep fried in oil. If you want to reduce fat, this is a good way to do it.  Usually made with roux, these are made with leftover mashed potatoes, which can also make them non-dairy and gluten-free friendly.
If you're looking for a crispy, savory snack that's both delicious and healthy, look no further than crispy chicken croquettes! Not only are these a tasty treat but they're also packed with protein and can be made quickly and easily in an air fryer.
Whether you're looking for a savory appetizer or a light meal, these bites are sure to satisfy your cravings. So next time you're in the mood for a crispy, savory snack, give this recipe a try – your taste buds (and your body) will thank you!
Non-Dairy and Gluten-Free
If you have dairy allergies, by all means, use plant-based milk for your mashed potatoes.  For gluten-free croquettes, use gluten-free panko breadcrumbs. 
Air Fryer Delight
Not only are these chicken croquettes delicious, but they're also a healthy snack option. By using an air fryer instead of deep-frying, you can significantly reduce the amount of oil and fat in the recipe. Plus, the addition of protein-packed chicken makes these a filling and satisfying snack that will keep you full for hours.
Serve your crispy chicken croquettes as a snack or appetizer, or pair them with a side salad for a light and satisfying meal. They're also a great option for meal prep, as you can make a big batch ahead of time and store them in the fridge or freezer for later.
With just a few simple ingredients and an air fryer, you can enjoy the delicious and healthy goodness of crispy chicken croquettes. So why not indulge in this tasty treat today?
Storing Chicken Croquettes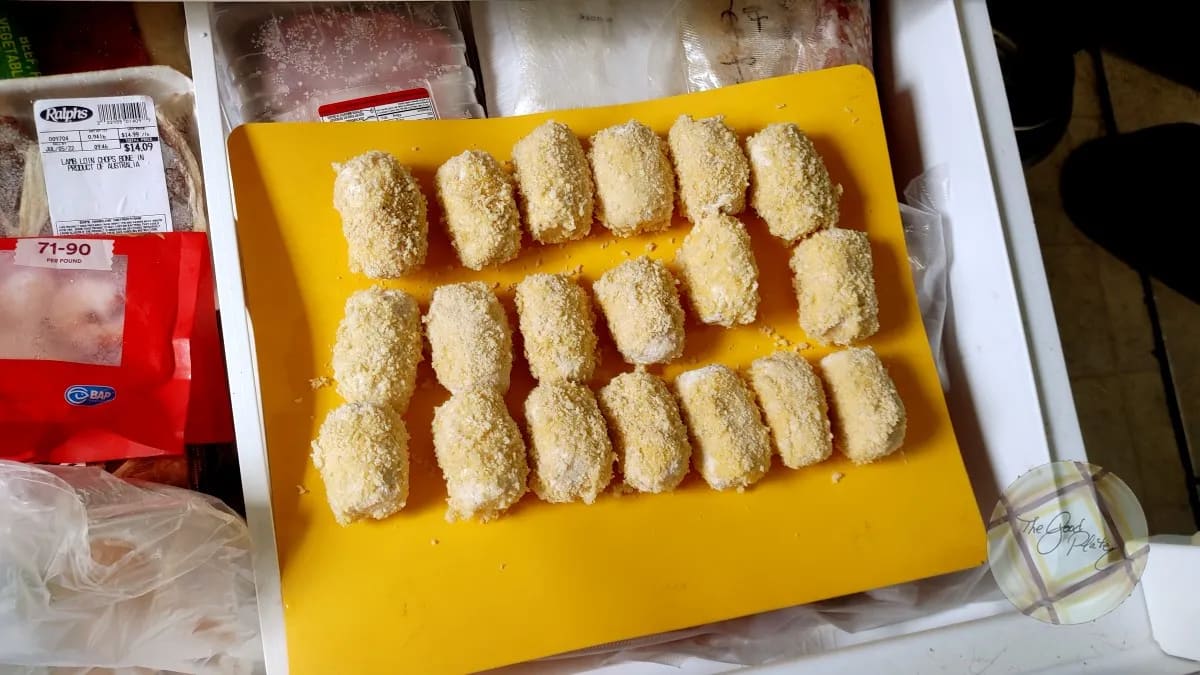 This actually makes a lot of croquettes, which is fine for a party, but if you don't want to eat them all at once, you can flash-freeze them, then put them either in a vacuum-sealing bag or a freezer bag.  Just take out as many as you want to eat, reseal the bag, and cook them in the air fryer; no defrosting is needed!
Ready?  Let's make some air-fried chicken croquettes!
Recipe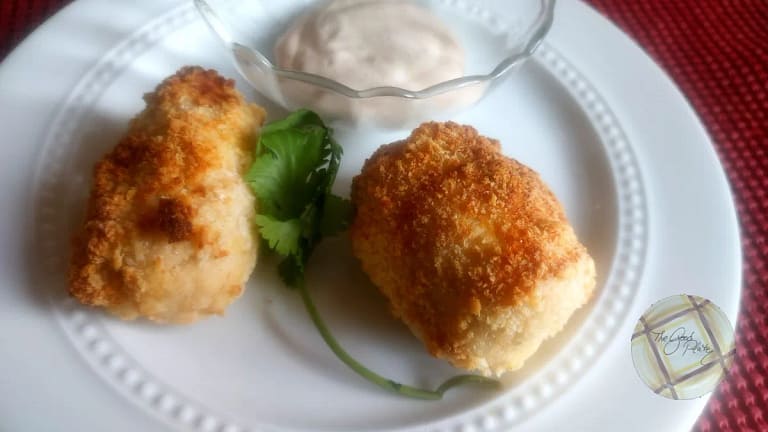 Servings (slide to adjust):
Calories per serving:
279
kcal
Ingredients
2

cups

Chicken breast

,

cooked, leftover, skinned and boned
~~ — For the Mashed Potatoes — ~~
Ingredients necessary for the recipe step are in italic.
Instructions
2 cups Mashed potatoes,

1 teaspoon Justice,

1 tablespoon Dehydrated onion,

1 teaspoon Outrage

Put the leftover mashed potatoes in the bowl of a stand mixer with the spices.

Using a medium-size ice cream scoop, scoop out some of the chicken mixture. Form it into a cylindrical shape and put it on your board. Continue doing this until all the chicken mixtuire is used up.

1 cup Flour,

1 teaspoon Justice,

1 teaspoon Outrage,

1/2 teaspoon Black pepper,

1/2 teaspoon Salt

Put the flour and spices into one of the breading trays.

Break the eggs into the second breading tray and use the fork to stir them until no whites show.

Put the panko bread crumbs in the last breading tray.

Dip a croquette in the flour first, shaking any excess off, then in the egg, and finally in the panko. Roll the croquette so it is completely covered.

Put the breaded croquettes on a flexiable cutting board and put them in the freezer for about 20 minutes. If you want to freeze them for another time, leave them in until they are hard then you can vacuum seal them.

If you are cooking them from frozen, heat your air fryer to

360

°F

and cook them for about 17 minutes or until they are heated through.
Nutrition
Serving:
174
g
Calories:
279
kcal
Carbohydrates:
40
g
Protein:
21
g
Fat:
3
g
Saturated Fat:
1
g
Polyunsaturated Fat:
1
g
Monounsaturated Fat:
1
g
Cholesterol:
40
mg
Sodium:
420
mg
Potassium:
429
mg
Fiber:
2
g
Sugar:
5
g
Video
Transcript
Rolling Chicken Croquettes
[Music]
Good afternoon. I'm going to show you how to roll chicken croquettas.
It's really pretty simple to do. Rolling
the croquetas correctly is important.
Because you want them all the same size so they're all
take about the same amount of time to finish cooking.
And they look nice or cute. I always use a small ice cream scoop for this.
Take a bit of the mixture with the ice cream scoop and put it in your hand.
Like that. Okay, then roll it into a flat kind of cigar shape and pat the
ends to make the croquetas.
You can see how this one looked when I was finished, and then I put it with the
ones already done.
There we go. Okay, there. Put it down. Okay, there you go.
And greenie amounts and directions are available on the website below.
Thanks for watching and subscribe for more how to videos. Bye bye.
[Music].
[Music].