Bacon-wrapped brown sugar hotdogs, or Dead Men's Fingers, are the easiest appetizer you will ever make. Just put it in the crock pot and forget them until serving time.
Bacon Wrapped Hot Dogs (Dead Men's Fingers)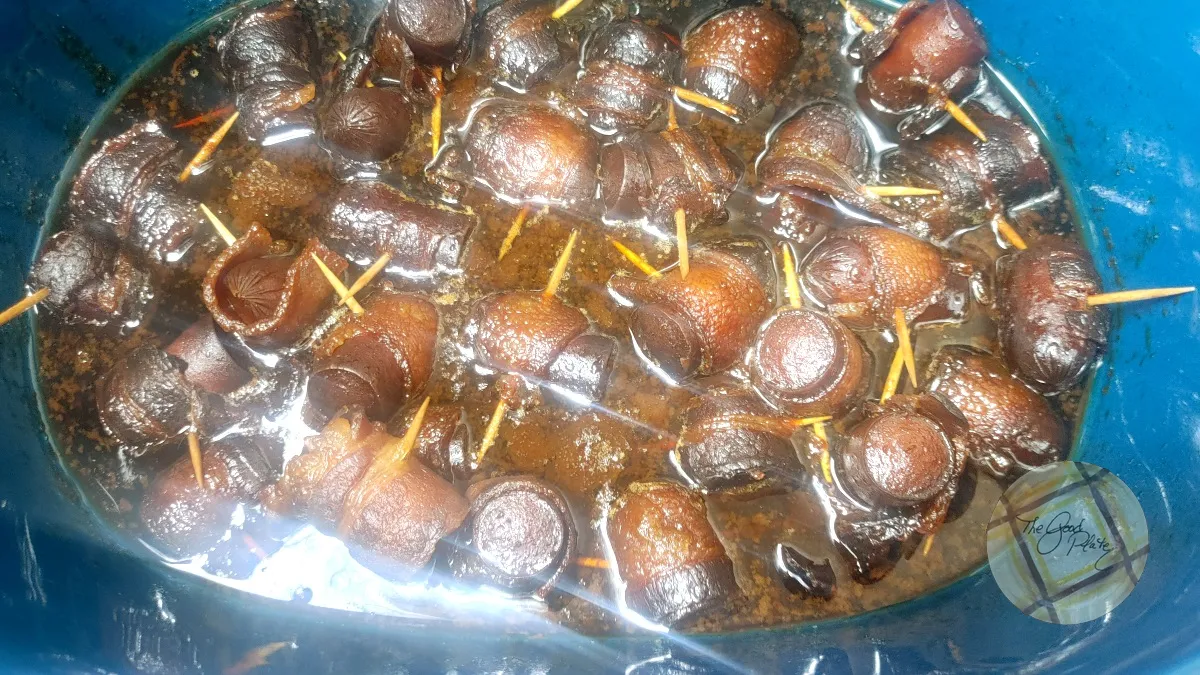 Bacon-wrapped brown sugar hotdogs, or Dead Men's Fingers, are the easiest appetizer you will ever make. Just put it in the crock pot and forget them until serving time.
I have been making this appetizer for many years. I don't even know who I got the recipe from, but it's very good and very easy to make. There are similar recipes on the Internet, but they use an oven, this recipe uses a Crock Pot or slow cooker. That means you can do a lot of other things to prepare for your celebration while these are cooking. Clean-up is super easy, too.
I usually make these for Halloween or Talk Like a Pirate Day, but as long as you don't call them Dead Men's Fingers, you can serve them for any occasion. They go very well with Spinach Balls.
Notes About Dead Men's Fingers
When I make these, I usually do so while sitting down. I also wear gloves because raw bacon is greasy, and it's easy for your bare hand to slip.
What Kind of Hotdogs and Bacon to Use
It's important not to use hotdogs that expand while they are cooking. Believe it or not, if you get the kind that "plump when you cook them," they will plump so much they will escape the cooker, and you will have dogs running all over your table! I usually get the least expensive.
For the bacon, the same is pretty much true. The thinner the bacon, the better it will wrap around the dogs. It's best to get plain bacon, not maple-flavored or pepper bacon. I usually go for the cheapo bacon.
As to brown sugar, I recommend getting pure cane sugar for this. You can use either light brown or dark brown sugar.
Wooden toothpicks are recommended because they can withstand the temperature of the melting bacon and sugar. Plastic toothpicks might melt. No one wants melted toothpicks in their mouths!
Could You Use Turkey Hotdogs and Turkey Bacon?
While you could use turkey dogs and bacon for this, I don't recommend doing so. This is an indulgence, so enjoy it as it is!
How Many Servings
These are very rich, so the recommendation is two to three per person if you have other appetizers. They're very good, and you don't want to quit once you start eating them. Remember to take a few out for yourself before you give them to your guests.
Let Them Sit After Cooking
These will be very hot when they are done. It's best to let them sit for at least half an hour before serving. You don't want anyone burning their fingers or tongue, do you?
Leftover Bacon-Wrapped Hotdogs
If you are lucky enough to have leftovers, simply remove them from the pot, put them in a covered container, and put them in the refrigerator. They can be reheated in the microwave or even eaten cold.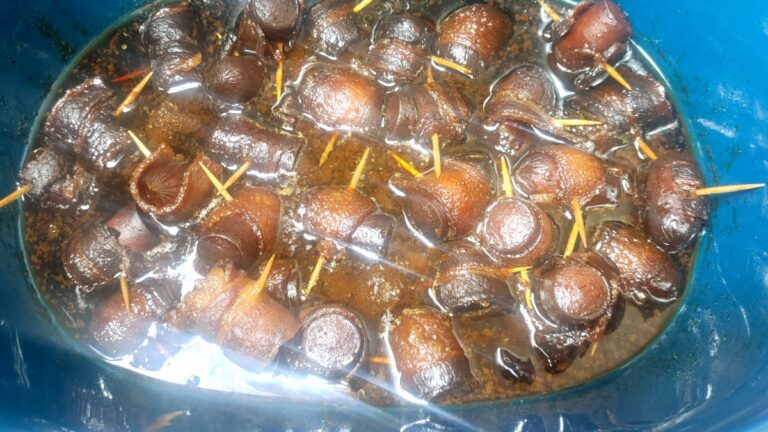 Servings (slide to adjust):
servings
Calories per serving:
222
kcal
Equipment
Ingredients
1

package

hot dogs

,

10 count package

12

ounces

regular bacon

,

about 10 slices

1

pound

brown sugar
Ingredients necessary for the recipe step are in italic.
Notes
Quick notes
This appetizer is best made while sitting down. Have on your table your toothpicks, bacon, hot dogs, and a sharp knife.

Don't use Ball Park hot dogs or any other kind of hot dog that will expand while it's cooked. I get the least expensive hot dogs and bacon for this dish. It's the combination that is the star, not any individual ingredient.
Nutrition
Serving:
1
pieces
Calories:
222
kcal
Carbohydrates:
18
g
Protein:
3
g
Fat:
15
g
Saturated Fat:
6
g
Polyunsaturated Fat:
2
g
Monounsaturated Fat:
7
g
Cholesterol:
24
mg
Sodium:
316
mg
Potassium:
112
mg
Fiber:
0
g
Sugar:
18
g
Dead Men's Finger Transcript
Good morning and happy Halloween. I'm going to show you how to make Dead Men's fingers Okay. Always wear gloves. Just cut one. Two three. Three. and Three. And you take this. secure it with a toothpick. One. When you do this, try to make sure that the sides connect like this. That way it's not going to come apart. It's not going to fall out. Okay. That needs to go into the crock pot. And then we're going to put brown sugar on. And you do that until it's all full. Put them on for five on high Or low for eight. And cook them and when you're done, take them off for a little while because they will be too hot to eat. Okay, that's it, and have a Happy Halloween See you later.