Use this as a standard white cake where you would use a boxed cake mix.
White Cake or Cupcake Mix from Scratch
Last Updated on November 10, 2019

Recipes in this Post
I had a dream, yes I had a dream. I dreamed of cupcakes with blue buttercream frosting.
I'm not much of a cupcake person, but they are nice if you've got a lot of kids. They are easy because you don't really need a plate, and you don't need a knife, and you don't have to worry about someone saying their piece of cake is too small or too big. All the cupcakes are the same size.
Usually, I make a butter cake, similar to a 1234 cake, but it makes a three-layer cake, and that was just too much for cupcakes. I know that a regular box of cake mix makes enough for cupcakes, but I don't like things that come in a box. So I made my own box cake with fresh ingredients.

I asked Spane last night if he wanted to help make cupcakes, and he said "Yes!", so we got everything together, and he took pictures as I made the cupcakes.
A few days ago, I bought a thermometer for Bertha. She's a hard girl to regulate, and she was up to 600 degrees last night when I put the first batch of cupcakes in – they baked in 12 minutes! The second, I left Bertha's door open a little and she cooled down so the second batch did better.
This morning, when I went to get the powdered sugar out, I realized I was completely out, and it was too early in the morning to go to the store. What to do? What to do? Well, boiled icing, of course. I had always heard it was difficult, but truth be told, it might be even easier than buttercream, and certainly doesn't seem to be bothered by temperature as much as buttercream.
Let's Make White Cake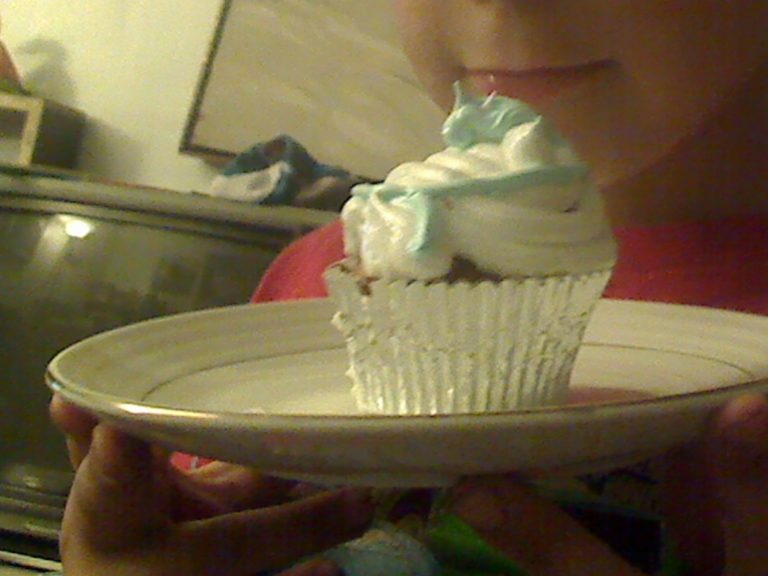 Servings (slide to adjust):
Ingredients
2 ⅓

cups

all-purpose flour

1

tablespoon

baking powder

¾

teaspoon

salt

1 ½

cups

sugar

½

cup

oil

3

egg whites

1

cup

milk

1

teaspoon

vanilla extract

1

teaspoon

almond extract
Ingredients necessary for the recipe step are in italic.
Instructions
Have ready 18 lined cupcake tins. Preheat the oven to 350.

Sift the dry ingredients together into a bowl.

I have found the best way to separate eggs is with your hand. Have to small bowls ready. Using one hand, break the egg into the other that is held over one of the bowls. When the egg has drained all the white, put the yolk in the other bowl. Of course, your hands have to be really clean.

Put into the work bowl of a standing mixer the sugar, oil, egg whites, milk and extracts.

Mix together on low-speed.

Carefully add the dry ingredients while the mixer is going.

Beat the mixture on medium speed for 5 minutes.

Using a small ladle, ladle the batter evenly into the cupcake liners, filling them about 3/4 full to give them room to expand during baking.

Filling using a small ladle

Bake for 15 to 20 minutes or until a toothpick comes out from the center clean.

Remove from the oven. Place on cake racks to completely cool.
Notes
If you want a yellow cake, use 2 whole eggs instead of egg whites. You can add flavorings or color as desired.
Nutrition
Calories:
285
kcal
Carbohydrates:
45
g
Protein:
4
g
Fat:
10
g
Saturated Fat:
2
g
Polyunsaturated Fat:
5
g
Monounsaturated Fat:
2
g
Cholesterol:
3
mg
Sodium:
263
mg
Potassium:
71
mg
Fiber:
1
g
Sugar:
26
g
Let's Make Boiled Icing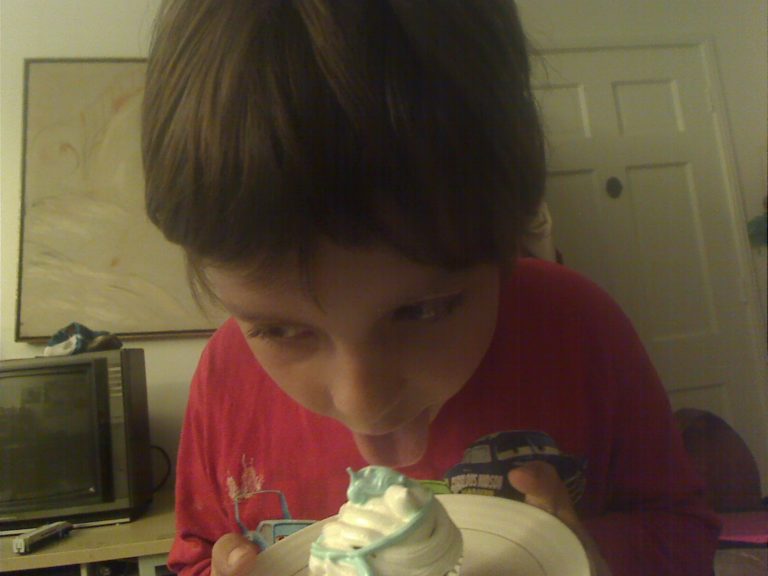 Servings (slide to adjust):
Ingredients
1 ½

cups

sugar

¼

teaspoon

cream of tartar

⅓

cup

water

,

boiling

1

teaspoon

almond extract

3

egg whites
Ingredients necessary for the recipe step are in italic.
Instructions
This is best done in a stand mixer, with a candy thermometer. The standing mixer must be very clean and dry. If it has any butter or oil, the eggs will never beat correctly.

Put the sugar and cream of tartar into a heavy saucepan.

Add the boiling water, and turn the flame to medium-high. Place the thermometer so it is in the syrup, but not touching the bottom of the pan.

While the syrup is coming to a boil, beat the egg whites in the standing mixer. Using the whisk attachment, beat the eggs on high until they have formed very stiff peaks and are glossy in appearance.

Check the syrup. Add the extract, It will come to a rolling boil, and then simmer down all on its own. When it has stopped bubbling, check the thermometer. it should have reached 240 degrees or the softball stage. Immediately remove from the heat, and take it over to the stand mixer with the eggs in it.

With the mixer beating on high, slowly, and carefully pour the syrup into the eggs, beating constantly. Continue beating for about 3 minutes, or until the frosting has cooled down a bit.

Decorate your cake or cupcakes as desired.
Notes
This recipe will make enough for eighteen cupcakes or a three-layer cake.
Use gel colors for superior color.
Nutrition
Calories:
102
kcal
Carbohydrates:
25
g
Protein:
1
g
Fat:
0
g
Saturated Fat:
0
g
Polyunsaturated Fat:
0
g
Monounsaturated Fat:
0
g
Trans Fat:
0
g
Cholesterol:
0
mg
Sodium:
14
mg
Potassium:
27
mg
Fiber:
0
g
Sugar:
25
g