These amounts are approximate. You will have to make adjustments depending on the brand of flour and humidity in your kitchen.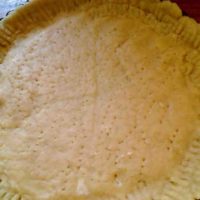 Last Updated on October 29, 2021
Stove Top Cooked French Sweet Tart Dough
This has got to be the easiest way to make sweet tart dough. It makes a dough that is almost like a good cookie, just delicious! My food processor is in very poor health, like not working, might be able to be fixed. So, I needed to find a way to make tart dough without using the food processor. I found a recipe at David Lebovitz that looked promising – it required melting butter in the stove. Hey, it's summertime in Glendale, California, and I didn't want to make my house any hotter if I could help it.
I figured that I could melt the butter on the stove top, and use the Kitchen Aid mixer to actually make the dough. I was right, it worked out perfectly. This will be my go-to recipe for sweet tart dough from now on. Because of the caramelization of the butter and sugar, the crust had a slight caramel flavor and color that was perfect for my Blue Cheese Stuffed Fig Tart with Balsamic Honey Glaze.
Servings (slide to adjust):
shell
Equipment
Ingredients
4

tablespoons

unsalted butter

1

tablespoon

vegetable oil

,

sunflower or peanut would be great

3

tablespoons

pure cane sugar

⅛

teaspoon

sea salt

1 ½

cups

flour

2

tablespoons

whole milk
Ingredients necessary for the recipe step are in italic.
Instructions
In a heavy saucepan, melt the butter, oil, sugar, and salt.

Be careful when the mixture starts to boil that it does not burn. Let it caramelize, but don't let it get too dark. Remember that even after you take it off the heat, it will continue to cook. The picture below shows the approximate color, after cooking. I did not want to take a picture while it was cooking because I thought it might be a little dangerous.

Have ready a metal or heatproof bowl in a stand mixer.

Put the flour into the bowl, and carefully pour the butter mixture over the flour.

This is where you have to get a little creative. Add as much milk as necessary to make a ball, or add more flour if needed

Using the paddle attachment, mix the dough together until it forms a nice ball.

By using a stand mixer, the dough should be cool enough to handle.

Preheat the oven to 400 degrees.

Have ready a tart mold with a removable bottom.

While the oven is heating up, use the heel of your hand to move the dough all the way and up on the edges. Use a fork to reinforce the dough on the sides.

Prick the dough with a fork at least 10 times all over the bottom of the crust. There is no need for blind baking.

Bake the tart shell in the oven for about 15 minutes, or until the crust is golden brown.
Notes
Use unflavored oil like peanut or sunflower oil. Do not use olive, grapeseed or avocado because they will affect the flavor.
Nutrition
Serving:
1
g
Calories:
172
kcal
Carbohydrates:
23
g
Protein:
3
g
Fat:
8
g
Saturated Fat:
4
g
Polyunsaturated Fat:
1
g
Trans Fat:
3
g
Cholesterol:
16
mg
Sodium:
40
mg
Fiber:
1
g
Sugar:
5
g