Don't wait for Mardi Gras or MLK Day to make this good for you salad.
King Salad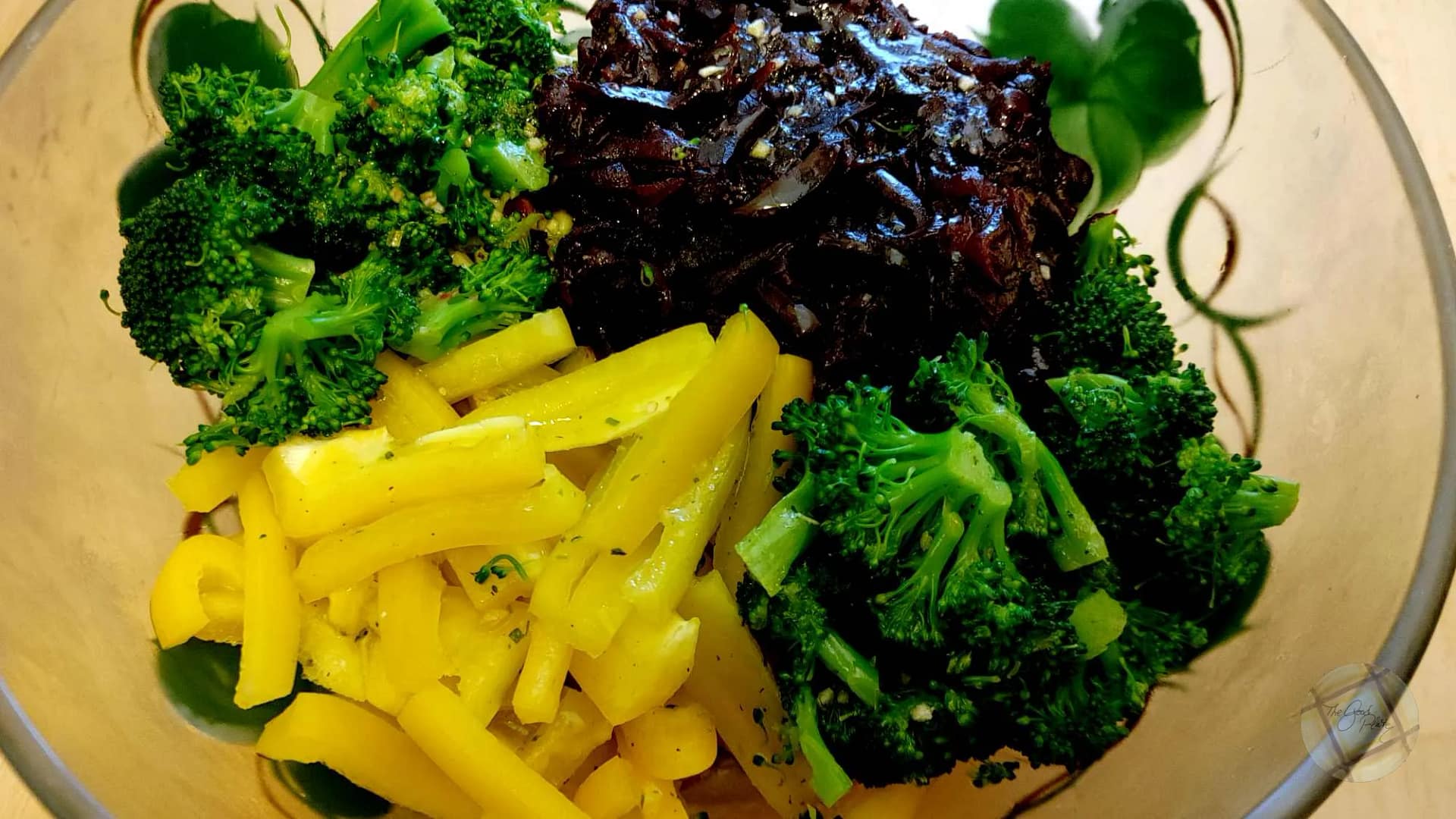 This salad is super healthy with broccoli and beets. It celebrates the colors of Mardi Gras, purple, green, and gold. It's also a breeze to make.

I was trying to come up with a dish that had the Mardi Gras colors but wasn't sweet. King cake is great, but not for your waist, right? I happen to love beets and broccoli, so that was my first thought. Yellow peppers provide the gold. I happened to make this on Martin Luther King day, which makes its name even more appropriate. Whether you have this for MLK, or for Mardi Gras, or any time of year, it's just a good, healthy salad.
Beets for King Salad
Yes, you can use canned beets that already come julienned but I think that beets that you make yourself taste better. Roasting beets is popular and so is boiling, although both take quite a bit of time. I prefer using the Instant Pot because it's much quicker and more nutrients are retained in steaming than boiling. The following table courtesy of Amy and Jack Pressure Cooker Recipes shows the cooking times for beets in the Instant Pot. Yes, you must measure the beets. If you don't have a tape measure, you can use a ruler and the formula to get the circumference. Circumference = D * π (Diameter times Pi).
Circumference
Inches
Centimeters
Minutes
5
12.7
11 – 15
5.5
13.97
14 – 18
6
15.24
17 – 21
6.5
16.51
18 – 23
7
17.78
20 – 25
7.5
19.05
24 – 28
8
20.32
27 – 31
8.5
21.59
30 – 34
9
22.86
32 – 36
For the Broccoli
Please don't use frozen broccoli. As good as it can be, for this salad, because it is very simple, use fresh broccoli. I recommend getting the head only and trimming it. You can also buy a bag of pre-cut florets. Steaming the broccoli is the best method. It only takes a few minutes for perfection.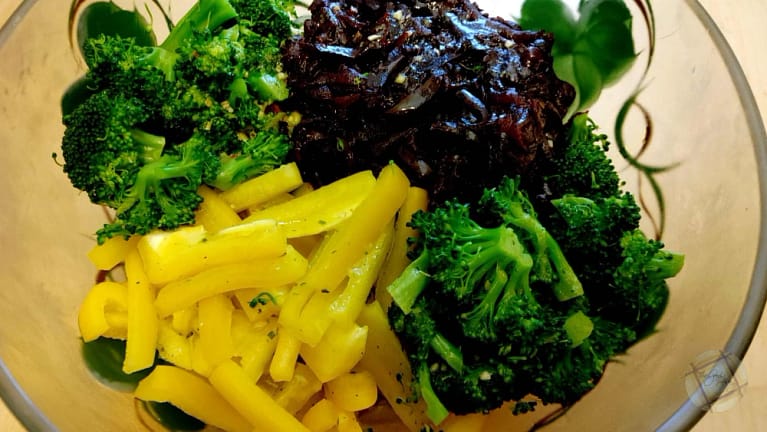 Servings (slide to adjust):
Calories per serving:
173
kcal
Ingredients
2

cup

Broccoli

,

florets only

2

cup

Beets

,

julienned

1

Bell pepper

,

yellow

1

10 oz can

Green Beans

,

cut style

1

10 oz can

White corn

½

Red onion

,

sliced
~~ — For the Dressing — ~~
½

Lemon

,

juice of

¼

cup

Olive oil

1

tablespoon

White vinegar

¼

teaspoon

Dry mustard

½

teaspoon

Sunny Paris

¼

teaspoon

Salt

,

Kosher
Ingredients necessary for the recipe step are in italic.
Instructions
To make the broccoli:
Break the broccoli into florets. Steam the broccoli for five to seven minutes or until the florets are bright green and tender-crisp. Do not overcook! Put the cooked broccoli on a cutting board or plate in a single layer into the freezer for about 20 minutes or until the broccoli is completely cooled.
Canned vegetables:
1 10 oz can Green Beans,

1 10 oz can White corn

Drain the canned vegetables completely.
Make the Dressing:
1/2 Lemon,

1 tablespoon White vinegar,

1/4 teaspoon Dry mustard,

1/2 teaspoon Sunny Paris,

1/4 teaspoon Salt,

1/4 cup Olive oil

Put the mustard in a small bowl and add the lemon juice, Sunny Paris, and white vinegar. Slowly start adding the olive oil and whisking the entire time until the mixture is emulsified.
Assembly:
1 10 oz can Green Beans,

1/2 Red onion,

1 10 oz can White corn

Put the sliced red onions, corn, and green beans in for the first layer in a nice serving bowl.

2 cup Broccoli,

2 cup Beets,

1 Bell pepper

Put the cold broccoli, cold julienned beets, and yellow bell pepper on top as the second layer.
Notes
If you have other vegetables that are in the purple, green, or gold color range, add them as well.
Nutrition
Calories:
173
kcal
Carbohydrates:
20
g
Protein:
5
g
Fat:
10
g
Saturated Fat:
1
g
Polyunsaturated Fat:
1
g
Monounsaturated Fat:
7
g
Cholesterol:
0
mg
Sodium:
285
mg
Potassium:
448
mg
Fiber:
6
g
Sugar:
6
g