We love scones in the morning. They are quick to make and very forgiving.
Quick Warm Scones for a Breakfast Treat
Last Updated on September 7, 2019
Quick Warm Scones
I graduated from Immaculate Heart High School in Hollywood, California. So did Meghan Markle, now Duchess of Sussex. You know, when one of the girls gets married to Prince Harry, the Duke of Sussex and the wedding is shown on live television, you have to get up at 4 o'clock in the morning to watch. That was the first time I made scones because I wanted something to celebrate and have with my winter forest tea.  I have always been biscuit challenged, they come out flat as a pancake.  It seems, however, that scones, which are in the biscuit family are not beyond me, and actually come out pretty good.

The great thing about scones is that they are quite forgiving, and you can put things in them to make them more interesting.  I like putting raisins in mine, a little sugar, and vanilla.  But, they don't have to be sweet, either.  Sometimes, I put cheese, paprika, and herbs in the dough and they make a great lunch or dinner accompaniment.
Because they are so quick and easy to make, they are a perfect accompaniment for a holiday morning.  Have them on Thanksgiving morning while preparing the feast, a great snack whilst opening Christmas presents, or something to give the egg hunters on Easter.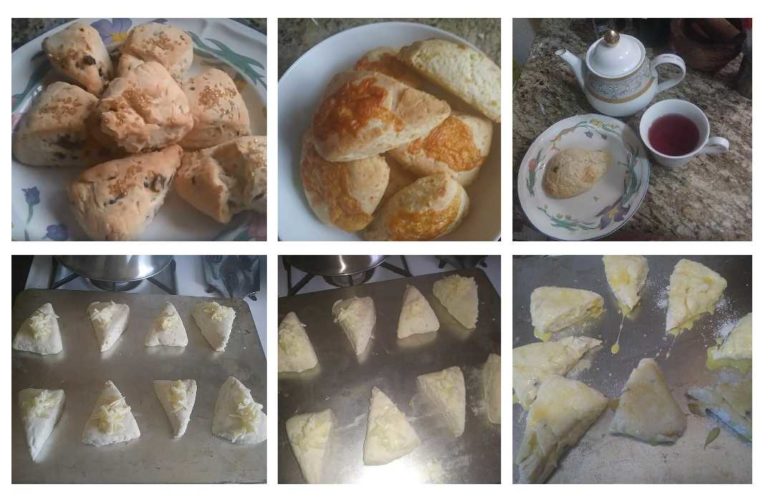 Servings (slide to adjust):
scones
Calories per serving:
292
kcal
Ingredients
Basic Dough
4

ounces

Butter

,

(1 stick) cold unsalted

1 ½

cups

Flour all-purpose

2

teaspoons

baking powder

1

teaspoon

kosher salt

¾

cup

whole milk
Sweet Fillings - pick as many as you like
1

tablespoon

raisins

1

tablespoon

dried cranberries

1

packet

True orange

¼

cup

sugar

1

teaspoon

pure vanilla
Savory Fillings
¼

cup

shredded cheddar cheese

1

tablespoon

paprika

1

teaspoon

Sunny Paris
Ingredients necessary for the recipe step are in italic.
Instructions
Preheat oven to 400F/204C and line a baking sheet with parchment paper; alternatively grease a baking sheet with butter.

Cut the butter into 1/4 inch pieces, and put it in the refrigerator for about a half an hour to completely chill. Measure out dry ingredients, dried fruit, etc., and put that in the refrigerator as well.
Food Processor Method
Take the chilled butter and dry ingredients, including dry fillings and put them in the bowl of your food processor. Process until you see pea-sized bits of flour and butter. Add the milk and process until it forms a nice ball.
Manual Method
In a large bowl, whisk together flour, baking powder, and salt.

Toss butter into the dry ingredients until coated with flour. Working quickly and using your fingers or a pastry blender, rub or cut butter into flour until it resembles coarse meal.

Add milk and stir with a fork until it just comes together into a slightly sticky, shaggy dough.
Shape the Dough
Take the dough out of the bowl and put it on a floured work surface. The dough might be sticky, so flour your hands as well. Bring the dough into a ball and flatten it out. You should have something that looks like a pillbox hat. Turn the dough a few times to get it started. Have ready a sharp knife or good dough cutter. Cut the dough in half, then cut each half in half, and so on until you have eight pieces. Put the pieces on the prepared baking sheet.

You can brush the scones with an egg wash, and if they are sweet, you can sprinkle a little sugar on them.

Bake them for 15 to 20 minutes or until they are nicely browned. Remove from the oven and cool on a wire rack until they are cool enough to eat. Serve with butter and enjoy!
Notes
Note that the nutrition will change depending on what you put in the scones, and also, what you put on the scones. 
Nutrition
Calories:
292
kcal
Carbohydrates:
36
g
Protein:
6
g
Fat:
14
g
Saturated Fat:
8
g
Polyunsaturated Fat:
1
g
Monounsaturated Fat:
4
g
Cholesterol:
106
mg
Sodium:
421
mg
Potassium:
115
mg
Fiber:
1
g
Sugar:
17
g