Curried Chicken Salad with Mango Chutney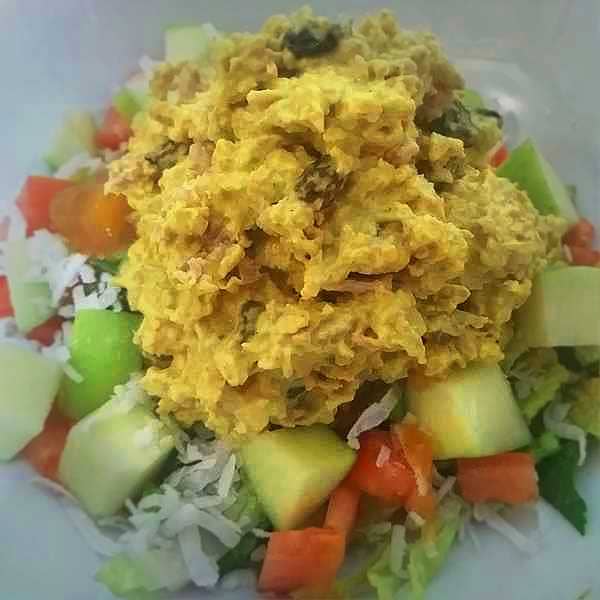 I have always loved curry, and to go with it, Major Grey's Mango Chutney – I can eat that chutney right out of the jar. Curried chicken is often made in our house. My son loves the curry, but I have to be careful of the chutney, once he knows it's in the fridge, I might not see it again. When I make curry at home, I put little bowls with garnishes, coconut, raisins, apple, and tomatoes.
Chutney is a condiment and comes in many varieties. I prefer Major Grey's and it's available in most stores. Find out more about chutney.
Sounds like a salad, doesn't it? Yup, those ingredients make a very nice salad. Use a rotisserie chicken from the supermarket because if you don't want to heat up your kitchen. Serve it on the bed of thinly sliced lettuce and you are good to go on a hot summer night. A tall, icy glass of beer, or iced tea for the younger set, is very good with this.

Curried Chicken Salad with Mango Chutney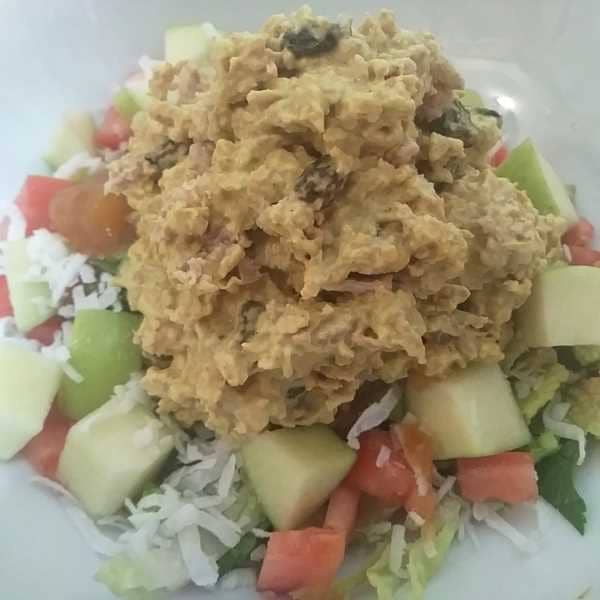 Servings (slide to adjust):
servings
If you purchase any of the products through these affiliate links, I get a few pennies that help keep The Good Plate open. I use these products myself and want you to be able to easily find them.
Ingredients
For the Curried Chicken
2

cups

roughly cut up chicken

1

tablespoon

dehydrated minced onion

¼

cup

plain good yogurt

¼

cup

good mayonnaise

2

tablespoons

curry powder

1

tablespoon

raisins
For the Mango Dressing
2

tablespoons

Mango Chutney

1

tablespoon

White wine vinegar

2

tablespoons

peanut or other flavorless oil
For the Salad
½

head romaine

,

thinly sliced

2

plum tomatoes

,

chopped

1

apple

,

peeled, cored and chopped

2

tablespoons

sliced coconut

Mango Dressing

Curried Chicken
Ingredients necessary for the recipe step are in italic.
Instructions
Make the Curried Chicken
The best thing to do is to put the chicken in a food processor and pulse until the pieces are very small. If you don't have one, then cut the chicken up into very small pieces. Put the chicken in a bowl and add the remaining ingredients, tossing together until the chicken is well coated. Taste it and adjust for seasoning or moistness - you may have to add more mayonnaise or yogurt, or curry, depending on your taste. Set aside.
Make the Mango Dressing
Combine all the ingredients together and whisk. It will not be smooth, but that's just fine.
Make the Salad
Get large salad bowls and divide the lettuce up amongst the plates. Put some of the dressing on the lettuce. Place the Curried chicken in the center of the lettuce, then arrange the remaining condiments, apple, tomatoes, and coconut around. Make sure to serve chutney at the table for those who want extra.
Notes
You can use a rotisserie chicken from the supermarket for this. I used just the legs, thighs and wings. You can use breast if that's what you prefer. Of course, you can increase servings and use the whole bird. Enjoy!