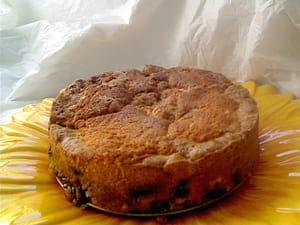 It's Sunday morning, and my friends are here for fellowship and watching movies. It's a lazy day, and in Los Angeles, it looks like it's going to rain so it's a little cold. What's the perfect food? Why it's Judy Rosenberg's Fresh Blueberry Muffin Breakfast Cake.
This cake is wonderful fresh from the oven, while it's still hot. I love this with a cup of coffee and friends. You have to make this cake.
In the spring when blueberries first come into season, I buy a box to make blueberry pancakes, which are a favorite of Spane's on Wednesday mornings when we don't have to get to school quite so early. Usually, I have blueberries left, and this is what I do with them. It's well worth the effort.

: Fresh Blueberry Muffin Breakfast Cake
Summary: What to do with left over blue berries from making blueberry pancakes
Ingredients
Fresh Blueberry Muffin Breakfast Cake

– Cake –
10 tablespoons Butter 1 1/2 sticks
2 cups all-purpose flour
2 teaspoons baking powder
3/4 teaspoon salt
1 1/2 cups granulated sugar
1 1/2 teaspoons vanilla extract
2 large eggs at room temperature
3/4 cup milk at room temperature
1 3/4 cup fresh blueberries
– Topping –
8 tablespoons Butter (1 stick) cut into 8 pieces, at room temperature
1/4 cup all-purpose flour
1/2 cup granulated sugar
1/2 cup Brown sugar (lightly packed) l
1/4 teaspoon ground cinnamon
Instructions
Preheat the oven to 350*. Grease a 9-inch square baking pan lightly with butter or vegetable oil.
For the cake, sift the flour, baking powder, and salt together into a small bowl.
Cream the butter, sugar, and vanilla in a medium-size mixing bowl with an electric mixer on medium speed until the mixture is light and fluffy, about 2 minutes. Stop the mixer once or twice to scrape the bowl with a rubber spatula.
Add the eggs one at a time to the butter mixture and mix on medium speed after each addition until blended, 8 to 10 seconds. Scrape the bowl each time.
Fold one-third of the dry ingredients in by hand just until they have absorbed the liquid but are not thoroughly blended. Fold in half the milk by hand with several strokes, then the rest of the dry ingredients, folding just until they are absorbed. Add the rest of the milk and fold it in just until the batter is smooth.
Fold the blueberries in gently.
Pour the batter into the prepared pan. Bake the cake on the center oven rack until the top is just set but not golden, 25 to 30 minutes.
Meanwhile prepare the topping: Place all the ingredients in a food processor and pulse until blended, about 10 pulses. Or mix all the dry ingredients in a small bowl and rub the butter into the mixture with your fingers.
When the top of the cake is set, cover the surface with spoonfuls of topping and return the cake tot he oven until the topping spreads and begins to get crunchy, 15 to 20 minutes.
Remove the cake from the oven and serve it hot.
Quick notes
Watch the time on this cake. Although the recipe says 30 minutes, I have found 45 minutes to be more accurate.
Preparation time: 5 minute(s)
Cooking time: 1 hour(s)
Diet type: Vegetarian
Number of servings (yield): 8
Culinary tradition: USA (Traditional)
My rating 5 stars: ★★★★★ 1 review(s)
Copyright © The Good Plate.
Recipe by Adrienne Boswell.
Microformatting by hRecipe.