Recipes in this Post
A few weeks ago, I got a few boxes of chocolate on sale at the local supermarket. I discovered that Spane and his friend, Noelle, had gotten into the chocolate one night when she spent the night. Apparently, neither one of them liked the unsweetened chocolate, but it was perfect for my Mocha Fudge Pie I made as a treat for my friend, Joanna Alexander of Strawberry Creek Crochet.
This has got to be one of simplest pies I have ever made, and it didn't require any baking because I used a chocolate crumb crust I had in my pantry. It was just a matter of melting the fudge. I folded in whipped cream to make the pie silky, otherwise, it would have just been fudge.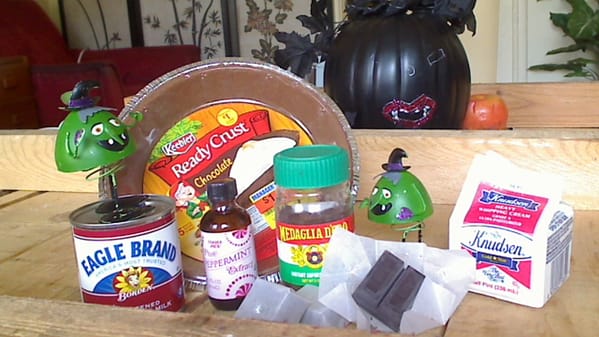 Recipe: Mocha Fudge Pie
Ingredients
1 chocolate crumb crust
1 can sweetened condensed milk
4 unsweetened chocolate squares
1 teaspoon pure vanilla
2 teaspoons espresso powder
1/2 teaspoon pure peppermint extract
1 cup whipping cream
1 tablespoon pure cane sugar
Instructions
Melt the chocolate in a double boiler, just until it has completely melted.
In a large bowl, put the sweetened condensed milk, vanilla, espresso powder and peppermint.
Using a spatula, pour the melted chocolate into the bowl.
Use a mixer to mix the ingredients well. You can either use a hand held or a stand mixer, but the mixture is too thick for a whisk.
Pour the cream into the bowl of a standing mixer. Add the sugar, and beat until the cream forms peaks, Don't beat it too long, or you will have butter!
Put a large spoonful of the cream into the chocolate mixture, and mix it, leaving white streaks is okay.
Put the rest of the cream into the bowl, and fold the cream into the mixture until all the cream has been incorporated. Leave no white steaks.
Pour the mixture into the prepared chocolate crumb crust.
Refrigerate for at least two hours, or until ready to serve.
Variations
You may omit the peppermint if you don't like it.
Preparation time: 10 minute(s)
Cooking time: 5 minute(s)
Diet type: Vegetarian
Number of servings (yield): 8
Culinary tradition: USA (Traditional)
My rating 5 stars: ★★★★★ 1 review(s)
Copyright © The Good Plate.
Recipe by Adrienne Boswell.
Microformatting by hRecipe.