Last Updated on February 2, 2023
Recipes in this post
Spane's birthday is tomorrow, November 21, 2010.  He is going to be 7 years old!  So, like every birthday there is the preparation for the party.  This year will be the first one where he gave out invitations.
Originally, we were going to have the party at Carr Park, but since it is supposed to rain, Amber volunteered to host the party at her house.  That meant sending out notices to everyone to let them know about the change of venue.  I hope everyone will make it.
I told Spane I wanted to make the Chocolate Cake with Mocha Frosting, and he said he wanted the Grapefruit Cake that I made from my birthday back in February, so he is going to have two cakes.
What else are we having?  We are having Spinach Balls, Cheese plate, Vegetable Plate, Five Pepper Chili and cornbread muffins.
This morning, I thought about how much butter I am going to need, for two cakes, Spinach Balls, and Cornbread, and I went to the store to get butter.  I got a lot.  I love that Julia Child said
If you are afraid of butter, try cream.

No fears here!
Recipe: Birthday Grapefruit Cake
Summary: This cake is a take off on the famous Brown Derby cake served at the once famous Brown Derby in Hollywood. Now, Disney is serving it at Walt Disney World. When I tried the original recipe, I did not like the frosting, nor the recommended decoration, so I made my own.
Ingredients
1 1/2 cup cake flour sifted
3/4 cup Sugar
1 1/2 teaspoons Baking powder
1 teaspoon Salt
1/4 cup Water
1/4 cup Oil
3 Egg separated
3 tablespoons Grapefruit sections
1/2 teaspoon Lemon peel grated
1/4 teaspoon Cream of tarter
1 Grapefruit , peeled and sectioned
– Cream Cheese Frosting –
1/2 cup Butter
2 3oz packages Cream cheese softened
2 teaspoons Lemon juice
1 teaspoon Lemon peel grated
3/4 cup Powdered sugar sifted
8 dash Pink food color optional
Lilac Sugar Crystals
Green Sugar Crystals
Reserved grapefruit sections
Instructions
Sift together flour, sugar, baking powder, and salt into bowl. Make well in center and add water, oil, egg yolks, grapefruit juice and lemon peel. Beat until very smooth. Beat egg whites with cream of tartar until stiff but not dry. Gradually pour egg yolk mixture over egg whites and fold in gently until just blended. Do not stir.
Turn batter into un-greased 9 inch spring form pan and bake at 350 degrees 30 minutes, or until top springs back when touched lightly with finger.
Invert onto cake rack and cool thoroughly. Loosen edges of cake carefully and remove from pan. With serrated knife, cut cake crosswise to make two layers. Reserve a few fruit sections for frosting. Fill with part of the Cream Cheese Frosting and grapefruit sections. Spread top and sides of cake with frosting and decorate with additional fruit sections.
Cream Cheese Frosting: Cream butter, then add cream cheese. Beat softened cream cheese mixture until fluffy. Add lemon juice and peel. Gradually blend in sugar and beat until well blended. Stir in food color. Crush enough grapefruit sections to measure 2 teaspoons and blend into frosting.
After frosting the cake, sprinkle it with the sugars, then place grapefruit sections on the top of the cake.
This is how the cake turns if you have a disaster. It's still good, though, and really pretty.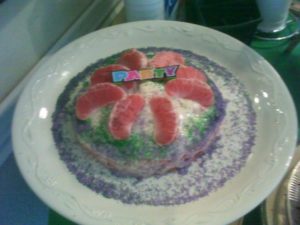 Quick notes
Try to get the Ruby Red grapefruits, or at least pink grapefruit. The white grapefruit is too sour for this recipe.
Preparation time: 1 hour(s)
Cooking time: 30 minute(s)
Number of servings (yield): 8
Culinary tradition: USA (Traditional)
My rating 5 stars:  ★★★★★ 1 review(s)
Copyright © The Good Plate – Adrienne Boswell.
Recipe by Adrienne Boswell.
Microformatting by hRecipe.
Recipe: Spinach Balls
Summary: These spinach balls are from my friend Jane. They are simple to make and are a great appetizer for a party.
Ingredients
2 pk Frozen Spinach
3 Eggs beaten
1/4 cup Melted Butter
1 cup Stuffing Mix
1 Onion
1 cup Parmesan Cheese
1/4 teaspoon Nutmeg
Instructions
Preheat oven to 350.
Microwave or cook spinach and remove all excess water. Cool spinach. Add finely chopped onions and butter. Add beaten eggs. Gradually add dressing and mix thoroughly. Mix in cheese gradually.
Using a small ice cream scoop, shape into 1 inch balls and place on greased cookie sheet.
Bake for 15 minutes.
Quick notes
If you have left overs, just put them in a bag in the refrigerator. Pop them into your mouth, no need to reheat, they are just as good cold as hot.
Variations
You can add pine nuts, or sun dried tomato or walnuts. If you want a more Mediterranean taste, add raisins and cinnamon.
Preparation time: 30 minute(s)
Cooking time: 15 minute(s)
Diet type: Vegetarian
Number of servings (yield): 12
Culinary tradition: USA (Traditional)
My rating 5 stars:  ★★★★★ 1 review(s)
Copyright © The Good Plate – Adrienne Boswell.
Recipe by Adrienne Boswell.
Microformatting by hRecipe.
Recipe: Big Five Pepper Chili
Summary: I made this for a birthday party in the park – in November, 2009. It was great to lift the lid off the Nesco and have steaming hot chili with all the fixin's.
Ingredients
1 pound Pinto beans
1 ounce New Mexico Chili ground
1 ounce California Chili ground
1 teaspoon Black pepper ground
1 ounce Cumin ground
1 tablespoon Bacon fat
3 Onion chopped
5 lbs Ground beef
5 Chipotles, canned in adobo sauce
3 can (28 oz) Crushed tomatoes
1 can (12 oz) Tomato sauce
1/4 cup Armenian Red Pepper Sauce
1/4 cup Better than Bouillon Beef Base
2 quart Water
2 tablespoon Tomato paste
1 can (8 oz) Yellow corn
Instructions
Soak the pinto beans in water over night. Drain them and set aside.
Mix chilies, black pepper and cumin together and set aside.
Heat large sauté pan and add bacon fat. Let it melt, then add the onions and sauté the onions until they are a translucent. Add half of the dry spice mixture, coat the onions, then add half of the meat. Break up into pieces and brown.
Meanwhile, get the Nesco set up and ready. Put it on 200. Put the beans in the Nesco.
When the first batch of meat is browned, add the contents of the pan to the Nesco on top of the beans. Return the pan to the stove and the remaining meat. Cut up the Chipotle chilies and add them to the meat and the remaining dry spice.
When that bit of meat is browned, add it to the Nesco as well. Return the pan to the stove and add the Better than Bouillon and water. Stir well and heat.
Add the pepper sauce, tomatoes, and tomato sauce to the Nesco. Stir all well. Add the stock, and the tomato paste.
Let the chili simmer, stirring occasionally. If you need the beans to get soft sooner, then turn the heat up on the Nesco to 400 for about 10 minutes, then reduce it back to 200.
Add the corn about 15 minutes before serving. You can turn the Nesco off and keep it plugged in the keep the chili warm.
Quick notes
You can, of course, reduce the quantities on this recipe easily.
Variations
Serve with sour cream, cheese, and chopped spring onions.
Preparation time: 2 hour(s)
Cooking time: 2 hour(s)
Number of servings (yield): 12
Culinary tradition: USA (Southwestern)
My rating 5 stars:  ★★★★★ 1 review(s)
Copyright © The Good Plate – Adrienne Boswell.
Recipe by Adrienne Boswell.
Microformatting by hRecipe.
Recipe: Sweet Corn Muffins
Ingredients
3/4 cups All purpose flour
1/3 cup Granulated sugar
1/4 cup Yellow Corn Meal
1/2 tablespoon Baking powder
1/4 teaspoon Salt
5/8 cups Milk
1 Eggs large
1/6 cup Vegetable oil
1 1/2 tablespoons Butter
1/2 teaspoon Vanilla
Instructions
Preheat oven to 350°. Grease muffin cups.
Combine flour, sugar, corn meal, baking powder and salt in medium bowl. Combine milk, eggs, vegetable old and butter in small bowl; mix well. Add to flour mixture, and add extract. Stir just until blended. Pour into prepared muffin cups. Bake 18 to 20 minutes.
For corn bread, put into greased 8″ square baking pan and bake for 35 minutes.
Yields: 1 Dozen
Preparation time: 3 minute(s)
Cooking time: 20 minute(s)
My rating 5 stars:  ★★★★★ 1 review(s)
Copyright © The Good Plate – Adrienne Boswell.
Recipe by Adrienne Boswell.
Microformatting by hRecipe.
Heavy 18-gauge, anodized-aluminum pan will instantly become your favorite for muffins, individual cakes, brownies and muffins. Each individual cup size measures 2 1/2″ at top, 2″ at bottom and 1 3/4″ deep. Anodizing completely seals the aluminum, making a smooth scratch-resistant surface, ensuring there's no cross-contamination or leaching of aluminum into foods. Pan provides even heat distribution and remarkable durability.