Turkey Burgers, Perfect Every Time Summary: Turkey burgers don't have to be dry hockey pucks, they can be moist and flavorful
Perfect Turkey Burgers–Every Time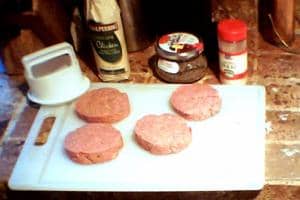 Turkey burgers should be moist, and well seasoned.  There is nothing worse than a flavorless, dried out burger,  I don't care how much mayo you put on it, it's still nasty. Turkey burgers are one of my favorites, and I just can't stand it when they are not cooked property.
A lot of people use Worcestershire sauce for regular hamburgers because it makes them flavorful and moist. Well, it's a little over powering for turkey, but, the Lee and Perrins does make a wonderful alternative, White Wine Worcestershire Sauce.  Quite often I have found this wonderful sauce hard to find at my local super market.  It seems not that many people know about it, and it is my mission here to help them find out!  This sauce is essential to making really good, moist turkey burgers with good flavor.
The other essential thing, I think, is dehydrated onions.  Burgers and dip about the only things that I use dried onions for – usually I chop them by hand.  However, dried, minced onions go wonderfully in burgers, why?  Because they are small so they won't break up delicate ground meats, and whilst absorbing liquid in the meat, they impart subtle flavor.
A long time ago, the Spice Islands brand used to make something called Herb Pepper – it was great, but like all things too good, they are soon off the shelf.  It took me a while, but I finally figured out the substitute was Herbs de Provence and freshly ground pepper.  Herbs de Provence is a famous French herb blend of savory, rosemary, basil, marjoram, wild thyme, lavender.  It is a great herb with chicken, fish and is essential for my brined Turkey in a Nesco with Injection and Rub.
If you are going to make this, let me suggest mushrooms sautéed with shallots and sherry in butter? A good bun for this is a potato bun as it has a delicate flavor.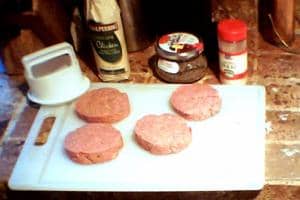 Servings (slide to adjust):
burgers
Calories per serving:
214
kcal
If you purchase any of the products through these affiliate links, I get a few pennies that help keep The Good Plate open. I use these products myself and want you to be able to easily find them.
Ingredients
1

pound

Ground turkey

2

pinch

Herbs de Provence

1

teaspoon

Dried chopped onion

1

teaspoon

Sherry

1

teaspoon

Butter

1

teaspoon

Olive oil

4

slices

White Cheddar

,

sliced

2

teaspoon

White Worcestershire Sauce
Ingredients necessary for the recipe step are in italic.
Instructions
Combine turkey, herbs, onion and sherry. Mix lightly then form into patties. Set aside, covered for about 20 minutes, Heat a skillet and add the butter and olive oil. Add the patties and cook until browned on one side, then turn and brown on the other. Just before done, top with cheddar and cover pan. Continue to cook until the cheese has melted. Remove the burgers from the pan and add the Worcestershire sauce, and whisk thoroughly. Use as sauce for the burgers. Good with potato bread buns.
Notes
You could put this on the Weber, but you would need to put it in a pan, an iron skillet would be just the ticket!
Nutrition
Calories:
214
kcal
Carbohydrates:
2
g
Protein:
23
g
Fat:
12
g
Saturated Fat:
4
g
Polyunsaturated Fat:
2
g
Monounsaturated Fat:
4
g
Cholesterol:
74
mg
Sodium:
1014
mg
Potassium:
369
mg
Fiber:
0
g
Sugar:
1
g
Enjoy and happy cooking!