Blue Ribbon for Pork Roast with Balsamic Rub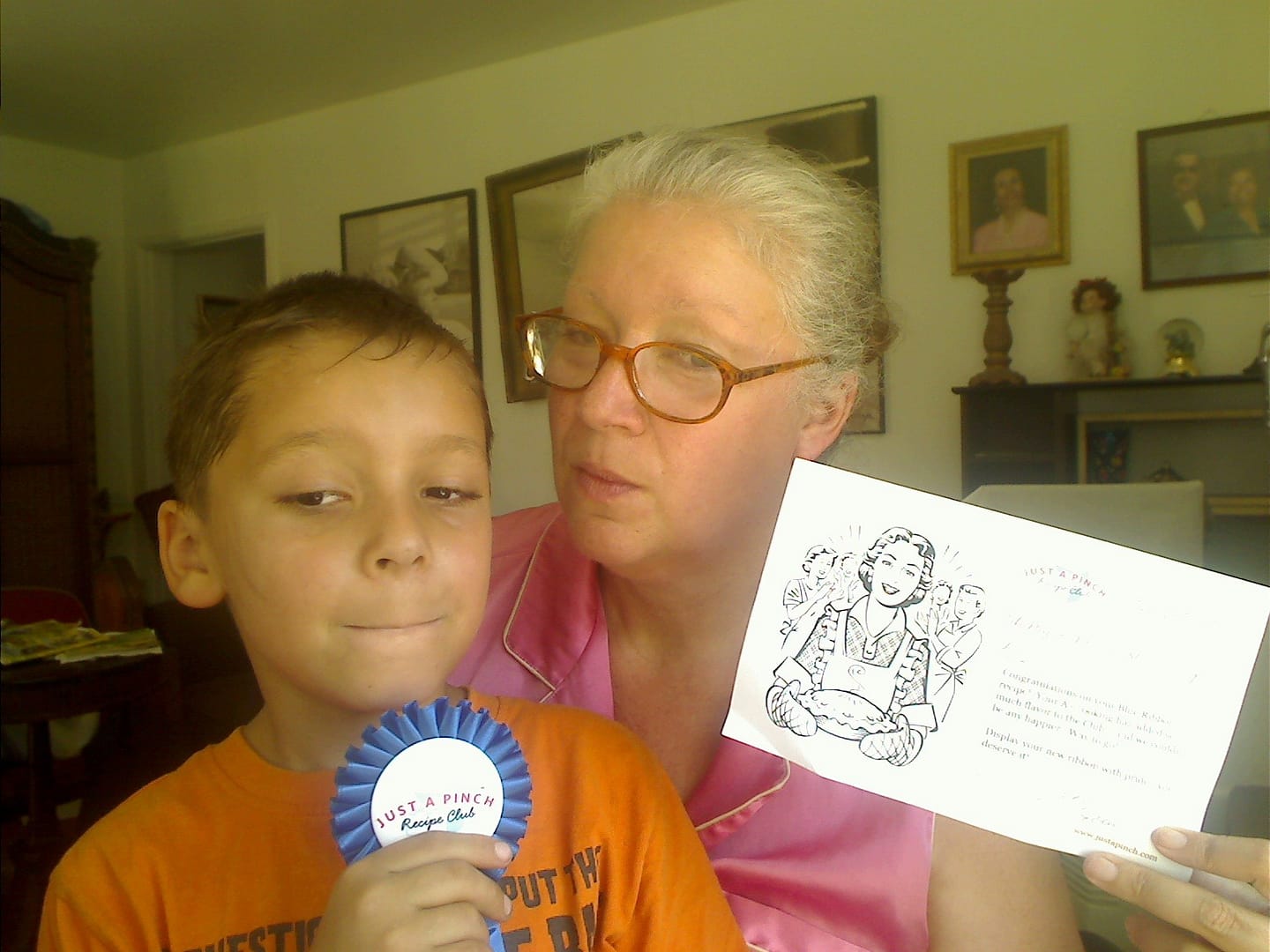 I received a Blue Ribbon for Roast Pork with Balsamic Mustard Rub!
Well, what to you know about that! Spane got the mail today, and he said I had mail, and handed me a padded package. I didn't think it was for me, I hadn't ordered anything.
So, I tore the envelope open, and inside was a Blue Ribbon and a certificate from Just A Pinch, where I had submitted my recipe for Pork Roast with Balsamic Mustard Rub. I was stunned, to say the least, and then I visited their site, and this is what their Test Kitchen had to say:
The seasoning in this recipe is a perfect blend. Spicy and flavorful, hearty and super satisfying… Enjoy!
Just A Pinch!
Well, thank you so much Just a Pinch, specifically Janet Tharp, the head tester, chief cook and bottle washer!
I have to highly recommend this site as not only are they hosting one of my recipes, there are literally hundreds of fabulous recipes available. This is place I bookmarked and visit often.
I have also joined a few discussion groups at Just a Pinch, and would like to visit other food bloggers who are members of Just a Pinch. I would like to share their recipes here as well, with permission, of course.
Good cooking to all!
If you purchase any of the products through these affiliate links, I get a few pennies that help keep The Good Plate open. I use these products myself and want you to be able to easily find them.
Ingredients
1

pork loin roast

¼

cup

Balsamic vinegar

2

tablespoons

olive oil

1

tablespoon

Zatarains or other Creole mustard

2

teaspoons

garlic powder

2

teaspoons

onion powder

1

teaspoon

cumin

½

teaspoon

thyme
Ingredients necessary for the recipe step are in italic.
Instructions
Mix all the ingredients together and rub this on the roast, coating it well. Let it sit in the refrigerator for at least a half an hour before putting it on the grill.

When putting it on the grill, put it on direct heat, and rotate to seal all the sides, about five minutes, then cook the rest of the time in indirect heat, covered until the roast reaches 165 degrees, about 20 minutes.
Notes
Variations
If you are going to be doing this indoors, then heat an iron skillet on the stove top, brown all sides of the roast, then put in the oven for the rest of time, about 20 minutes.