Air fryer turkey taquitos are much healthier than those fried in oil. Leftover turkey can be spiced exactly how you like it.
Air Fryer Turkey Taquitos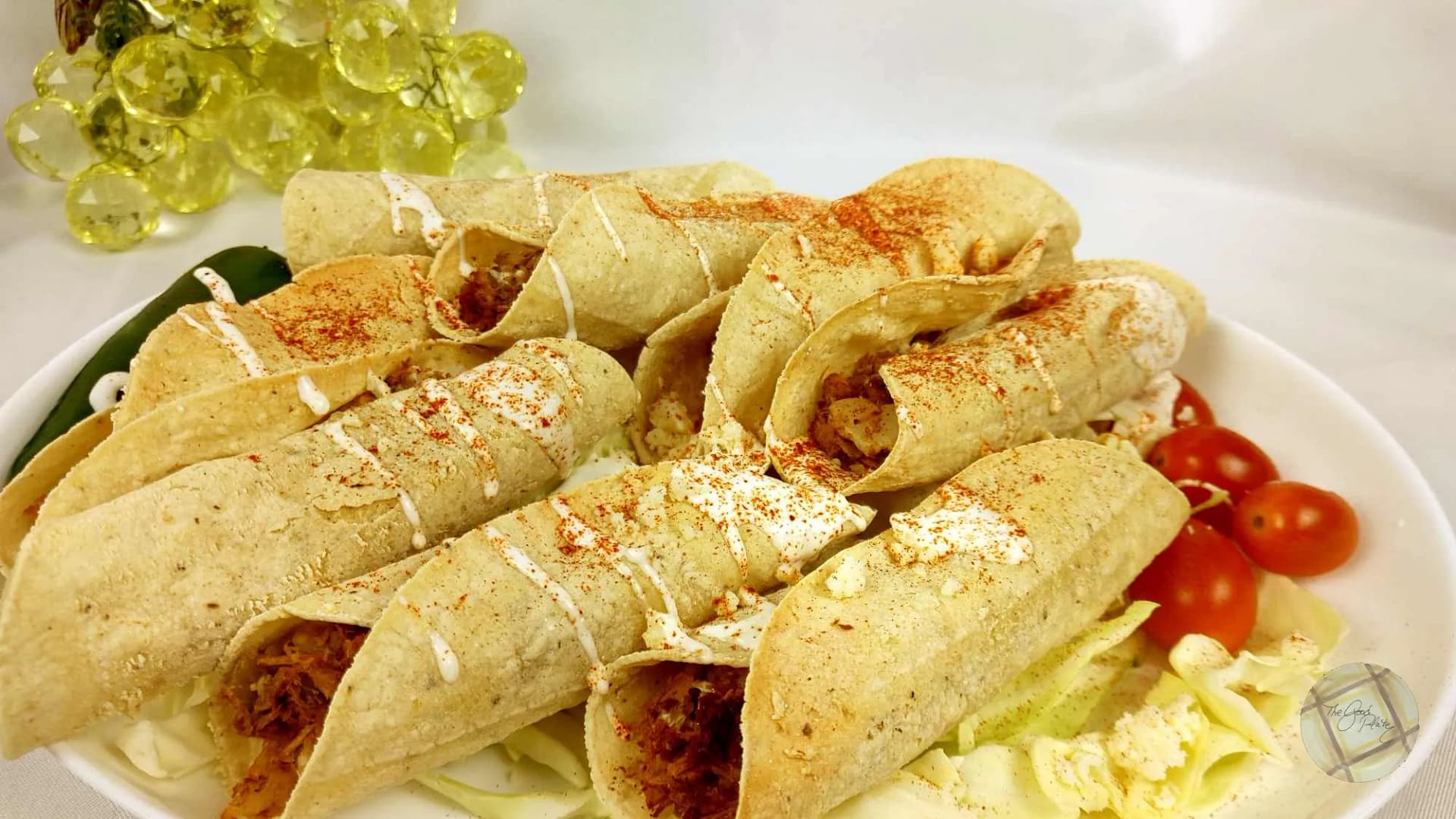 Air fryer turkey taquitos are much healthier than those fried in oil. Leftover turkey can be spiced exactly how you like it.
Taquitos are in the taco family with flautas. You might find them called Rolled Tacos. El Coyote in Los Angeles, which has been open since 1931 had them on their menu as New Rolled Tacos. They have since listed them as taquitos.
The first time I had homemade taquitos was a revelation to me. They were crisp, fresh, and the chicken stuffing was perfectly spiced. All hands were on deck to stuff and roll the tortillas. Then my friend dropped them in hot oil, fried them until they were crisp, then drained them on a paper towel. We were all burning our fingers getting them while they were very hot.
What makes these taquitos special is that they are not fried. Instead, they were cooked in the air fryer. As you know, tortillas have to be warmed to make them pliable. Here, they are warmed with a moistened paper towel in a tortilla warmer in the microwave.
I used leftover turkey from Thanksgiving that I had in the freezer. It was simply a matter of defrosting it, breaking it up into pieces, and then putting it in the food processor to chop it finely.
Usually, taquitos are served with guacamole, salsa, and crema for dipping. You can use my recipe for guacamole or your own favorite. I also served mine with refried beans that I made in my Instant Pot and Spanish Rice.
Those taquitos that you are not going to eat, you can put on a cutting board in the freezer and freeze them until they are hard, then bag them for another time. To reheat them, defrost them first then heat them in the air fryer for 10 minutes.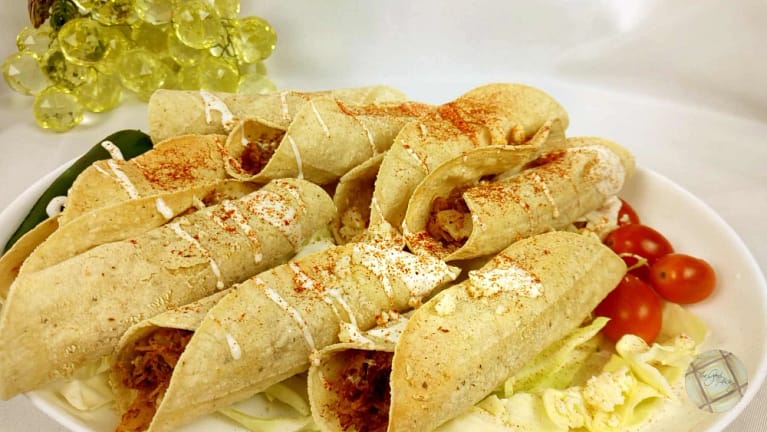 Servings (slide to adjust):
Calories per serving:
186
kcal
Ingredients
1

Onion

,

white

1

pound

Turkey

,

cooked

1

teaspoon

New mexico chili

2

teaspoon

Cumin

1

teaspoon

Boswell Seasoned Salt

1

teaspoon

Chipotle powder

3

tablespoon

Green chili

12

Corn tortillas
~~ — For Serving — ~~
1

cup

Cabbage ; shredded

2

tablespoon

Mexican Crema

1

teaspoon

Paprika

¼

cup

Cojilta cheese
Ingredients necessary for the recipe step are in italic.
Instructions
Add the turkey and process that until the turkey is in small pieces about the size of rice.

1 teaspoon New mexico chili,

2 teaspoon Cumin,

1 teaspoon Boswell Seasoned Salt,

1 teaspoon Chipotle powder,

3 tablespoon Green chili

Put the mixture in a large bowl. Add the spices and green chili and mix well.

Put the tortillas in a tortilla warmer with a moistened sheet of paper towel. Heat the warmer in the microwave for 90 seconds.

Put a tortilla on the rack of the air fryer. Keep the other tortillas covered so they won't dry out.

Put some of the filling on the tortilla. Roll it up and secure it with a tooth pick.

Fit as many rolled tortillas on the rack as you can and refrigerate the rest.

Heat the taquitos in the air fryer at 380°F / 193°C for

7 minutes

or until they have started to brown.

Line a serving dish with shredded cabbage and lay the taquitos on top. Remove the toothpicks.

2 tablespoon Mexican Crema,

1 teaspoon Paprika,

1/4 cup Cojilta cheese

Pour Mexican Crema over them and dust them with paprika and cojita cheese.
Nutrition
Serving:
139
g
Calories:
186
kcal
Carbohydrates:
21
g
Protein:
16
g
Fat:
5
g
Saturated Fat:
2
g
Polyunsaturated Fat:
1
g
Monounsaturated Fat:
1
g
Cholesterol:
42
mg
Sodium:
447
mg
Potassium:
338
mg
Fiber:
3
g
Sugar:
2
g